Posted on
Sat, Mar 16, 2013 : 5:59 a.m.
51st annual Ann Arbor Film Festival looks both forward and back
By Jenn McKee
Related story: Q and A: Ken Burns talks about Ann Arbor, lecture on race, and festival screening of new work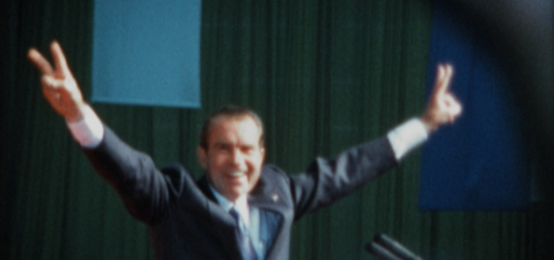 Photo provided by the Ann Arbor Film Festival
Those seeking cinema that's off the beaten track need look no further than the 51st annual
Ann Arbor Film Festival
, which showcases experimental and independent films of all types from across the globe.
Specifically, 238 films from more than 17 countries—chosen from more than 3,000 submissions—will be screened over the course of six days, alongside special programs, like two panel discussions focused on the current state of film writing and criticism ("with a particular focus on the kind of work one would see at the AAFF" programming director David Dinnell said via email); a program of contemporary music videos at UMMA; and an art installation by Peter Bo Rappmund called Tectonics, at the Work Gallery (March 15-Paril 5), featuring an hour-long video with photographs of the border between the U.S. and Mexico.
PREVIEW
Ann Arbor Film Festival
What: North America's longest-running independent and experimental film festival, the Ann Arbor Film Festival was founded in 1963 and features films that can truly be categorized as "art": documentaries, narrative films, curated programs, and animated and live action shorts from across the globe.
Where: Michigan Theater, 603 E. Liberty St. in Ann Arbor.
When: March 19-24.
How much: $9 per screening ($7 for students/seniors). Opening night reception and screening: $150 for fundraiser dinner and screening; $35 general admission to screening and reception ($25 for students and seniors); $9 for the screening only. Festival passes cost $95 ($80 for students and seniors); weekend passes (includes Friday) cost $55 ($45 for students and seniors). www.aafilmfest.org.
In addition, Ann Arbor native
Ken Burns
("The Civil War," "Jazz," "Baseball," etc.) will talk about and screen the documentary he made with his daughter and son-in-law,
"The Central Park Five,"
on Saturday, March 23 at noon; and
"Our Nixon,"
an archival documentary shot by three of the former president's top aides, who obsessively documented their experiences with Super 8 cameras, will be shown on Sunday, March 24 at 3 p.m.
AAFF's main spotlight, though, shines on competition films, and this AAFF will be the fourth that Dinnell has programmed. (After past AAFF director Donald Harrison's exit in August 2012, Maria Feldman assumed duties as operations director.)
"The Opening Night program is an excellent introduction to the festival, to the kind of artist-made films the AAFF presents, and to the range of works one will see throughout the week," said Dinnell. "The Saturday evening films in competition programs are also good for people who haven't been before.
"For people that have an interest in documentaries, the Friday evening Films in Competition program features really great films, and personal approaches to documentary filmmaking that one isn't so likely to see elsewhere. And the critically acclaimed feature-length film 'Leviathan' is a really incredible film to experience. It could redefine how we think of documentary film."
Indeed, a brief preview of "Leviathan" offered a mesmerizing glimpse of life on, and just below, the water.
In addition, Dinnell recommends checking out the new, 35mm print of Pat O'Neill's "Water and Power," calling it a screening "not to be missed."
"The film is really a masterpiece," said Dinnell. "Pat O' Neill will be present to discuss the film, so this is a rare opportunity to see the film how it is meant to be seen (on 35mm in a place like the Michigan Theater) and to talk about it with the director."
Animation fans should note that while animated shorts show up throughout many of the competition programs, an animation night program is scheduled for Friday evening; two screenings will focus on Polish animation, from the late 50s through the present; and, according to Dinnell, "Suzan Pitt will be present with a nearly complete retrospective of her forty years of filmmaking, including some very rarely seen early works that are being restored just in time for these screenings, alongside her masterpieces such as 'Joy Street' and 'Asparagus.'"
So while the Ann Arbor Film Festival is primarily about celebrating new and innovative filmmaking, it also regularly takes a look back at classic, seminal works of experimental film.
"On Sunday afternoon one can see a newly restored 16mm print of Les Blank's amazing portrait of Cajun culture, 'Spend it All,'" said Dinnell. "This 1972 film is one of my favorites, and Les Blank has been a really beloved filmmaker at the Ann Arbor Film Festival for the past five decades."
That's no small run - for a film artist or a film festival.
Jenn McKee is the entertainment digital journalist for AnnArbor.com. Reach her at jennmckee@annarbor.com or 734-623-2546, and follow her on Twitter @jennmckee.
Photo provided by the Ann Arbor Film Festival