Posted on
Sun, Mar 17, 2013 : 5:59 a.m.
Ken Burns talks of Ann Arbor, lecture on race, and festival screening of new work
By Jenn McKee
Related story: 51st Ann Arbor Film Festival looks both forward and back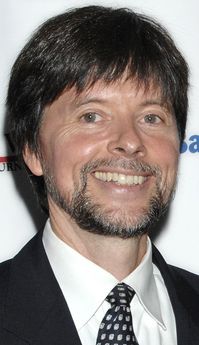 AP file photo
Local fans of filmmaker
Ken Burns
("The Civil War," "Jazz," "Baseball," etc.)—who's coming to town soon for two events—might wonder if growing up in Ann Arbor influenced him as an artist.
"Oh, man, yeah—yes, yes, yes, yes," said Burns in a recent phone interview. "I came to Ann Arbor in early July of 1963. I was 9 years old, about to turn 10 at the end of that month. My mother died in 1965 in Ann Arbor; my father taught at the university, and participated in first teach-in against the Vietnam War. But I couldn't have been in Ann Arbor at a better time.
"Despite the personal family tragedy, growing up, I worked at a record store at the corner of South U. and Forest for many years, and left to go away to college. … But I went to a small enough college (Hampshire) that they had no athletics department, so I retained my utter loyalty to the Wolverines in every manifestation, particularly football and basketball."
Burns also, from a young age, attended the Ann Arbor Film Festival often with his father, and watched countless movies both on U-M's campus and in local theaters.
"I am a child of Ann Arbor. Both my parents are now buried in town. I come back frequently, and I reminisce about walking across the Diag in the middle of the 1960s, and going after school to Drake's sandwich shop on North U, and into Nickels Arcade. It's who I am. It's where I came from. It's what made me.
" … I'm also engaged in trying to make history come alive, and if you consider the personal history, particularly the difficult personal history that took place in Ann Arbor, you could understand that in a way, what I do for a living is wake the dead, and that has obviously personal meanings as well."
As part of the Penny W. Stamps lecture series on Thursday, Burns will discuss race and inequality with Daniel Okrent, the former New York Times public editor (and former Michigan Daily editor). Then two days later, following a screening of Burns' "The Central Park Five," during the Ann Arbor Film Festival, Burns will take questions from the audience.
In anticipation of these events, Burns spoke to AnnArbor.com:
Q. You'll be focusing your Penny Stamps talk on race, which is a topic that often plays a large role in your work. Why do you think that is?
A. It is the central subtheme of American life, from the moment we were created, when Thomas Jefferson was articulating freedoms that apparently didn't apply to the people he owned, up to the present moment, when people vibrate strangely about the race of the president of the United States. … I've done 25-plus films, and only a couple seem to have nothing to do with race. You don't go looking for it. It finds you, if you're interested in something more than a sanitized, Madison Avenue, whitewashed version of American history.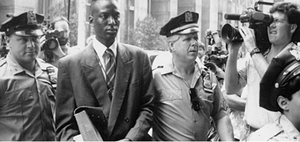 Photo provided by Ann Arbor Film Festival
Q. "The Central Park Five" focuses on a relatively recent (1989) event, while much of your work takes audiences considerably farther back in time. Did this affect your approach?

A.
I think it's still within the province of journalism-slash-history, whereas after you get beyond the 25-year mark, you're solidly and confidently in the historical realm. … But one of the reasons why there's no narration (in "Central Park Five"), and one of the reasons why it has a different rhythm and style, has to do with its proximity to the present. And yes, it is informed by the passion and rawness of a story that is relatively new; but I think that's its strength, and not a weakness.
Q. Where were you when the Central Park Jogger case unfolded?
A. I was working, editing 'The Civil War' in New York City and commuting on the weekends back home to New Hampshire. … Sort of like everyone else, I bought the story that these 5 kids were guilty, and wrung my hands at the decay of society and parenting and the hopelessness of the city at the peak of the crime wave. And I was aware, too, in 2002, when they were all exonerated. … A lot of good it did them. They lost their childhood.
But it took my daughter, who was a junior at Yale, who worked on a project about this, and then later, was so obsessed by the case that she wrote a book that was published in 2011. And somewhere around 2007, 2008, her husband David McMahon and I had the privilege of seeing the first pages come out of her computer, and were so stunned at what a great story it was that we wanted also to make a film. … The three of us are listed as the co-directors, co-writers, and co-producers of this film, which is exactly accurate to the contributions that people made.
Q. Did you enjoy working with your daughter on a film?
A. It was beyond thrilling. I remember I walked out of a taping of The Charlie Rose Show and the next guest, who was celebrated writer Ken Auletta, was about to go on. … He said hello to me, and nodded to me, and … walked past me, and went right up to my daughter and said, 'When you watch this on TV, pay close attention to the cutaways to your father. I've never seen a more proud parent in my life.' So obviously I was kvelling over my daughter's performance. … She is a gifted, intelligent woman, and I was happy to work with her. And my son-in-law David McMahon, who was the day-to-day general of this project, deserves a lot of credit. This is the one drawback when you make a Ken Burns film, is that then it becomes the shorthand for journalists to just say it's a Ken Burns film, and forget that I'm merely a conductor of an orchestra that's extraordinarily talented that's making … the music.
Q. Could you tell us what's coming down the pipeline, in terms of your projects?
A. Because of the length of these films, a lot of what we do is incredibly complex scheduling, so that … "The Central Park Five," is about to be broadcast when that theatrical run ends on April 16 of this year. But meanwhile, we are in the last week literally of finishing a 7-part, 14-hour series on the history of Theodore, Franklin and Eleanor Roosevelt that will be broadcast in the fall of 2014.
We are halfway through producing—that would be Sarah and Dave and myself—a 2-part, 4-hour bio of Jackie Robinson. … And we are finished shooting, and about ready to begin editing, a massive, 8-part, 16-hour series on the history of the war in Vietnam. And we are now just beginning shooting a big series on the history of country music called "I Can't Stop Loving You."
That won't be out until 2018, but these projects take long enough—the fundraising is so incredibly difficult in the public television grant world that we have to plan these things a decade out in advance, and then figure out how to make sure that when you finish editing one film, that editor is not laid off, but can suddenly pick up and start editing another. So it's very complex time management and at the same time, I'm so greedy for creativity that it keeps me completely active, running from one project to another.
Q. Do you consider yourself a historian as well as a filmmaker?
A. I'm an amateur historian. I know that people attribute that to me, and that's OK, because I think there's a huge role for public and popular and amateur historians. And in fact, the academic academy has been woefully neglectful in the last half century in communicating the glories of our past to a general public. They've been more concerned with talking to each other and losing the rest of us. And so it's fallen to popular historians to remind people how important our history is. So I'm happy to do that. But I am first and foremost a filmmaker. The last time I took a course in American history was at Pioneer High School in the 11th grade.
Q. We all just watched the Oscars. What did you think of "Lincoln" and this year's crop of nominated films in general?
A. I thought all of the nine films were terrific. … But I was stunned that 'Lincoln' didn't win. I just thought it was so far and away the best film. Not to take anything away from 'Argo,' which I think is a wonderful film, … but Steven Spielberg is our reigning master. The film he made is incredibly important. … And while it was obvious that no one could ignore the extraordinary performance of Daniel Day Lewis, the fact that the best adapted screenplay went to 'Argo' and not Tony Kushner for this magnificent (screenplay), and more importantly, that Spielberg did not win best (director) and 'Lincoln' did not win best picture is a head scratcher for me. It's happened to him once before, I'm sorry to say. You might remember a film called 'Saving Private Ryan.' The film that won that year was 'Shakespeare in Love,' which is a lovely little film, but it ain't 'Saving Private Ryan.'
Q. Because so many of this year's nominated films focused on historical events, there's been a lot of discussion about accuracy and representation. As someone who makes history documentaries, what's your take on that issue?
A. Sometimes people like to get on their high horse about how many liberties Oliver Stone took with 'JFK,' and I've been one of those people. … People have obviously dissected 'Zero Dark Thirty' for the implication that it actually was enhanced interrogation—or shall we just say it, torture—that provided the initial clue that led to Osama bin Laden. … Or in the case of 'Argo,' that there was no chase on the tarmac, and that very little due was given to the Canadians, and that 'Lincoln' got the votes of the Connecticut delegation wrong.
Let me just remind everybody as we have this discussion that the person who comes down to us as the greatest of all storytellers and dramatists is a person that did all of those things and more: played fast and loose with the facts, conflated characters, made up events—and William Shakespeare is considered the greatest of all time. … And we do know that in art, there is sometimes a larger truth. That a photograph of that woman would not be as valuable as a painting by Picasso of that woman, even though we would say, if you showed it to somebody, that looks nothing like a human being, we allow art to have a larger truth.
So I think we can calm down and say, 'Nobody's saying that this is the godawful truth.' They can say it's based on true events, and 'Lincoln' is far and away the most accurate of them all. I've been studying Lincoln most of my life, and that was one of the most powerful senses, in the middle of that film: that I'd had the privilege to meet him and look over his shoulder—to be on the fly on the wall of history. And then you shake your head and say, 'Wait a second, this is a movie.' … So when you put it to the Shakespeare test, it's all OK, and everybody can stand down and not get so excited.
Jenn McKee is the entertainment digital journalist for AnnArbor.com. Reach her at jennmckee@annarbor.com or 734-623-2546, and follow her on Twitter @jennmckee.