Posted on
Wed, Feb 13, 2013 : 11:49 a.m.
9 Valentine's Day gifts for Ann Arbor lovers and 1 gift to avoid
By Richard Retyi
Thursday is Valentine's Day, and before you complain and click away, I know most of you hate it. Love. Hearts. Expectations. Public displays of affection. Edible Arrangements vans skidding all over the place, the drivers all hopped up on Monster Morning Blend and leftover paczki. It's gross, but like handshakes in church, a necessary evil.
I'm here to help. I'm no expert romantician, but I do have a Ph.D. in gifts research. Two years ago, I polled Briarwood Mall employees for their Valentine's Day gift ideas and last year I hot tubbed for your benefit. I'm taking it to the next level this Valentine's Day.
If you've already done chocolate covered strawberries and Build-a-Bear and that Pandora bracelet and you're stumped, fear not — here are nine ideas for Valentine's Day gifts and one gift you should be sure to avoid.
Rich Retyi | Contributor
Two Alley Bar Pickle Backs, please
It's booze and vegetables. Done. Spring for
Jameson
and chase it with pickle juice sourced from local pickle purveyors at
The Brinery
. The pickle juice does some weird things to the palate, unlocking flavors that weren't there, cooling the whiskey burn and leveling the bad breath playing field for any subsequent makeouts.
A kitten is a commitment
Normally I'd counsel against buying your significant other a baby animal, but I'm getting a lot softer in my old age. Warning: a kitten is a commitment. Be sure that the person you're buying the animal for is a diehard cat lady for females or misanthropic loser if it's a guy, ensuring that they will be physically and emotionally unable to abandon the pet should times get tough.
Do NOT click this link if you don't want to add a pet to your life. Seriously. Clicking this link is like opening a bag of chips and not eating some. "Oh, I just want to smell the chips," you'll say, just like you'll think you can look at these animals and not want to love them. I warned you. (Check out Bagpiper and Flo. Oh my god I want to hug them so much, my insides hurt so bad!)
Two tickets to the planetarium-dise
I almost proposed in the planetarium at the Natural History Museum. It's probably one of the most romantic destinations in Ann Arbor (take that, Melting Pot!). Darkness, stars, planets, narration by Liam Neeson. Just don't propose in here. If she says no, you'll permanently scar all the little kids in attendance who until the end of times will feel a weird sense of embarrassment and shame and smell the sweet scent of tears every time they stare at the night sky.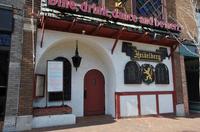 Rich Retyi | Contributor
Dinner on the west side of Main Street
You've got a lot of romantic dining options on the east side of Main Street, like
Raven's Club
and that
place with the fondue
—but show your unique sense of style, taste and romance this year and take your lieben east to
The Heidelberg
basement.
My argument: How busy will the basement be on Valentine's Day around supper time? How awesome are those intimate wooden booths? How great are those fake stained glass windows? How excellent does a boot of beer sound right about now? Spatzle, schnitzel, pretzel rolls. Knackwurst is a very sexy food.
A jukebox with a limited selection, glass tabletops that you can slip love notes and business cards under. I'm falling in love with myself as I write this. Be different, go German and let those other suckers battle over tables on the east side of Main.
Salvation Army shopping spree
Shopping is fun, but on a tight budget it's tough to justify splurging on new outfits from Forever 21 and Wet Seal. Fear not, get creative. You each get $25 cash money and 10 minutes at the Salvation Army to select a full outfit that (hopefully) someone didn't die in. Dresses, T-shirts, slacks, fancy jackets — whatever you find in the allotted time is purchased at checkout and brought home where each of you dress in your new duds (no washing first!) and then settle down for a homemade meal. I suggest pasta with a light salad and a lot of wine. And probably a post-meal shower.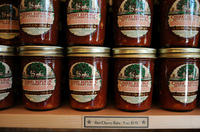 Rich Retyi | Contributor
Cherry somethingorother from Cherry Republic
Ditch the chocolate-covered strawberries or toffee covered bananas (so 2009!) and go cherries.
Cherry Republic
offers Valentine's Day gift boxes full of chocolate-covered cherries and whatever boomchunkas are, but if you're giving something to a guy, get the salsa. The delicious cherry salsa. A bag of cherry chips and the medium cherry salsa (sorry, I'm a wuss) on Valentine's Day and I'm putting a ring on that.
Cha-Cha-Cha dance classes
They say you can tell how well a person can parent by how well they dance. OK, maybe that's not what they actually say, but dancing is an important indicator of things. Rhythm, tempo, grace, fiscal responsibility. Ann Arbor is full of dance studios willing to teach you and a special someone how to dance ballroom, cha-cha-cha, flamenco, hip-hop, jazz, mambo, salsa, swing, tap — heck even jive and the foxtrot. Pick a dance that suits your style the most (I'm more of a krunk guy than a rhumba man) and get busy.
A little slice of Mr. Darcy from Nicola's
I'm a little embarrassed to say that in nine years of living in Ann Arbor, I've only been to Nicola's Books once. It's everything that Shaman Drum used to be. Pay them a visit and pick out a romantic book for the one you love. Go old school with "Love Story," give your sweetie permission to lust after Mr. Darcy in "Pride and Prejudice," fall into a deep depression after reading "Atonement" or try something really sweet in "Gone Girl." I'm totally kidding on that last one. Do not get that for anyone you care about as a meaningful gift or you will get dumped/divorced/arrested. Stick with Jane Austen.
Warning: Do not get a couples massage
Do not get a couples massage for Valentine's Day. Unless you are extremely comfortable in your own semi-public sexuality and don't moan uncontrollably when getting rubbed on.
I never understood the appeal of a couple's massage. Are you supposed to hold hands while two strangers rub your dermis? Is that romantic? I'd be ultra aware of every sound and movement I was making and if the masseuse ever asked me "Is this okay?" I'd be forced to answer, "I'm engaged!" at an inappropriate volume. The ultimate in awkward. Don't do this folks. Get your massages alone.
Richard Retyi returns to AnnArbor.com with his new column Hidden Ann Arbor. Rich will write about the hidden side of Ann Arbor and the things locals take for granted. In his day job, Rich is a social media director for a digital marketing agency in Ann Arbor. Read more of his stuff at RichRetyi.com or follow him on Twitter.