Posted on
Mon, Sep 27, 2010 : 5:02 a.m.
Ann Arbor Symphony's 'Made in Michigan' opens season in impressive style
By Susan Isaacs Nisbett
photo courtesy of the Ann Arbor Symphony Orchestra
The joke about Michigan weather is, of course, that if you just wait five minutes, it will change. It's not so different, apparently, with music that's "Made in Michigan," the title of the Ann Arbor Symphony's season opener at Hill Auditorium Sunday afternoon under the baton of Music Director Arie Lipsky.
Would you like a little William Albright ragtime after your Shostakovich overture? Well, sure. Some William Bolcom cabaret songs to follow? Why not? A new flute concerto by Michael Daugherty on the "Trail of Tears" for a change of pace? Absolutely. And a chaser of Saint-Saens, with organ, to close? Bring it on.
Mix and match all you want— who cares when the every element is extraordinary, as it was on Sunday? If only the same could be said about some of the variations on Michigan weather.
In theme and musical choices, Sunday's concert helped fete the 75th anniversary of the University of Michigan Bentley Historical Library, dedicated to the history of the state and the university. The Bentley houses the papers of esteemed composers like Bolcom and Albright; it's a repository for materials about the Frieze Memorial Organ — whose pipes were far more than a backdrop for the orchestra in the Saint-Saens' "Organ Symphony." U-M President Mary Sue Coleman was there to make opening remarks. So were representatives of the Bentley. But as Bentley Director Francis X. Blouin has pointed out, it's performance that makes the Bentley's musical holdings come alive, and it was glorious playing, by Michigan musicians, with Michigan composers present in body and spirit, that united the afternoon's offerings.
If we were looking for an announcement of what to expect from the A2SO this season, the Shostakovich "Festive Overture" provided it. The brass opened with bounteous, brilliantly assured golden fanfares; the rest of the orchestra, clarinet in the lead, jumped in with a zippy, zesty and above all, highly articulate response that culminated in a new, improved, all-hands-on-deck reiteration of the fanfares. It was brilliant playing, and a real wow in Hill's superb acoustic.
Cameos were up next: a charming, colorful chamber orchestration, by Gunther Schuller, of the late Albright's solo piano "Sleight of Hand Rag" that preserved its quirky accents and its cheerful, tip-of-the-hat, twirl-of-the-cane feeling; and an appearance by soprano Joan Morris with husband (and composer and pianist) Bolcom for three of his "Cabaret Songs" ("Toothbrush Time," "Song of Black Max" and "George") with orchestra. The lyrics to these Bolcom favorites, by Arnold Weinstein, are delicious, and Morris, as usual, put them across with impeccable diction and inimitable style. Her instrument is not as brilliant as it once was, but her way with text told all we needed in these performances.
There is no text in Daugherty's "Trail of Tears" flute concerto, a co-commission by the A2SO that received its Michigan premiere Sunday, with the composer present. But there might well have been text. Partly, that is because the work is Daugherty's musical evocation of the pain and dislocation of the five-month forced march that took 4,000 Cherokee lives in 1838-39 as they were relocated to Oklahoma under Andrew Jackson's Indian Removal Act. But mostly, it is because soloist Amy Porter deeply imbues her performance with a sense of narrative and of speech and, yes, drama.
Daugherty, a member of the U-M faculty, made the work for his colleague Porter, and she wears it like a glove — or perhaps it wears her. The haunting melody with which she opens the piece, and which dominates the first movement, turns from blue sky to black clouds in an instant with the entrance of the orchestra. The sudden transition is overwhelming: peace turned instantly to turbulence. Bent notes and trills convey a sense of Native American music and the natural world. We hear birds, we hear hoofbeats; ankle bells jingle and rattle sticks rustle; drums and flute talk back and forth.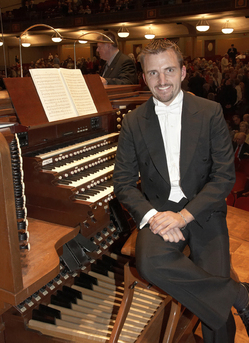 photo courtesy of the Ann Arbor Symphony Orchestra
A middle movement radiates a quiet, determined acceptance that ascends to wild outcries over an orchestral drone. Thrillingly, the flute melody of the first movement returns in the last — transformed into pure breath with pitch, a sort of hoarse, urgent cry for what once was.
I told a friend at intermission that I was replete: what I'd heard was enough to make me feel the concert was complete. It seemed a little strange after "Trail of Tears" to return to the hall at all, but perhaps especially for a big, 19th century symphonic work. And yet, how many chances does one have in a lifetime to hear the Saint-Saens "Organ Symphony" live (for me, Sunday was No. 2), and to bathe, up-close and personal, in that radiant C Major entrance of the organ?
Early in the first movement, there were a few intonation issues, but they were fleeting. What was not was the wonderful synthesis of sound as the organ envelops the orchestra. It's one of classical music's magical moments, and replete or not, organist Steven Ball and the A2SO made it worth returning to the hall to hear.