Alejandra O'Leary releases new song, 'Beat Ohio'
Posted on Sat, Nov 24, 2012 : 8:17 a.m.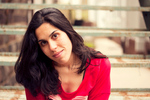 Local singer, songwriter and musician Alejandra O'Leary has released a new song, just in time for today's Michigan-Ohio State football game, called "Beat Ohio."

It's pretty irresistible, with a catchy hook, winning vocals and her talented band—for the purposes of this track, going by the name Champions of the West.

Note that the lyrics aren't actually about the football game as such -- just take a listen and find out. It's worth it.

The song can be heard, and downloaded for free, on O'Leary's Bandcamp page. A video is on the way, O'Leary reports.