Posted on
Sat, Nov 24, 2012 : 5:30 a.m.
No. 20 Michigan vs. No. 4 Ohio State: Your mega guide to 'The Game'
By Pete Cunningham
Daniel Brenner | AnnArbor.com
GAME STORY:
Michigan offense sputters late as Ohio State stops the Wolverines in Columbus again, 26-21
WITH POLLS: Grade the Wolverines and weigh in on whether Ohio State should be eligible for an AP national title
INSTANT ANALYSIS: Michigan doomed by stagnating, mistake-prone offense
BEHIND ENEMY LINES: A friendly rivalry? Maybe not, but Undercover Michigander surprised by lack of hostility before The Game
LIVE COVERAGE: Follow the game action as it happens from Nick Baumgardner's live blog on the Michigan Football homepage. Also, be sure to follow Kyle Meinke (@kmeinke) and Nick Baumgardner (@nickbaumgardner) on Twitter.
WHO: No. 20 Michigan (8-3, 6-1 Big Ten) at No. 4 Ohio State (11-0, 7-0).
WHERE: Ohio Stadium, Columbus, Ohio.
WHEN: 12:00 p.m.
ODDS: Ohio State is favored by four points, according to sportsbook.com.
SERIES RECORD: Michigan leads (58-44-6).
LAST MEETING: Saturday, Nov. 26, 2011, Michigan won 40-34.
WEATHER: Partly cloudy. Winds blowing from the Northwest at 10-15 m.p.h. Game-time temperature: Around 35.
BROADCAST INFORMATION: TV: ABC; Radio: Michigan Sports Network (local affiliates).
AnnArbor.com coverage: "The Game" is finally here and with all due respect to the fans of the Cal vs. Stanford rivalry, that means Michigan vs. Ohio State. And incase you forgot, Brady Hoke reminded everyone last year "it's the most important game on the schedule." Check out our coverage in the build up to the game in one easy to read package.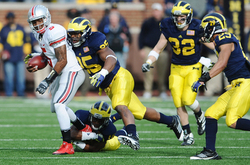 5 keys: Michigan trying to reverse struggles against mobile quarterbacks (with prediction)
It's no secret: Mobile quarterbacks have been Michigan's Achilles heel for quite some time now. Ohio State just happens to have one of the best mobile quarterbacks in the country in Braxton Miller, so it's no surprise that stopping Miller will be essential to Michigan's success.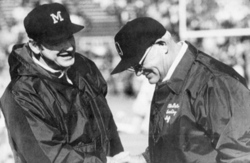 Ohio State's unbeaten: Here's 5 memorable Michigan-Ohio State tilts with perfect-season potential
Ohio State comes into "The Game" at a perfect 11-0, and it's not the first time a team has come in undefeated. The last time there was an unblemished record in the end of the rivalry, there were two, in 2006. The 42-39 Ohio State win is one of several classic season finales in which at least one perfect record was on the line.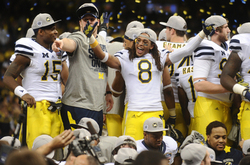 Breaking down Michigan's chances of sneaking into BCS eligibility
Michigan may have lost its chance at the Big Ten Championship game and the Rose Bowl with Nebraska's win over Iowa on Friday, but the Wolverines can still sneak into a BCS bowl bid. First Michigan needs to beat the Buckeyes, and needs a little help from around the country to climb up six spots in the rankings to No. 14.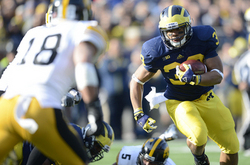 Thomas Rawls has no choice but to step up for injured Michigan running back Fitz Toussaint
It's probably not the way Thomas Rawls imagined winning the starting job, but he has to be ready regardless. After Fitz Toussaint went down with a gruesome leg injury against Iowa, the Wolverines will call on Rawls to step up in his place.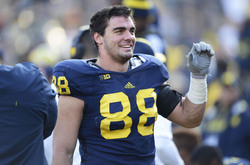 Craig Roh takes unconventional path to Michigan record for career starts
Here's some Michigan trivia for you: what senior can end his career as the all-time leader in consecutive starts? Ok, you read the headline, but would you have guessed Craig Roh, otherwise? Roh's path to the record -- four positions in four years -- has been an unconventional one to say the least.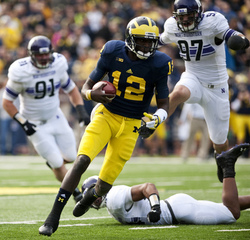 Third-down king Devin Gardner has makings of great QB
It's admittedly been a small sample size, but so far Devin Gardner looks like he has the makings of a great quarterback. Al Borges asked Gardner once what makes a great quarterback and Gardner's answer was "the third play." The "third play" has arguably been when Gardner has been most dangerous.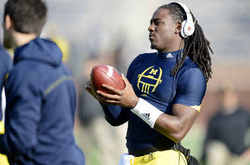 Brady Hoke mum on QB starter; LB Desmond Morgan to return, but starting spot unsettled
Brady Hoke didn't reveal who the starter would be at quarterback this week...surprise, surprise. While Devin Gardner's play of late, coupled with Denard Robinson's injury, make his seem like the obvious choice, Hoke still says it's a "day to day" evaluation. Hoke did actually reveal a little more on linebacker Desmond Morgan's status and his possible role on Saturday.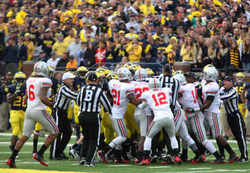 Stakes are higher for this Michigan-Ohio State game, but the hostility never left
Last year Michigan was playing to break its historic losing streak, and to stay alive in the hunt for a BCS bowl bid, but Ohio State was in the midst of a mediocre season. The three years prior, let's face it, Michigan was lousy. For the first time in a while on Saturday, both teams are good again. But even in the down years, the hostility between the sides never left.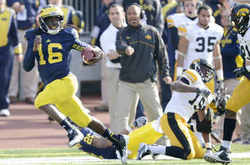 Denard Robinson says he still has numbness in hand, but ready to play against Ohio State
Denard Robinson is still experiencing numbness in his hand, but there's no way he's going to let that keep him from the last Ohio State game of his career. The fact that its his throwing hand may keep him from, well, throwing, but it's fair to say it would take an act of God to keep Denard out of "The Game."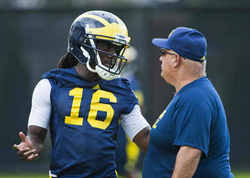 Al Borges talks about two-QB offense with Devin Gardner, Denard Robinson
When both Denard Robinson and Devin Gardner were in the lineup last week against Iowa, it was easy to imagine Al Borges' eyes growing ever wider. It was clear Borges' creative juices were flowing with the depth of the play calls and it's a safe bet we'll see a lot more of it on Saturday.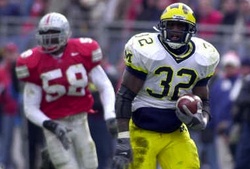 Michigan prepared for the 'hatred' that comes with playing at Ohio State
It's been a while since Michigan won at the Horseshoe. Twelve years to be exact, when Anthony Thomas toting the rock for the Wolverines. The A-Train was big, and no amount of Ohio State hate could slow him down, and as the players who have played there will tell you, there is plenty of hat to go around south of the Michigan border.
Who ya Got?

This and That
Associated Press Preview:
WHAT'S AT STAKE
Ohio State can clinch only the sixth unbeaten, untied season in its 123 years of football with a win, while preserving an outside shot at an Associated Press poll championship. The Buckeyes have already won the Big Ten's leaders division, but their season ends on Saturday because of NCAA sanctions. Michigan can still play in the Big Ten title game against Nebraska with a win and a loss by Nebraska at Iowa, and can also get into a better bowl game with a win.
KEY MATCHUP
Ohio State QB Braxton Miller vs. the Michigan defense. The Wolverines are No. 1 in the nation in pass defense, giving up just 152 yards a game - and are 51st against the run at 151 yards a game. Miller looked bewildered at times last week in an overtime win at Wisconsin by the Badgers' defense, which kept him pinched behind the line of scrimmage and always seemed to have someone in his face. A repeat performance and it'll be difficult for the Buckeyes to escape once again with a season-saving win.
PLAYERS TO WATCH
MICHIGAN: QB Devin Gardner accounted for six TDs in a rout of Iowa last week. He has come into his own in recent weeks for the injured Denard Robinson (nerve damage to his elbow) who probably can't throw the ball but will see action at several positions. The loss of last year's leading rusher, Fitzgerald Toussaint (broken leg), makes it even more of a Gardner and Robinson production.
OHIO STATE: LBs Etienne Sabino, Ryan Shazier and Zach Boren have had solid seasons, Boren after switching over from starting FB. It'll be up to them to contain Michigan's dual threats on offense and key a Buckeyes defense which has been at its best when most needed.
FACTS & FIGURES
Ohio State had won the last seven meetings (the 2010 victory was vacated) before Michigan's 40-34 win in Ann Arbor last season - a game the Buckeyes, who finished a woeful 6-7, could easily have won with a late TD. ... Michigan is 18-0 under second-year head coach Brady Hoke when scoring 20 or more points, 1-5 when under 20. The Buckeyes give up 23 points a game. ... Ohio State will honor its 2002 national championship team (14-0) during the game. Jim Tressel, who committed the major NCAA violations which led to this year's bowl ban, will be on hand along with TB Maurice Clarett, who starred for one college season before being ruled ineligible for accepting improper benefits. ... The Wolverines gave the Buckeyes their first loss in 1969, '95 and '96.

Around the Big Ten...and Ypsilanti
Pete Cunningham covers sports for AnnArbor.com. He can be reached at petercunningham@annarbor.com. Follow him on Twitter @petcunningham.