Posted on
Wed, Jul 17, 2013 : 1:23 p.m.
Ann Arbor Art Fair 2013 gets underway
By Jenn McKee
• The Mega Guide: Full coverage of the 2013 Ann Arbor Art Fair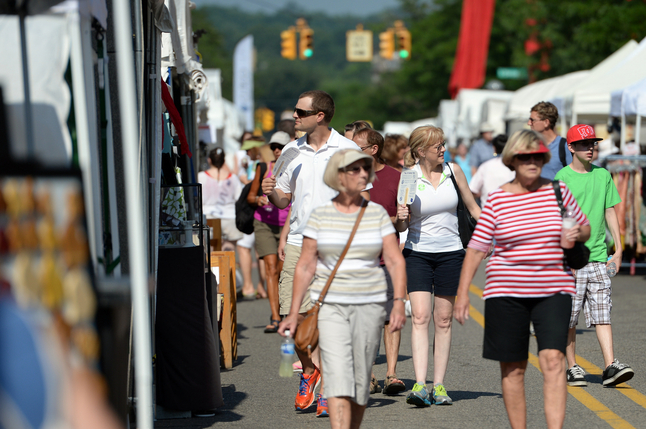 Melanie Maxwell | AnnArbor.com
The Ann Arbor Art Fair opened Wednesday for four days of art, crafts, shopping, walking, live music, heat, food, and all the other traditions.
Destin Wellman, from New Zealand, was visiting the Art Fair with his great-aunt, Ann Arbor resident Lucie Nisson.
"He's an artist-in-the-making himself," said Nisson (preferred medium: drawing). "He does everything," she said, pointing at the red and yellow braided plastic bracelet on his wrist.
Nisson comes to the fair every year. Her experience so far? "It's like every other year. But we love the Art Fair. We're artists ourselves—we're retired, so it's a hobby, not a profession for us. And I'm out here looking for Ann Arbor artists interested in showing their art in local homes for the Westside Neighborhood Art Hop."
Sharon and John Cahill of Pittsfield Township have been coming to the fair every year for 30 years. This year, they got downtown at 9:30—"on the first bus," John said.
"We used to come when the art was just on South U. … If that tells you anything about how long we've been coming," he noted as the couple took a break at the Michigan Theater.
"I sometimes come every day," Sharon Cahill added. They particularly like looking at pottery and ceramics.
The day was notable for heat and a brief shower—both of which are typical for the art fair. This year's forecast calls for a high temperature around 90 Thursday and Friday, along with a chance of rain; for Saturday, the final day, expect a high closer to 80.