Posted on
Fri, Jan 11, 2013 : 11:42 a.m.
A layman's tour of some of Ann Arbor's public art
By Richard Retyi
Defining art isn't easy and I'm not going to try, but if there's one entity more qualified than government to determine what is good public art, it's me. A Canadian with no formal art schooling beyond elementary school who doesn't know a Paul Cezanne from a Paul McCartney, who had a "Reservoir Dogs" and a "Scarface" poster on his wall in college.
Don't read this as an attack on public arts funding or public arts millages. I like art and stuff. A dollar a month for some metal trees in the park is well worth the tithe. Rather, this is an everyman's guide to Ann Arbor's public art - free, functional and expensive. Voters rejected a recent public-art millage with 56 percent against and a month later the city partially suspended the Percent for Art Program but that doesn't mean we can't enjoy what's already out there.
Join me, won't you?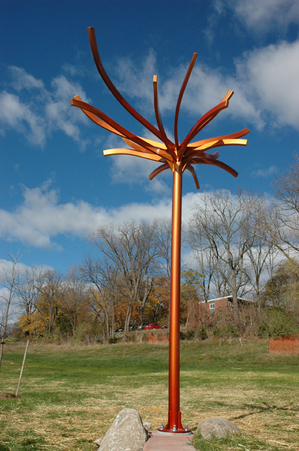 Courtesy of City of Ann Arbor
West Park Metal Tree Sculptures
A pair of metal tree sculptures, local artist Traven Pelletier, were added to West Park during renovations in 2010. Located near the bandshell, the trees are pretty striking and blend into the space pretty well. Thumbs up from this art snob.
Fairy Garden Village
I'm not a fan of Ann Arbor's fairy doors, probably because I don't have kids, I hate pennies and I don't believe in forest sorcery. But the Fairy Garden Village, at Fourth Avenue and William Street, is an entire display of fairy things, featuring lights, municipal buildings and blue shiny rocks. There's a church, a warning sign for non-fairies, one of those terrible University of Michigan branded gnomes (it's a FAIRY GARDEN, interloper!) and price tags cling to a lot of the Christmas items dotting the display. The more I look at this thing, the less I like it.
The Kerrytown Arch
Thanks to the Michigan Council for the Arts and Ann Arbor Tomorrow, people who hang out in the wonderful outdoor patio area near the People's Food Coop in Kerrytown can enjoy the black metal monstrosity that is the Kerrytown Arch. Strategically placed for little kids to bark their shins on, this hollow, rickety beast was welded together and placed on this spot in 1977 for who knows what purpose. Resembling a child's handiwork after 40 minutes with a paper straw wrapper in a Red Robin watching her parents natter on while picking at their Avo-Cabo Salads, look closely for the artist's signature welded into the base of the piece—about as tasteful as a frat symbol branded onto the bicep of a middle linebacker at Texas A&M.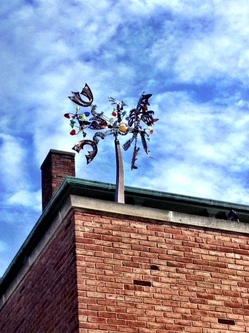 Muehlig Funeral Home WhirleyWhatzit
A few years ago I was driving past the Muehlig Funeral Home when a spinning monstrosity on the roof caught my eye. Closer inspection revealed an Art Fair wind spinny thing with as many colors as Joseph's dreamcoat, with a rotating pinwheel and some horseshoe looking things sprouting out of the back. Very out of place. But hey, it's eye-catching.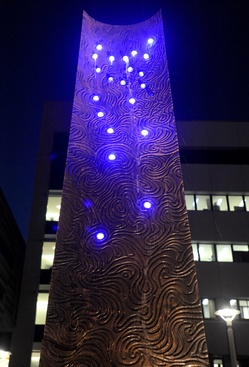 Angela J. Cesere | AnnArbor.com
Dreiseitl Water Sculpture Outside City Hall
Get ready, AnnArbor.com commenters—here's the grandaddy of Ann Arbor public art. The Dreiseitl water sculpture debuted in the fall of 2011 at the cost of about $750,000. It didn't work properly for a year. The bronze sculpture is lit from below by three lights (two white, one red) on the street side along with 22 blue LED bulbs facing Huron. On the City Hall side, five blue LED bulbs near the base of the sculpture shine down on a concrete decline with circular and teardrop shaped designs where water presumably washes down during the seven months when its warm enough to do so. The lights blink in varying patterns but the overall effect is difficult to see driving on a four-lane thoroughfare at 30 mph, which is how most people who don't work in the area see the sculpture.
With two super uncomfortable benches nearby and nearly zero regular-person foot traffic, what's the point of this major art installation being installed at this location, other than the fact that it's City Hall? And a water sculpture as the main art project for a cold-weather town? Come on, people, you had to know that the overall effect was going to be somewhat lost by all the snow, ice and, oh yeah, lack of water. The sculpture seems a lot smaller than I'm sure it is because the courthouse is so massive and impressive and Huron is so wide open. Maybe staring down at the sculpture from the fifth floor makes it look cool, but I haven't been awarded the key to the city (yet!).
Ann Arbor's Whirlydoodles
Part art, part science, Tim Jones' Whirlydoodles are all over the city, spinning in the wind to create bursts of light and 63 negative comments per AnnArbor.com article. I don't understand art or science, so I incorrectly assumed that the energy they produced powered something other than the LED lights on the blades, like maybe Ann Arbor's secret subway system or a nearby Illuminati clubhouse. Nope. The wind just powers these art thingies. Either way, they're an interesting conversation piece for people on a first date (you like wind? I like wind too!), a great way to distract drivers, and a fabulous way to concuss idiot bats and birds. Art with a purpose!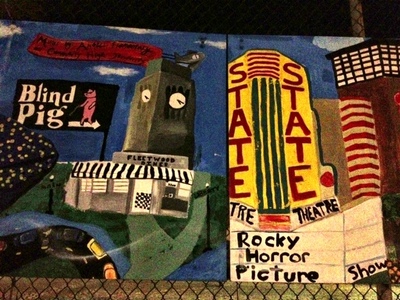 Angell Elementary and Community High School Mural
Facing the Kerrytown Farmer's Market is a panoramic co-production of Angell and Community, featuring the city of Ann Arbor painted in great detail. Stretching from the Big House to the University of Michigan Hospital, this piece depicts Ann Arbor landmarks like the Fleetwood, State Theatre (showing "Rocky Horror," so Community of them!), Pinball Pete's, the Blind Pig (isn't that a bar, kids?), an I-94 sign and more. The mural is pretty much what you'd expect from a collaboration between an elementary school, an alternative high school and paints, but it's fun to pick out the little things in the mural. Pay close attention to the fresh take on the Michigan Survival Flight helicopter, what the vendors are selling at the Farmers Market, and the ghost of Bo Schembechler.
It's All Been Done Before
Brother, are you ever right. Near the corner of Catherine and Ingalls on a retaining wall next to the sidewalk is a series of faded stencils titled "It's All Been Done Before." Featuring famous works of art from "The Scream" to the Mona Lisa and "American Gothic," the stencils the length of the wall and though added to by intrepid follow-up artists (mostly mustaches) and faded to nothing in some spots, it's still a pretty neat thing to stumble upon on a sunny afternoon.
The Rock
The gigantic boulder on Washtenaw and Hill was birthed from the earth and moved to its current location to commemorate George Washington's 200th birthday. Today, everyone from sorority sisters to proposing grooms slather the rock with paint to commemorate events great and small. I love the Rock and its ever-changing messages, but I find the surrounding sidewalks just as interesting for their splashes of color and evolving hieroglyphics.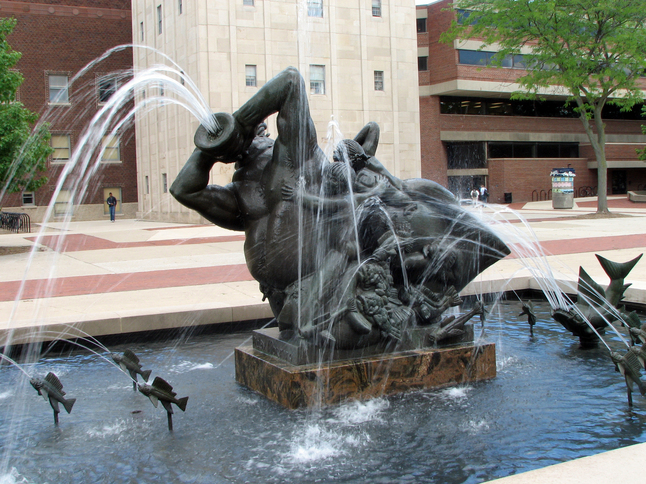 Ann Arbor News file photo
Sunday Morning in Deep Waters
My favorite fountain in Ann Arbor is near the Burton Tower, called "Sunday Morning in Deep Waters," by sculptor Carl Milles. It should be called "Fat Guy and Fishes Be Spitting Water for Rich's Enjoyment," because this thing tickles me every single time (not literally). At the center of the piece is the mighty Triton, flanked by his sons and a bunch of jumping fish. Rumor has it if you drink the water you can eat for free at Real Seafood Co. for life.
Three Nudes
If you thought the statue of three nudes near Angelo's and the medical campus seems a little out of place, you'd have that opinion. The bronze statue of a family of three is called "Regeneration of Time," was designed by Louis Marinaro, and according to an old Michigan Daily article was acquired in 1996. It apparently deals with themes of love, time, knowledge and zzzzzz but you know what—I like my tasteful nudes. I say more power to "Regeneration of Time" and other artists daring enough to make artwork to support only-child households. I'm a product of one. Suckers.
The Michigan Theater Alley
What was once a vibrant, mostly planned home for cool murals and a wall of bubblegum is a little more hodgepodge after being whitewashed some years ago. As a home for the street art, you could do a lot worse than the Michigan Theater alley. It gets a bad rap for being host to hobos, criminals and famous dancing impersonators, but for those who aren't familiar with it, stumbling upon the alley as an out of towner is a cool experience. It's less about the individual art and more about the collective experience. The alley is dark even on the sunniest day of summer and you're never quite sure what you'll see next or how close you should get to the walls. Art is supposed to make you feel something and the alley definitely makes you feel something. Even if that thing is icky.
The Cube
The Cube "Endover" as it's formally known, is located next to the Michigan Union and is not only impressive in size but fun to spin. Legend has it that a sprite named Mary Sue Coleman who lives on the Michigan campus spins the cube to herald each morning. I hear you can catch her by the light of the moon or by smearing peanut butter on nearby trees which will attract her and stick to her wings.
Fire Department Memorial and Hydrants
On Fifth Avenue next to the Ann Arbor Fire Department headquarters you'll find a series of fire hydrants and a marble memorial to Ann Arbor's fallen firefighters. The hydrants each represent a different design, including "The Detroiter" and "Later Fluted Barrel", while the plain memorial bears the names of three firefighters and is topped with a black fireman's helmet. The memorial rests at the base of a giant flagpole that and the whole setup is solemn and pretty impressive. Stop by, check it out and peek in the windows to the fire department garage and check out the trucks.
What's your favorite public art in Ann Arbor? Comment below and I'll give you my expert opinion.
Richard Retyi returns to AnnArbor.com with his new column Hidden Ann Arbor. Rich will write about the hidden side of Ann Arbor and the things locals take for granted. In his day job, Rich is a social media director for a digital marketing agency in Ann Arbor. Read more of his stuff at RichRetyi.com or follow him on Twitter.