Ann Arbor school bands perform at Picnic Pops outdoor concert
Posted on Sat, May 19, 2012 : 12:59 p.m.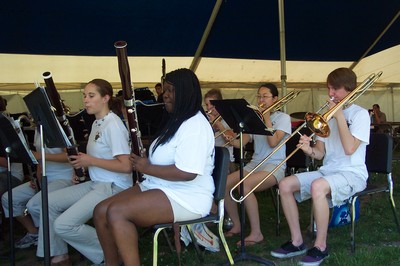 Lisa Allmendinger | AnnArbor.com

The sound of local high school and middle school bands in the open air is the draw today at Pioneer High School, where the traditional Picnic Pops concert (and more) takes place through the rest of the afternoon.

It's a carnival and a concert with plenty of fundraising games like a cake walk and a water dump, snack food, and upbeat music.

The Skyline High School Symphony Band kicked off Picnic Pops this morning at 10:30 a.m. with the theme of cars.

"The music is more popular than classical," said Skyline sophomore Victor Pernicano, a trombonist. "It's different being outside and a good experience."

"What a beautiful day!" said Skyline junior Thomas Dolce, a trumpet player.

"It's so relaxed, and you get to hear other bands' music," said Lizzie Ritter, a Skyline sophomore and flautist.

The bands played under a huge tent while the audience watched from seats set up on the east lawn at Pioneer.

"I just like the music," said Sue Cutler, whose son plays in the Huron High School Concert Band.

Her husband, Jeff Fessler, enjoyed the socializing.

"These band programs are fantastic for kids," said Fessler. "I hope our (political) leaders keep supporting music and other programs in the arts."

David Baum, whose son is a junior in the Pioneer Concert Band, has been coming to Picnic Pops for many years.

"Kids get to play music that's lighter than they usually play in school," said Baum. "The music programs alone are worth sending your kids to high school here. They develop musical and leadership skills and are a foundation of education in high school."

The afternoon's remaining schedule is: 1 p.m. Huron Concert Band, 1:30 p.m. Clague, 2 p.m. Huron Varsity Band, 2:30 p.m. Skyline Varsity Band, 3 p.m. Slauson, 3:30 p.m. AA Open, 4 p.m. Pioneer Concert Band, 4:30 p.m. Pioneer Varsity Band, 5 p.m. Pioneer Symphony Band. Pioneer is located at 601 W. Stadium.