Posted on
Sun, Nov 6, 2011 : 6:55 a.m.
Ann Arbor's Elizabeth Allen to appear in History Channel's 'Vietnam in HD'
By Jenn McKee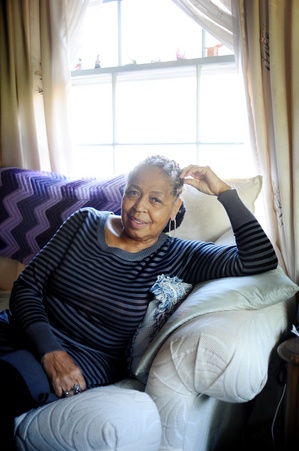 Melanie Maxwell | AnnArbor.com
Ann Arbor's
Elizabeth Allen
will be featured in the History Channel's upcoming 6-hour series "Vietnam in HD," to talk about her experiences as an African American Army nurse who served on the frontlines during the Vietnam War.
But this wasn't Allen's first time in front of a camera. Captain Allen previously appeared on two episodes of, and worked as a consultant for, the ABC drama, "China Beach"; she participated in documentaries about women in war for the National Geographic Channel and The Learning Channel; and most recently, she appeared in Keith Famie's "Our Vietnam Generation," which focused on Michigan veterans and premiered earlier this year.
While you might assume that these previous projects brought Allen to the attention of "Vietnam in HD"'s filmmakers, according to her, producer Lou Reda got her name from the Library of Congress.
Allen considered herself a "Johnny come lately" to "Our Vietnam Generation," but her involvement in "Vietnam in HD" was more in-depth, involving a trip to Pennsylvania for an 8-hour interview.
"They asked questions ... like, 'What was it like to be an African American woman there?' And that was very critical for me. Because during the whole of the Vietnam campaign, there were less than 50 African-American nurses there, and that was one of the very difficult things for me, because there was no preparation for me. What I mean by that is, … there was no plan at the front about African-American women being officers and being in a combat zone. There is a military regulation about there being no fraternization between officers and enlisted personnel. Now, that works well for white women, but not for African American women, and so it was the loneliest time in my life. There was nowhere for me to go, no one for me to talk to," Allen said.
"I was in Vietnam when Martin Luther King was killed, and it was a stormy time for troops who were asking, what were we doing there? We weren't even welcome (in America)."
Despite witnessing the horrors of war firsthand, and struggling with loneliness, Allen nonetheless wanted to serve in Vietnam longer than the one-year maximum that the Army allowed for nurses.
"I did not feel that I would be welcome here, and I wasn't," said Allen "People couldn't come to grips with me."
Raised in West Virginia, Allen earned her master's degree in nursing at Ohio State University before joining the Army and asking to serve in Vietnam—a calling that was mostly inspired by her older brother's service in the Navy. And while both siblings served simultaneously in country, Allen's older brother didn't know she was there.
"I believed that even though he was Navy, if I took care of the Army well, somebody would take care of him," said Allen.
PREVIEW
"Vietnam in HD"
Who: Ann Arbor's Elizabeth Allen and others who served in Vietnam.
What: Six-hour series that immerses viewers in the sights, sounds, and stories of the Vietnam War by using footage shot by the soldiers themselves.
When: 9 p.m. November 8-10.
Where: History Channel.
Not surprisingly, revisiting experiences from her time in Vietnam on camera has taken a physical and emotional toll on Allen, who now suffers from myasthenia (a neuromuscular disease). Her doctors "worry when I do these kinds of things, because I do have a lot of problems when I come back from doing it. But you know what? If nobody does it, we keep on doing war, and it seems to me, everybody wants to be safe, but everybody wants somebody else to make them safe and owe nothing. But somebody has to speak up, and I don't bite my tongue about it, either."
Instead, Allen has long worked to draw attention to the grave problems faced by under-served female veterans returning from war; the children of troubled veterans; and veterans who end up homeless or in prison.
"Even the VA has trouble delivering care to women," said Allen. "They're doing better with the Afghanistan group, but they did a very poor job with the Vietnam group of women. Here in Michigan, if you were a licensed registered nurse and got Axis 1 PTSD (Post Traumatic Stress Disorder), then you could lose your license for having a psychiatric disease. So now you're crazy and you don't have a job. … I have talked to legislators, and they've always said, 'There's nothing we can do about that.' You can do something about it. They just choose not to. These things make it imperative that somebody speaks up, and if it's not worth it to me, who is it worth it to?
"And in schools, there are groups for kids with alcohol and drug addicted parents, but there's no group for kids of veterans," said Allen. "I speak to that so the kids get support, too. They're in a vulnerable position."
The appearance of new documentaries like "Vietnam in HD" and "Our Vietnam Generation" might seem to suggest that enough time has passed for Americans to have a substantive discussion about a war that deeply divided the nation. But Allen said, "I don't think that this country is ever going to come to grips with Vietnam."
One reason for this, Allen argues, is that Vietnam marked the only time in American history when congress passed a bill to draft young men who didn't necessarily meet the criteria for joining the military. So even if some of the War's 350,000 draftees failed tests or had had trouble with the law, they were sent on to fight.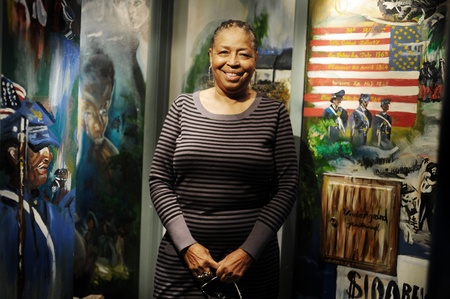 Melanie Maxwell | AnnArbor.com
"Well, when they came back, guess what happened?" Allen said. "The VA had not made plans to care for them, meaning, if they didn't meet the criteria in line of duty, they got no benefits, which is why so many ended up in prison. … They thought (the draftees) were all going to die, that they were too dumb to succeed, but that didn't happen. Instead, they came back, and they had agent orange problems, their children had agent orange problems, they ended up in prisons or homeless, and they got cancer. … This country does not have enough money to take care of this group of people. So I think we're not going to ever come to grips with Vietnam. Nobody's really wanted to tell the story of what happened, because I'm not sure we're ready to accept what happened, and what happened to the veterans, and what happened to families of veterans."
Two things that are emphasized in Reda's "Vietnam in HD" series is how the war was a battle for body count, not territory; and how U.S. troops were repeatedly asked to do the impossible.
"Always," said Allen. "We ran out of everything all the time. We didn't have bandages, we ran out of food, the troops ran out of bullets, we ran out of IVs—you were always asked to do the impossible. And one of the funniest stories of all was, when I was at Cu Chi, we got this load of ping pong talbes and volleyballs and volleyball nets, and I thought, 'What the hell is this?' What it was was, the fine ladies of the United States had heard that the U.S. troops were having sex with the local women, and in order to stop that, they needed a diversionary activity. Honest to God. Like, if we had volleyball nets, we'd stop 18-year-old boys from chasing women."
But memories of the War's inevitable absurdities are also, inevitably, linked to far more painful ones—ones that permanently changed the people involved.
"I was a nurse on duty the first night of Tet—an incredibly awful situation," said Allen. "That changes you. You're no longer the person you were. … You've got to walk by yourself through the war part. You don't get to come back from that. You just are never the same. At least there, I was in an environment that I knew, … and I was damn good at what I did. And I could keep doing it, 14, 15, 16 hours a day, because I made a difference. Coming back here, … being black, being female, having a master's degree, being in the Army, let me tell you—those are all strikes against you, and nobody wants to talk about that. The assumption was that I had to be lesbian. That I had to be ugly or I had to be stupid, and let me assure you, I was not either of those. … I do live here in this country, and I'm not for or against war. But I am always for the warrior.
"We want warriors, but we don't want to take care of them. We want them to do the dirty work and then come back and be normal, everyday citizens. People think, 'Why don't they just get over it?' But you don't get over war. You don't get over holding the hand of an 18-year-old boy who's dying. That doesn't go away."
Jenn McKee is the entertainment digital journalist for AnnArbor.com. Reach her at jennmckee@annarbor.com or 734-623-2546, and follow her on Twitter @jennmckee.