Posted on
Mon, Nov 7, 2011 : 3:01 p.m.
Ann Arbor's Mayer Hawthorne pitches to replace Nickelback for Detroit Lions halftime show
By AnnArbor.com Staff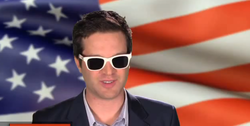 Both the
AV Club Ann Arbor
and the
Damn Arbor
blog have pointed out that
Mayer Hawthorne
, the Ann Arbor native who has gone on to national success as a neo-soul musician, is pitching himself as an alternative to
Nickelback
as halftime entertainment for the Detroit Lions' Thanksgiving Day game.
The choice of Nickelback for the annual nationally televised game has sparked an online petition by a University of Michigan graduate student protesting the selection on grounds of general lameness (and the fact that Nickelback is Canadian).
As Andrew Cohen, Hawthorne grew up in Ann Arbor, graduating from Huron High School and the University of Michigan. Since moving away in 2005, Hawthorne has carved out a successful career as a singer in the neo-soul vein.
In an interview with Rolling Stone, Hawthorne says that he'd be a better choice—and he'll be in the area anyway, coming home for the holiday. Hawthorne makes his pitch in this video:
So, who would you rather see—Nickelback or Mayer Hawthorne? Vote in the poll and/or leave a comment below: