Posted on
Wed, Jul 13, 2011 : 5:59 a.m.
Well-known local artist Chris Roberts-Antieau's story premiering at the Michigan Theater
By Jennifer Eberbach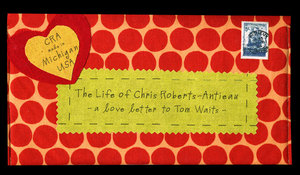 Photo courtesy of Chris Roberts-Antieau
The life and art of renowned outsider fabric artist
Chris Roberts-Antieau
, who lives and has a studio in Manchester, is a bit of a "rags to riches" story. Over the last couple of decades, the self-taught artist has created a prestigious career out of cutting and sewing pieces of fabric together to create 2-D artworks that respond to, and frequently find humor in, her encounters with pop culture and everyday life.
Last year, her right-hand woman Angela Kline, who runs the downtown Manchester studio, made a movie about Roberts-Antieau's life and art, "The Life of Chris Roberts-Antieau: A Love Letter to Tom Waits" The film traces the chronology of the artist's rise to the ranks of famous, widely collected artist from more humble beginnings teaching herself how to sew and make her "fabric paintings."
A red-carpet screening of the film and reception at the Michigan Theater this Thursday, July 14 is the film's world premiere.
The film includes interviews with a number of her famous fans and collectors, including pianist and singer/songwriter Ben Folds, musician Joe Henry, actress Kathy Kinney (who is best known for her role as Mimi on "The Drew Carey Show"), and many others.
Music frequently inspires her artworks—not necessarily its subject matter, but it puts her into the right creative mood to make the artworks. This is especially true of Tom Waits' music; thus the title of the film. Two bands featured on the film's soundtrack will play at the Michigan Theater premier.
Before the movie screening, the Michigan Theater audience can enjoy the music of "country and eastern" inspired band Orpheum Bell while they dine on h'ordeuvres and wine served by The Moveable Feast. After the film, local musician Scotty Karate who plays with Scotch Bonnets will play while guests enjoy champagne and desserts provided by the Common Grill and the Cupcake Station.
In a previous interview with annarbor.com, Roberts-Antieau described herself as an optimist with a sometimes dark sense of humor. "I see the humor in things before I see anything else," she says of her perspective. "As long as society keeps making materials for me, things like Siegfried & Roy and the attack, or deciding that Pluto is no longer a planet, I will have art to make. I love the absurdity and the mediocrity of pop culture. I also love the spiritual journey that I'm on and love to be able to capture those things in my work," she explains.
A VIP reception begins at 5:30 p.m. Thursday, with the movie at 7 p.m. Buy tickets in advance from the Michigan Theater.