associated Press:

ArtPrize opens in Grand Rapids

Posted on Wed, Sep 22, 2010 : 9:51 a.m.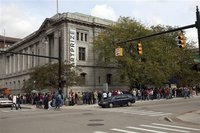 Brian Kelly | AP
GRAND RAPIDS — The ArtPrize exhibition and competition in Grand Rapids is opening its 19-day run today.
The southwestern Michigan city's vibrant arts scene is getting an infusion of energy from 1,713 artists displaying their works at 192 venues, from plazas, hotels and museums, to restaurants, coffee shops and parks.
The event opens today and runs through Oct. 10. Finalists are announced Sept. 30 and the winner is announced Oct. 7.
A list of all participating artists, including some from Washtenaw County, is on the ArtPrize website. Local participants range from Margaret Parker, a veteran local artist and chair of the city's Public Art Commission, who has been assembling an ambitious project called "C'ood"; to David Jacobson, a University of Michigan dentist who recently decided to make art a serious pursuit.
The public decides the top 10 winners through "American Idol"-style voting. Artists from 21 countries and 44 states are taking part in the competition, which offers $449,000 in prizes decided by the public, including a top award of $250,000.
Last year's 18-day ArtPrize debut drew big crowds.