Posted on
Thu, Feb 4, 2010 : 10:40 p.m.
The Bad Plus have genre-jumping fun live at Lydia Mendelssohn Theatre
By Will Stewart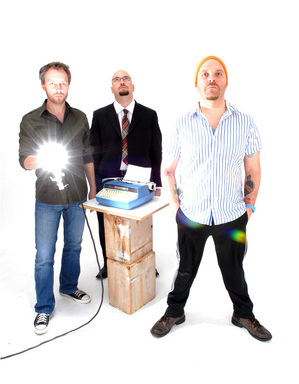 The Bad Plus, the inventive trio known for melding out-jazz improvisation with its own take on classic rock, steered clear of the latter and focused on the former during a stirring performance at Lydia Mendelssohn Theatre on Thursday.
That's not to say that the trio — pianist Ethan Iverson, drummer Dave King and bassist Reid Anderson — didn't find ways to collide genres in ways that were, at turns, jarring and seamless, yet always done in a spirit of fun and adventure.
The Bad Plus doesn't lack in either of those areas.
Consider that the setlist — even without venturing into Nirvana's or Heart's catalogs — included compositions by Stravinski, as well of each member of the trio.
The Bad Plus is a rarity in the experimental jazz world in that it's able to push the outer edges of the music without ever sliding into atonal cacophonies. In fact, on Thursday, during the first of 2 near sell-out shows, the band appeared to be feeling its way more than usual at first, caressing Stravinski's "Variation d'Apollon" as if unsure of one another.
But this is jazz that has to settle into its own groove. That's partly because of the band's own restlessness. Compositions and arrangements are sometimes so complex that the band is often onto a new tangent before themes have a chance to establish themselves.
While this sounded schizophrenic at first, it's part and parcel of what makes the band tick and what sets it apart from countless other jazz combos that are too happy to lock into a groove and work it to death.
By the time King counted off on his own "My Friend Metatron," the trio was firing on all cylinders, with the members riffing off eachother and finding textures within musical textures.
King is a relentlessly inventive drummer, who appeared on Thursday to have more ideas than he could ever hope to achieve. He was at his best, however, when he swung and stayed away from various tricks and ancillary noisemakers.
Anderson was understated on bass, holding down the tempos during King's flights of fancy. However, he turned in a handful of devastating solos, particularly on his own gorgeous ballad, "People Like You."
Iverson has a dancing, fluid style, his left hand following the right up and down the keyboard. His leads were impeccable and tasteful, but his vamping during the others' solos deserves special praise.
Like the rest of his trio, he was all over the map without ever going anywhere but straight ahead.
Will Stewart is a free-lance writer for AnnArbor.com.
The Bad Plus performing live in July with singer Wendy Lewis: