Posted on
Tue, Aug 17, 2010 : 5:33 a.m.
Beth Nielsen Chapman goes 'Back to Love' for show at The Ark
By Kevin Ransom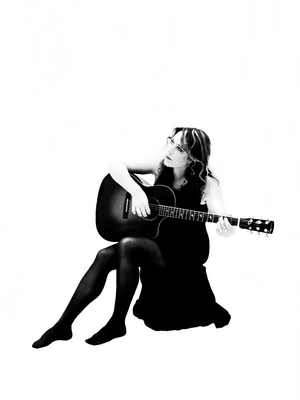 Sometimes we read about how, on a new album by a veteran artist, he / she has "come full circle." In some cases, that's a cliché, or, a pretty big stretch. But in the case of Beth Nielsen Chapman, her new album, "Back to Love," indeed evokes, in many ways, the same themes, imagery and emotions she explored on her self-titled 1990 breakthrough. Chapman underscores that connection right up front, by using a black-and -white photo of herself, against an all-white backdrop, as the CD-cover art — just like she did on that '90 disc.
And the songs on "Back to Love" plumb many of the same deep emotions — about things like being in love, the travails of romance, the joys and heartache of everyday life, etc. — that she examined 20 years ago. Listen to Beth Nielsen Chapman "Hallelujah" (MP3).
But in this case, that depth of emotion is also due in part to her gratitude for just being alive. That's something many of us often take for granted, until we're confronted with our own mortality. Chapman, who comes to The Ark on Friday, traveled down that path twice in nine years. In 2000, Chapman (whose husband had died of cancer in 1994) was diagnosed with breast cancer. Her treatments were successful, and she recovered. But then, just last year, while she was writing songs for the new disc, she found she had a problem focusing and processing language. She went to a doctor and was diagnosed with a brain tumor. Luckily, it was benign. It was removed, and she again recovered. "Once the tumor was removed all the lyrics started to flow again," said Chapman in an e-mail interview from the Edmonton Folk Festival on August 8. "My recovery took a few months, but honestly I was so relieved that it was caught in time, and benign, that I was just happy to make a full recovery." And she says she now feels more blessed than ever. "There are folks who go through so much more difficulty than I've had in life," she added. "I feel that each journey has challenged me and changed me, for sure. Each experience underscores the incredible support I've gotten from family and friends. That's enough to keep me on the side of feeling grateful more than anything else."
PREVIEW
Who: Country-folk-pop singer-songwriter whose songs have been turned into radio hits by many big-name country / pop artists.
What: Ear-pleasing melodies, and songs about the bliss of love, the travails of romance and the joys and heartaches of everyday life.
Where: The Ark, 316 South Main Street.
When: Friday, August 20, 8 p.m.
How much: $17.50. Tickets available from The Ark box office (with no service charge); Michigan Union Ticket Office, 530 S. State St.; Herb David Guitar Studio, 302 E. Liberty St.; or Ticketmaster.com.
Currently, Chapman is engaged to be married to her longtime beau. And this enduring love affair has proven to be a deep well of inspiration for her new songs, including the torchy ballad "I'll Give My Heart" (co-written with Benmont Tench, keyboardist for Tom Petty and the Heartbreakers), and "I Need You Love," in which she provides a litany of what she thinks are her own flaws and eccentricities — while simultaneously praising her mate for loving her anyway. And, lest we forget the primary theme and central emotion of the project, she continues plumbing the always fertile subject of love and romance on songs like "How We Love," and "The Path of Love" and "More Than Love" (the latter of which was co-written by Danny Flowers, who adds sultry slide guitar to the track). "Yes, definitely, my relationship is partly what makes this record so uplifting," she confirmed. "But songs like 'Hallelujah' and 'I Need You Love' also illustrate the depth of challenge that long term love includes." "Back to Love" also showcases Chapman's knack for crafting ear-tugging melodies, after the more painstaking and challenging 2007 project, "Prism: The Human Family Songbook," a 2-CD set of religious songs from various cultures, with lyrics that were sung in nine different languages.
"When I was writing the songs for 'Back To Love' I wanted to just delve fully back into that form of songwriting that shaped me more than any other," said Chapman. "Songs about love and life that have stories and a clear sense of visuals in the lyrics have always been the kind I'm most drawn to. Returning to that songwriting style was like putting on a great comfortable pair of shoes after a long day at the office." On "Back to Love," she declares her musical and emotional intentions right out of the blocks: "Hallelujah,' the lead-off track, is a lilting, acoustic-based duet with Americana / country-rock cult hero Darrell Scott (who co-wrote the tune), with lyrics that probe the complexities of romantic love. Scott also lends his vocals and nimble guitar licks to the lively "I Can See Me Loving You," augmented by Nielsen Chapman's picking on the bouzouki. Neilson Chapman has always enjoyed an enviably diverse career. On the one hand, she gets to play intimate rooms like The Ark on the folk-club circuit. But she also enjoys the commercial windfalls of being a writer whose songs have consistently been turned into hits by other, more high-profile country / pop artists — like Emmylou Harris, Bonnie Raitt, Willie Nelson, Faith Hill, Trisha Yearwood and Neil Diamond, among others. "I love the diversity of my career," said Nielsen Chapman. "I wouldn't trade it for anything. I've never wanted to be put in any one category, because there is so much to discover about different forms of music — and creativity itself is so flexible and culturally boundary-less." Kevin Ransom is a free-lance writer who covers music for AnnArbor.com. He can be reached at KevinRansom10@aol.com.
Beth Nielsen Chapman performing live in June: