Billboard art program brightening area freeways
Posted on Mon, Jan 3, 2011 : 11:48 a.m.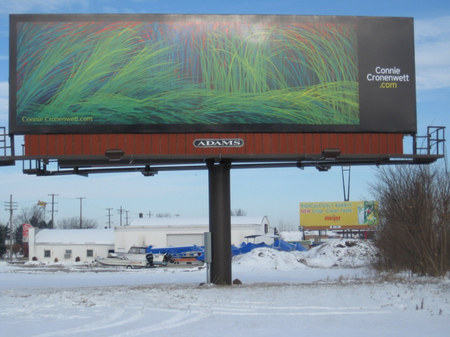 Public art has found an unlikely new venue in Washtenaw County: freeway billboards.
A new effort by Adams Outdoor Advertising, called "Art in the Sky," offers local artists space on the company's signs to display their work. The program debuted recently with three billboards on I-94 and US-23.
AOA Real Estate Manager Shannon Bellers and local artist Elizabeth Schwartz came up with the idea, according to a press release. The company sees the artistic project as an extension of its efforts to donate space to nonprofit groups, and said it can both bring art to those who might not visit galleries and also provide good exposure to local talent.
"We would like to potentially expand the program throughout our Ann Arbor market counties and even further into our other Michigan markets," said Bellers, possibly even to the point of a juried "mobile art show." "The feedback we have received from artists and the Ann Arbor community at large has been overwhelmingly positive."
The 14-feet-by-48-feet artworks will rotate around Adams billboards as space is available, the company said. The vinyl on which the works are constructed is expected to last about a year, depending on weather and other conditions.
The three signs currently part of the program:
• Elizabeth Schwartz, I-94 near Chelsea, facing east. • Lynda Cole, I-94 west of Belleville Road (near Willow Run Airport), facing east. • Connie Cronenwett, US-23 north of Milan, facing south.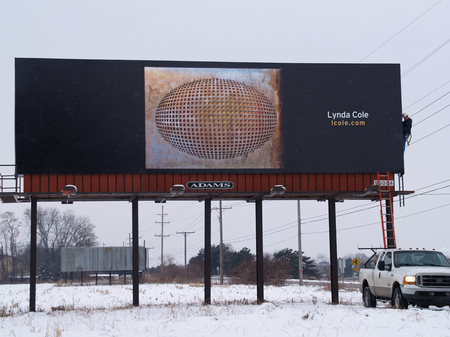 Adams Outdoor Advertising
Cole's website includes some photos from the installation of her work. AOA plans to keep its Facebook page updated with current information on the project.
"Seeing my work on such a large scale, and knowing that others will see it as well, is quite a thrill," said Schwartz in the press release. "I'm thankful to Adams for this exciting public art project, and look forward to seeing more 'Art in the Sky.'" All three of the initial artists are affiliated with the WSG Gallery in Ann Arbor, but Adams welcomes applications from other artists for future installations.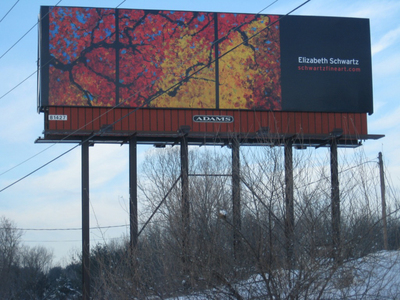 Adams Outdoor Advertising
The artist pays the cost of the vinyl, and Adams donates the space. The company is working on an application process; for now, Washtenaw-area artists interested may email Bellers at sbellers@adamsoutdoor.com; include full contact information and a website photo of original art. Headquartered in Atlanta, Georgia, Adams Outdoor Advertising has a local office on James L Hart Parkway in Ypsilanti.
Download a map of the first "Art in the Sky" sign locations.