Posted on
Thu, Oct 7, 2010 : 5:52 a.m.
Biwako Sushi expands to Ann Arbor
By Julie Halpert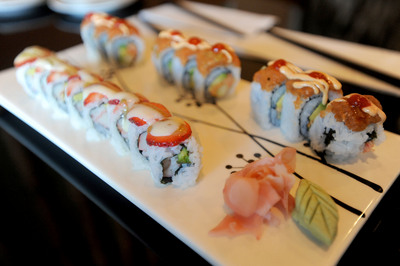 Angela J. Cesere | AnnArbor.com
When I saw the sign for the new Biwako Sushi, which opened in August in the Busch's plaza on Main Street, I was hoping it was run by the same owner as the 4-year-old Biwako Sushi that I so enjoyed in Saline. Indeed, I learned that owner Andy Kwon decided to launch a second restaurant after the success of his first. "Saline was very busy and a lot of customers came from Ann Arbor, so I thought it was a good idea to open a restaurant there," he said. With very little publicity, Kwon has been pleasantly surprised at the brisk business. He turns out 40 to 60 carry-out orders a day.
I was disappointed that, unlike the Saline restaurant, Ann Arbor's Biwako is limited to just sushi. There are a variety of sushi and sashimi rolls, along with soup, salad and some appetizers. But the beef, chicken and salmon entrees found in Saline are absent. Kwon said he may eventually add these dishes, but he first wants to see if there's sufficient demand, since that would require additional kitchen facilities.
Biwako takes over the space once occupied by Quiznos. The rectangular interior is basic but new, freshly polished and clean, with bamboo decorating the walls and slick black tables that are adjacent to a long sushi counter. Our meal got off to a great start with one of the best items we ordered: the agedashi tofu, big, square chunks of tofu in a wonderful, crisp coating. The tempura was also solid, not too greasy. I especially enjoyed the variety, including the tasty broccoli.
RESTAURANT REVIEW
Biwako Sushi
2276 South Main Street, Ann Arbor
734-761-8353
Biwako Sushi in AnnArbor.com restaurant guide
Hours: Monday through Thursday, 10:30 a.m.-9:30 p.m.; Friday and Saturday, 11 a.m.-10 p.m.; Sunday, 4 p.m.-9 p.m.
Plastic: Visa, Mastercard.
Liquor: No.
Prices: Moderate. Rolls range from $7 to $11.99.
Value: Very good.
Noise level: Quiet.
Wheelchair access: Yes.
There are dozens of rolls to choose from, including "all time favorites" and "Biwako special rolls" with names like the Ann Arbor and the Motown. We went for the New Michigan, with salmon, tuna, red snapper and asparagus, deep fried. Certain ingredients, like the generous amount of fresh-tasting salmon, were easy to taste, yet I noticed barely a trace of the red snapper, tuna and asparagus.
Among the special rolls, we decided to take a chance on an unusual-sounding one, the rice well-being: tuna, salmon, whitefish, avocado and lettuce, in rice paper. Yet it was bland. The volcano roll, with baked shrimp, scallop and crab, wasn't moist enough — a flaw in many of the rolls — despite the spicy sauce.
The Spartan was slightly better in both taste and appearance. The top was graced with pieces of eel, while flower-shaped carrots were tucked into the interior. The tuna in this roll was extremely spicy.
The best of the special rolls we sampled was the crab shrimp tempura, where crab and tempura shrimp were well coated in a delectable sweet brown sauce.
My favorite of all the rolls was the TNT. Shrimp tempura crab and masago are combined with a special sweet sauce and torched with a flame. It's all topped with shredded crab meat and baby shrimp, a great garnish. The torching added an appealing smoky taste, so it was almost like barbecued sushi — a definite hit.
Service was prompt and cordial, with quick delivery of all of our dishes, though the restaurant was nearly empty on our visits. Biwako prepares sushi that's good, if not always everything you might hope for.
Julie Halpert reviews restaurants for AnnArbor.com.