Posted on
Sun, Oct 24, 2010 : 5:58 a.m.
Locals recall Bob Dylan's impact ahead of Hill Auditorium show
By Kevin Ransom
In 1999, when Time Magazine published its choices for the 100 most important people of the 20th century, Bob Dylan was on that list; he was one of the 20 named as the most important artists and entertainers of the century. In the accompanying essay, Time dubbed him a "master poet, caustic social critic and intrepid, guiding spirit of the counterculture generation."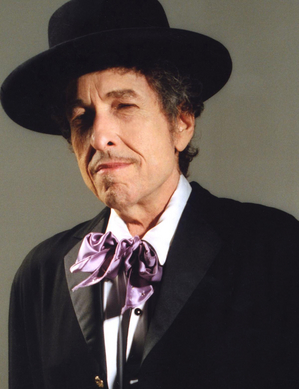 All true. But I'll go them one further. I'll go out on a limb and say he's the greatest songwriter, and most important popular-music artist, of the last 60 to 70 years, maybe longer.
And today, Dylan — at age 69, and two years away from the 50th anniversary of his 1962 debut album — is still out on the road, still the itinerant troubadour. Indeed, such is his tireless devotion to getting out and taking his music to America that his touring schedule has been dubbed "The Never Ending Tour" for at least the last 20 years.
And that tour comes to Hill Auditorium on Thursday. So, we talked to a handful of local Dylan fans, and asked them to assess Dylan's impact, his legacy, his importance, and what they think makes him so special. We also asked them for their favorite Dylan concert memories.
"More than any other musician, Bob Dylan has had an indelible impact on American music," says Jas Obrecht, a longtime music journalist, an English instructor at Washtenaw Community College and author of the Jas Obrecht Music Blog.
"He was the fresh blood and guiding light of the folk movement, wrote many profound and enduring songs — many before his 24th birthday — went through many stylistic changes, and is still vital today," says Obrecht. "How many people can claim to have encouraged the Beatles to write better songs and Jimi Hendrix to sing? Only one — Bob Dylan."
PREVIEW
Who: Arguably the greatest songwriter and most important popular-music figure of the post-war era.
What: Dylan has almost 50 years' worth of material to draw on, and his shows cover almost that entire spectrum, with his older songs seemingly always undergoing deconstruction and reconstruction.
Where: Hill Auditorium, 825 North University.
When: 8 p.m. Thursday.
How much: $43.95, $55.45, $65.95. Tickets available via Ticketmaster.com or at the Michigan Union Ticket Office. To buy tickets by phone, call 248-745-3000 or 734-763-TKTS.
Obrecht has a vivid recollection of the Bob Dylan and the Band concert at Crisler Arena in February of 1974. That was the legendary tour that yielded the "Before The Flood" live album. "This was when the Watergate scandal was at its height," recalls Obrecht — and it was also Dylan's first tour in eight years. "The most unforgettable moment occured during his solo set, when he sang 'It's Alright Ma (I'm Only Bleeding).'
"When Dylan delivered the line 'Sometimes even the President of the United States must have to stand naked,' the entire audience rose to its feet and drowned him in cheers. That's just one of many defining moments he brought to us," says Obrecht.
Dylan has obviously been an influence on almost every rock / folk / pop songwriter of the last 50 years. One of those is Dick Siegel, the venerable Ann Arbor singer-songwriter.
"Dylan's music definitely made me want to write songs, to put my perception and visions into music — to create songs that came from the truest place my imagination would let me go, trusting that if my songs were true for me, they could be true for others," says Siegel. "Dylan writes for the sake of writing truth and beauty — he has a personal vision that has been so powerful and clear that it became universal. And he's created images you couldn't get through, but you viscerally knew were true.
"I was in my second year in college when Dylan really knocked me out," recalls Siegel. "At that time, listening to him, I remember really feeling connected the act of writing, and of self-expression. He was going deep into his personal realm. He wasn't vanishing into the pop sensibility. He was making his vision the pop sensibility. He was saying, 'This is my perception. This is the truest thing I can say.'
"That's when I began to understand what he was doing, and wound up wanting to do it myself. I discovered his influences. I discovered he had influences! The door just opened for me, to early blues, folk and country — music that was powerful and personal, with just a voice and a guitar."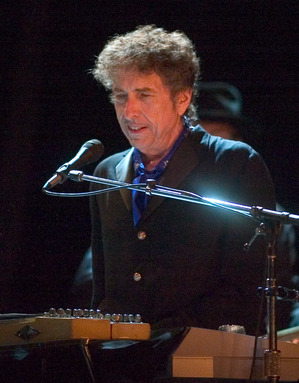 AP file photo
Siegel remembers seeing Dylan perform "in around 1966 — I think I was 16 — in New York City, at the Town Hall." (Siegel is a New Jersey native). "This was when his backing band were the Hawks," who went on to become The Band. Then, Siegel conjures one more memory: "I remember he was wearing a houndstooth suit."
Another area singer-songwriter who cites Dylan as a major influence is Eric Kelly, a former Ann Arbor and Ypsilanti resident who now lives in Jackson. Kelly is such a fervent Dylan fan that he organized the last several local Dylanfest shows, up until the mid-2000s when the event was discontinued.
"Dylan's catalog really is a history of rock 'n' roll on its own," says Kelly. "I have a bootleg of Dylan playing piano with Bobby Vee in 1959. If you follow him from that recording until now, you'll have a definitive cross-section of American music that includes folk, blues, country, rock, jazz, and gospel.
"Dylan's 'Greatest Hits Volume 2' ('71), which was actually released the year before I was born, is the reason I wanted to play guitar," recalls Kelly. "When I was 20 years old and working on Mackinac Island, I heard 'Down in the Flood,' and I actually lifted the tape from a woman I worked with, and wore it out. Later, I used to spend hours trying to learn to play 'Baby Please Don't Go' and 'Smokestack Lightning' the way Dylan did on the vinyl bootlegs I had. A lot of people don't know that Dylan could fingerpick blues as well as he could. If you have any doubt, get the 'Folksinger's Choice' bootleg from Cynthia Gooding's radio show.
"But I think the 'Wild Thin Mercury Music' era of Dylan's career (the mid-'60s) was his biggest contribution, and will remain his greatest rock 'n' roll legacy." Kelly's favorite memory of a Dylan concert was from "eight or 10 years ago, at the Breslin Center in Lansing. He played "My Back Pages" on acoustic guitar, accompanied only by Larry Campbell on fiddle, and the entire room went quiet. His voice got clearer. It was as if he new that he had us hooked, and he was as wrapped up in the moment as we were. I was dumbfounded. I was pretty sure that Bob Dylan would never be able to floor me again after around 1985. I should have known better."
Listen to a selection of Bob Dylan songs:

Susanne Kocsis, assistant director of the Center for International & Comparative Studies at the University of Michigan, agrees that "Dylan is one of the most important artists of our generation — and he was a key figure in the soundtrack of my life.
"The songs I think of as 'my' Dylan songs were from the mid-1970s," says Kocsis. "My favorite live recording is easily the electric and exciting 'Live 1975'" — the live document of Dylan's '75 barnstorming Rolling Thunder Revue tour. "And my favorite studio recording has to be 'Blood on the Tracks' (1975)." For Kocsis, the most memorable live Dylan shows "were the tours he did with the Grateful Dead in the late '80s, rendering some of the best versions of his classics I have heard — long, meandering, improvisational, and introspective."
Kocsis notes that some of her Dylan-fan friends have stopped going to his shows in recent years, due to Dylan's tendency to not interact much with the audience, and due to his ongoing, restless desire to deconstruct many of his classic songs and give them all-new arrangements — so that they no longer sound like the studio versions cherished by old fans. They've also cited the "craggy" vocal performances that Dylan has sometimes delivered in recent years, she says.
"But my feeling is that, like Miles Davis, he earned the right to be enigmatic and remote, having been on the road for decades like a true troubadour of our time," says Kocsis.
And anyone who has been to a Dylan show can tell you that not all Dylan fans are middle-aged and older. There is always a strong contingent of younger people in the crowd — those who don't let the fact that Dylan is 69 years old get in the way of their ability to recognize greatness.
One of those is Emily Ross, club manager at The Ark, who's 29.
"I think everyone has their own favorite version of Bob Dylan — some like the American folk singer, some like the rock 'n' roller, and some like the mellowed-out older man. My favorite is the 'Don't Look Back' Dylan," says Ross, referring to the iconic D.A. Pennebaker-directed documentary that chronicled Dylan's 1965 tour of Britain and depicted him verbally sparring with the clueless fuddy-duddies in the English press.
"I think that every fan that buys a ticket to a concert hopes to find a glimpse of their favorite version of Bob," says Ross. "It's the closest most of us will get to knowing such an intriguing musician."
Kevin Ransom, a free-lance writer and critic who covers music for AnnArbor.com, first wrote about Bob Dylan for the Ann Arbor News in 1991. He can be reached at KevinRansom10@aol.com.
Bob Dylan & his band performing live earlier this month: