Posted on
Sat, Apr 13, 2013 : 9:55 a.m.
'Bodie Troll' is a misunderstood monster in new comic book by Ann Arbor's Jay Fosgitt
By Jennifer Eberbach
Local comic book artist Jay Fosgitt finds a lot in common with Bodie, the star of his first all-ages comic book series. The beginning of the fairytale-inspired story reveals how badly Bodie wants to be a big and intimidating troll, but everyone around him (even the Billy goats) see him as an adorable, childlike fluff-ball of a creature.
Issue #1 of "Bodie Troll" (Red 5 Comics) comes out April 17 and others will follow. Fosgitt also plans to collect them into graphic novels.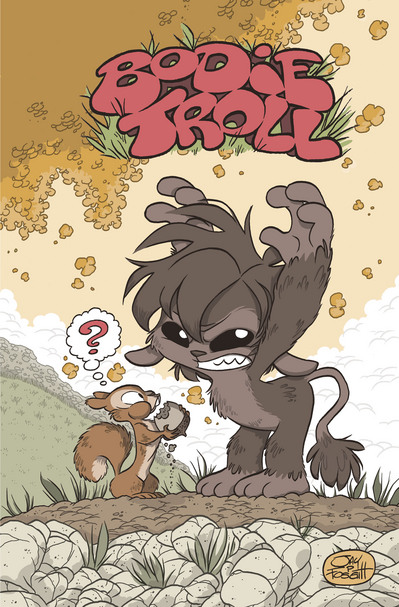 He hopes readers, young and old alike, will relate to "the misunderstood monster," as Fosgitt describes him.
"He wants to be the villain. But in all his best attempts to be rotten, he's just too lovable," Fosgitt says. "And sometimes he unintentionally ends up being a hero."
As badly as Bodie wants to be bad, the comic book's message is positive overall. Deep down Bodie has a heart, whether he likes it or not. "He has values no matter how hard he tries and has love from the people around him. All of that effects his decision making, good or bad," Fosgitt explains.
In the past, Fosgitt has drawn comic books that appeal to adult fans. He spoke with AnnArbor.com in a previous interview about his "Dead Duck" series, for example. But he wanted to try drawing something for young adults.
"My interests shifted," Fosgitt explains. "The kind of comic books I find myself enjoying the most are these light-hearted characters that are filled with warmth," he says of the shift.
Fosgitt's sense of humor still shines through in "Bodie Troll" like it did in "Dead Duck". The first issue, for example, laughs about peeing—certainly nothing too adult. "Kids like jokes about bodily functions, so I've got that in there!" Fosgitt says with a laugh.
"My humor always has an edge to it, even if it's a blunted edge."
Fosgitt first came up with Bodie in 2011. But some of the supporting cast of characters have been around, in some form, for decades. A comic strip he drew for Delta College, called "The Epic of Cholly," inspired the Cholly character in Bodie Troll. And Miz Bijou transformed into "a sort of a retired fairy god mother with a magical spatula who hassles Bodie," he explains.
Another feature of Bodie Troll is Socko's puppet show. In the middle of the story, the action cuts to a vignette of a puppet reporting the news. "Socko is basically the CNN of Bodie's world. He will return as a storytelling mechanism. It is a story within the story," Fosgitt says. It is not a surprise that Fosgitt includes a puppet show; his idol is Jim Henson.
The characters live in a fairytale world, in an ambiguous time and place. "There are European fairytale environments, but then I'll bring in western American influences into it too, and all sorts of things. I'm picking and choosing elements I like and making a pastiche of different fairytales," Fosgitt explains.
Fosgitt hinted that there might be a big surprise down the road having to do with the story's setting—time and place. "I have ideas for where this story is really taking place that may surprise you," he says. It does not sounds like the mystery will be revealed in the first few issues, but there may be clues.
A few other artists contributed to "Bodie Troll." Evan Shaner did colors. And several guest illustrators will draw renditions of the characters, including local illustrator Dave Coverly (Speed Bump), Rick Geary (Mad Magazine), and Chris Sanders (Lilo & Stitch).