Posted on
Mon, Jul 29, 2013 : 1:52 p.m.
Bollywood movie 'A Happy Ending/Writer's Block' still filming in Ann Arbor area
By Jenn McKee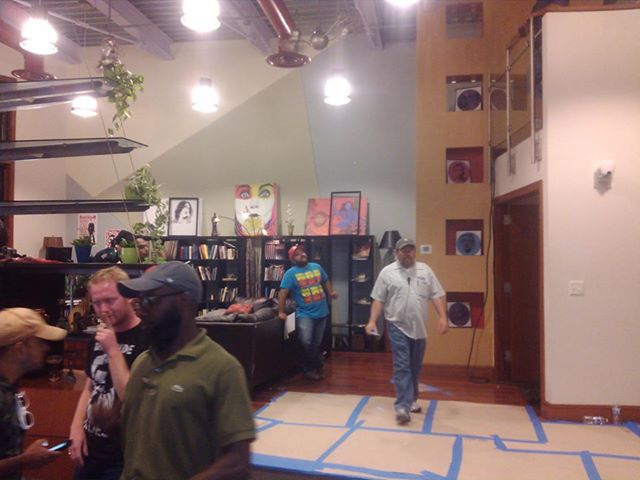 Photo by Stewart Beal
The Bollywood romantic comedy film that's been called "A Happy Ending" as well as "Writer's Block" - which
recently used local restaurant Lena as a backdrop
, and stars Bollywood superstar
Saif Ali Khan
- is still being filmed in the Ann Arbor area.
Ypsilanti-based developer Stewart Beal confirmed that the production team - including directors Raj and D.K. - has rented the condo belonging to his parents (Fred Beal and Nora Wright), situated above the restaurant Vinology in downtown Ann Arbor, for 15 days, but has "been there 5 days thus far," including Sunday, July 28, when Beal got to spend six hours as an extra, playing a party guest.
"It is always really exciting when a movie comes to Ann Arbor and Detroit, and it was really great they allowed me to participate as an extra in the film," said Beal.
As for the movie's plot, Beal said, "The movie is about a writer who is very successful and makes a lot of money, but then gets down on his luck when he hasn't written anything in awhile. Meanwhile, all these girls fall in love with him and he freaks out."
Beal added that although Bollywood films are famous for their musical numbers, "A Happy Ending/Writer's Block"'s 4 music scenes will be shot in India; and in addition to Lena, the production team has also used Detroit nightclub Bleu and Enspire Dental in Ann Arbor as filming locations, and is renting the Liberty Title Building on Main St. in Ann Arbor for the purposes of housing extras and catering prep.
"I would say there are 75 people involved, including extras," said Beal. " … The budget of the film is under $5 million, but they are definitely real professionals."
Jenn McKee is an entertainment reporter for AnnArbor.com. Reach her at jennmckee@annarbor.com or 734-623-2546, and follow her on Twitter @jennmckee.