Posted on
Mon, Dec 31, 2012 : 5:52 a.m.
Busy members of Yellow Room Gang ready to reunite for annual Saturday show at The Ark
By Roger LeLievre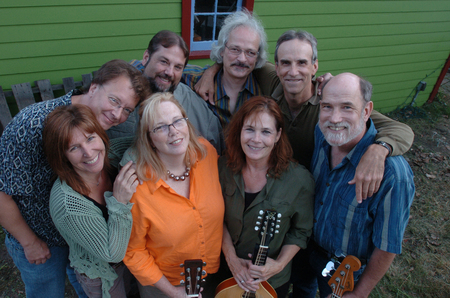 If the new year is turning, then it must be time for Ann Arbor's
Yellow Room Gang
to saddle up and head over to The Ark for what's become an annual January concert.
For anyone unfamiliar with the group, The Yellow Room Gang is a collective of eight area singer-songwriters who convene monthly in the yellow-painted living room of David Tamulevich's Ann Arbor home to work the kinks out of new songs, brainstorm and offer a helpful critique of each other's work.
This year's Ark show is Saturday night. Given the members' busy schedules, it's something of a miracle they can all reunite to do a show, even once a year.
"Between life and our solo projects and touring, it's a rare event for all eight of us to be able to get together," Tamulevich confirmed. "Everybody's got new songs. That's the big thing—we're all actually together and we've got some new stuff."
Besides Tamulevich, other Yellow Room Gang members are "One Shining Moment" composer David Barrett; Detroit native / Great American Song Contest winner Jim Bizer; singer-songwriter Annie Capps; Irish-American chanteuse Kitty Donohoe; multi-Detroit Music Award winner Jan Krist; Tamulevich's singer-songwriter partner in Mustard's Retreat, Michael Hough; and radio show host / musician Matt Watroba.
"Everybody's got their own projects going … but we really are committed (to the Yellow Room Gang," said Tamulevich. "We've been going since December 2004, almost 10 years."
PREVIEW
The Yellow Room Gang
Who: Singer-songwriters David Barrett, Jim Bizer, Annie Capps, Kitty Donohoe, Jan Krist, Michael Hough and David Tamulevich of the duo Mustard's Retreat, and Matt Watroba..
What: Annual show by Ann Arbor songwriting collective.
Where: The Ark, 316 S. Main St.
When: 8 p.m. Saturday, Jan. 5.
How much: $15. Info: www.theark.org or 734-761-1451.
Tamulevich said Gang members have been busy individually since the last time they performed at The Ark. Donohoe
marked her 40th year as a performer
with a recent show at The Ark. Tamulevich and Hough's Mustard's Retreat will observe that same landmark in July, with a CD and DVD of new material. Krist, who lives in Indiana, and Bizer have a new CD out and another on the way. Capps is working in a new EP. Barrett, of "One Shining Moment" fame, has a new CD in the works and continues to work with the NCAA. Watroba, who relocated to Ohio not long ago, still hosts the radio show "Folk Alley," and is investigating a move back to Michigan.
The group has been talking about a new CD, which would be its fourth, probably recorded over a couple of nights at Ann Arbor's Big Sky studio with a small live audience, the same way their last CD was accomplished.
And the secret to the Yellow Room Gang's success? "We like and respect each other," Tamulevich said. "It really has become a little family, all pulling for each other. It's a pleasure.
"I think we all push each other, and everybody is so good. It's a friendly push, but you want to be better. There's that subtle kind of pressure that I think works for everyone in the group. It's really a good thing."
A yearly workshop in December at the Ann Arbor District Library has helped expand the Yellow Room Gang concept out into the community.
Tamulevich said The Ark shows tend to be informal affairs, unfolding as they go along.
"We've got some songs that people expect us to do and ask us to do, but we never plan … we'll plan the first song of the set and maybe the last song of the set as group things, but it really depends on how the night is going.
"The show is never scripted. It all depends on the night and the requests and how people are feeling and what somebody does before you that makes you think of something … and sometimes the audience calls something out and it's the perfect song for the moment. We have a lot of fun with the audience and I think they appreciate that," he added.