Posted on
Wed, Feb 24, 2010 : 5:08 a.m.
Hello, stranger: Catie Curtis headed to The Ark
By Kevin Ransom
For a long time now, fans of contemporary-folk music have, in a way, been able to enjoy the best of 2 musical worlds. When in the studio, many artists in the modern-folk genre add tasteful amounts of pop-rock elements — electric guitar, bass, drums, organ, etc. — to provide more varied sonic textures.
But most of these artists don't have the budget to take a full band out on the road. So, in a live setting, fans get to hear "alternate versions" of these songs, performed in more unadorned, folkier fashion — maybe just acoustic-guitar-and-voice, or perhaps augmented by a fiddle, mandolin or accordion.
Catie Curtis is one of those. In the past, she's often toured with a fiddler and mandolin player — who, onstage, have given her songs a rootsier or more austere character than the more produced, pop-folk versions on her albums.
But for her latest disc, "Hello, Stranger," Curtis decided to take that more rustic string-band instrumentation into the studio — partly because fans asked for it. "When people would come up to the table after the show, and look at my different CDs that I had for sale, a lot of them would ask, 'Which one sounds most like the show?' So, now I have a record like that that I can point to and say 'this one,'" says Curtis, who comes to The Ark on Wednesday.
And the musicians on "Hello, Stranger" constitute what is essentially an all-star bluegrass band. For starters, the players include the virtuoso, Grammy-winning banjo player Alison Brown — who, not coincidentally, also runs Curtis's label, Compass Records, along with her husband/producer, Garry West. Also lending their considerable talents are the much sought-after Stuart Duncan (fiddle), Todd Phillips (bass), George Marinelli (guitar/mandolin/dobro) and Kenny Malone (percussion).
"I really do love the string-band sound, so when Alison offered to play on it, and Garry offered to produce it, I said, 'Sure!.' It seemed like a cool opportunity for me to see if this might be a new direction I could explore on a regular basis on my records," says Curtis by phone from her home in Newton, Massachusetts, near Boston. "I really wasn't sure how it would turn out, or whether or I would want to keep making this kind of record.
"So, I went into it pretty open-minded, just to see it as just something we could have fun with — to maybe get out of that emotionally intense state that you can sometimes get into in the studio when you want so much to make sure that everything is 'just right.'"
To that end, instead of showcasing a batch of Curtis's newly written songs, the album is about half covers and half re-recordings of some of Curtis's older songs. "I thought that would be better, to go in and do an album like this without a batch of new songs I wasn't totally attached to, emotionally."
---
PREVIEW

Catie Curtis

Who: Contemporary-folk singer-songwriter.

What: Intelligent, thoughtful songs about love, loss, hope and life's small pleasures, punctuated by Curtis's amusing anecdotes.

Where: The Ark, 316 South Main Street, Ann Arbor.

When: Wednesday, March 3, 8 p.m.

How much: $20.

Details: 734-761-1451; AnnArbor.com calendar; The Ark web site.
---
And the disc reveals Curtis's great choice in covers. She and her band give a Southern folk-roots treatment to songs like Richard and Linda Thompson's heart-wrenching "Walking on a Wire," the Carter Family's iconic country song "Hello, Stranger," John Martyn's "Don't Want You To Know (No Evil)" and Cat Stevens' "Tuesday's Dead."
And Curtis invited the great alt-country artist Mary Gauthier to sing a duet with her on "Hello, Stranger" — which "helped me get over my self-consciousness about my Yankee identity," jokes Curtis, who's originally from Maine. "It was a stretch and a challenge for me, but I could tell Mary really felt connected to it. And I was totally charmed by her southern accent."
And the result is a delightfully-down-home bluegrass shuffle, highlighted by Gauthier's assured, appropriately twangy vocals. As for "Walking on a Wire," Curtis recalls it as "a song that I fell in love with when I was in college. I'd been looking for a way to cover it. There's no getting close to that almost painful intensity (that Richard and Linda delivered on their original), but I also didn't want it to be a light folk-pop version." Hence, the midtempo, wistful, country-bluegrass reading, with Duncan's sighing fiddle right up front.
After pondering which of her own, previously recorded songs to rework for the album, she chose "100 Miles," "Dad's Yard," "Passing Through," "Deliver Me" and "Saint Lucy." "Mostly, I picked the ones that I had written in that ka-chunk, ka-chunk, 2-beat style that's similar to the rhythms used in a lot of bluegrass songs," shares Curtis. "And in a couple of cases — 'Dad's Yard' and '100 Miles' — I do think I like these newer versions better."
Catie Curtis performing "Passing Through" live in New Hampshire last fall:
Curtis is not sure this will be her new musical direction as far as her studio recordings go, however. "Right now, I'm actually eager to get back to using drums and some electric guitar. So, I guess we'll have to see how I feel when I feel when I'm ready to make my next record."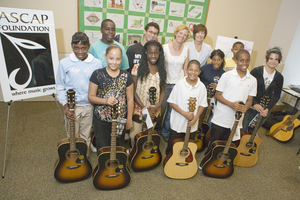 Meanwhile, Curtis has also been busy with Aspire to Inspire, a charitable group she formed last year. It's a youth music endowment that gives away guitars to underprivileged kids who can't afford their own. She says it's her way of giving back, as a tribute of sorts to a neighbor who gave Curtis her own first guitar back when Curtis was just 15. "Her name was Lynne Ramsdell, she was an artist, and she saw me looking at her guitar one day," recalls Curtis. "And she just gave it to me, with the caveat that I had to promise her that I would learn to play it."
A couple of years ago, "I tried to track Lynne down," says Curtis — but she was not able to. But Curtis did dedicate her '08 album, "Sweet Life" to Ramsdell. Then, just last month, Curtis learned that, sadly, Ramsdell had died in '08, a few months after the release of "Sweet Life." "I met with her family, and they showed me some of her art, and we're trying to set up a fan page where people can see some it," says Curtis.
"Her giving me that guitar is what first put me on the road to becoming a singer and songwriter and performer, which obviously has been very meaningful to me," says Curtis affectionately. "So, I decided to start this foundation, to hopefully put guitars in the hands of young musicians, so that maybe they can use them to create that kind of life for themselves, if that's something that's meaningful to them, as well."
Kevin Ransom is a free-lance writer who covers music for AnnArbor.com. He can be reached at KevinRansom10@aol.com.