Posted on
Thu, Oct 18, 2012 : 1:47 p.m.
Chiara String Quartet, UMS offering free 'pop-up' concert in former nightclub space
By Bob Needham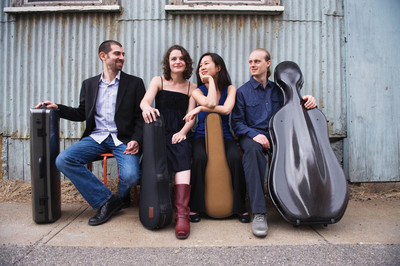 The respected
Chiara String Quartet
is in the midst of a five-day Ann Arbor residency this week, and along with a number of private workshops for students at public schools and the University of Michigan, one special public event is planned: A free, "pop-up" concert in a vacant downtown Ann Arbor storefront.
The University Musical Society brought the group to town, part of its efforts in "creating accessible performing arts experiences of the highest caliber," according to a press release. The concert is set for 8 p.m. Friday, Oct. 19 at 314 S. Fourth Ave., most recently home to the troubled Dream Nite Club and Studio 4 (and earlier, restaurants including the late, lamented Maude's).
Admission is free; no tickets required. Doors open at 7 p.m., and a cash bar will be available.
The specific program will be announced from the stage, but plans include works by Mozart, Mendelssohn, Gabriela Frank, Jefferson Friedman, Nico Muhly, and Dvorak's "American" quartet.
"Ann Arbor's downtown area has undergone a transition in recent years and we've all noticed downtown business closures and empty storefronts," said Jim Leija, UMS director of education and community engagement, in a prepared statement. "It was really important to UMS to enliven one of these spaces through music and demonstrate how the 'transformative power of the performing arts' can revitalize the downtown area in a very concrete way. We are thrilled to work with the Chiara String Quartet to realize this dream and very grateful to the property owner Matt Zahn for working with UMS to offer this gift to the community."
The quartet is conducting workshops this week for students in Ann Arbor and Detroit schools, as well as various events at U-M.
"It is a sheer joy to work with a professional ensemble that recognizes the importance of creating exciting entry points to the performing arts," Leija said. "The Chiara String Quartet is young, vibrant, and really committed to working with UMS to bridge the gap that we sometimes see form between younger audiences and classical music. During this residency, we will be connecting in incredibly meaningful ways with students, working professionals, and the community at large. We will be enlivening spaces in our city, stripping away price barriers, and letting music do what it does best: bring people together."
The Chiara String Quartet, in its 13th season, has been recognized with top prizes at the Paolo Borciani International Competition, the Astral Artistic Services National Audition, and the Fischoff Chamber Music Competition.