Posted on
Thu, Jan 31, 2013 : 5:11 a.m.
Sundance USA, best of Cinetopia, midnight 'Old School,' and more at the movies
By Russ Collins
Sundance Film Festival USA!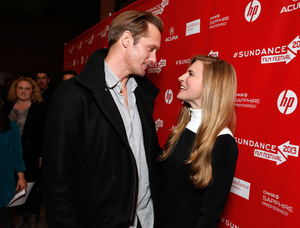 Todd Williamson | Associated Press
Direct from the Sundance Film Festival,
"The East"
stars Brit Marling ("Arbitrage"), Ellen Page ("Juno," "Inception"), and Alexander Skarsgard ("True Blood"). An operative for an elite private intelligence firm goes into deep cover to infiltrate a mysterious eco-terrorist organization attacking major corporations. The star of the film is Brit Marling, who is destined to breakout as a major movie talent with this role, and Variety concurs, saying, "Marling, who delivered ace support in 'Arbitrage' and 'Sound of My Voice,' carries the picture effortlessly."
This premiere is tonight, Thursday, Jan. 31, at 8 p.m. at the Michigan Theater, and we'll welcome special guests Zal Batmanglij, co-writer and director; Brit Marling, co-writer and star; and Trevor Groth, Director of Programming for the Sundance Film Festival, for a post-screening Q&A.
To round out the Sundance experience, the Michigan Theater will screen "Sundance Shorts," a collection of the best short films from the 2012 Sundance Film Festival, on Friday, Feb. 1, at 7 p.m. This special screening will also include an audience Q&A with Sundance juror and Ann Arbor native Mike Farah.
Opening downtown
In "Rust and Bone," a struggling single father helps a beautiful whale trainer recover her will to live following a terrible accident that leaves her confined to a wheelchair. "Rust and Bone" opens Friday at the State Theatre.
The Oscar-nominated short films, both animated live action, come to Ann Arbor before Hollywood's big night to give you a chance to beef up your Oscar picks. Both of these programs open Friday at the Michigan Theater.
Opening at the multiplex
"Warm Bodies" is a poignant tale about the power of human connection. After a zombie epidemic, R (a highly unusual zombie) encounters Julie (a human survivor), and rescues her from a zombie attack. Julie sees that R is different from the other zombies, and as the two form a special relationship in their struggle for survival, R becomes increasingly more human—setting off an exciting, romantic, and often comical chain of events that begins to transform the other zombies and maybe even the whole lifeless world. "Warm Bodies" opens Friday.
"Bullet to the Head," based on a graphic novel, tells the story of a New Orleans hitman (Sylvester Stallone) and a DC cop (Sung Kang) who form an alliance to bring down the killers of their respective partners. "Bullet to the Head" opens Friday.
"Stand Up Guys" picks up as Val (Al Pacino) is released from prison after serving twenty-eight years for refusing to give up one of his close criminal associates. His best friend Doc (Christopher Walken) is there to pick him up, and the two soon re-team with another old pal, Hirsch (Alan Arkin). Their bond is as strong as ever - but one of the friends is keeping a dangerous secret. "Stand Up Guys" opens Friday.
Building on the terror of its predecessor, "A Haunting in Connecticut 2: Ghost of Georgia" is a horrifying tale that traces a young family's nightmarish descent into a centuries-old Southern hell. "A Haunting in Connecticut 2: Ghost of Georgia" opens Friday.
Special screenings downtown
As the Michigan Theater gears up for our upcoming 2013 Cinetopia International Film Festival (coming in June), we're bringing back the "Best of the Fest" for encore screenings, highlighting the award winners from our 2012 festival. "Hipsters," a Russian candy-coated musical, plays Friday, Feb. 1 at 4:30 p.m.; "Missed Connections," a Craigslist Romantic Comedy, plays Sunday, Feb. 3 at 3:30 p.m.; and "I Am Not A Hipster," a coming-of-age tale set in the world of Indie rock, plays Saturday, Feb 2 at 4:30 p.m. and Sunday, Feb. 3 at 6 p.m.
"Miami Connection" takes place in 1987 as motorcycle ninjas tighten their grip on Florida's narcotics trade, viciously annihilating anyone who dares move in on their turf. Multi-national martial arts rock band Dragon Sound have had enough, and embark on a roundhouse wreck-wave of crime-crushing justice. "Miami Connection" plays one night only, Saturday, Feb. 2 at 10 p.m. at the Michigan Theater.
In "Old School," three men are disenchanted with life and try to recapture their college days. Starring Luke Wilson, Vince Vaughn, Will Ferrell, "Old School" plays Saturday, Feb. 2 at 11:59 p.m. at the State Theatre.
Russ Collins is executive director of the Michigan Theater in Ann Arbor. Tune in to the audio version of "Cinema Chat" on WEMU radio (89.1-FM) each Thursday at 7:40 a.m. and 5:40 p.m., or listen to it online at WEMU's web site.