Posted on
Thu, Mar 10, 2011 : 5:58 a.m.
Kevin Smith, 'Somewhere,' 'Battle: LA,' 'Mars Needs Moms,' and more at the movies
By Russ Collins
Win free movie tickets Editor's note: Comment on today's "Cinema Chat" for a chance to win free movie tickets to the Michigan Theater. Some time between now and 9 a.m. Monday, leave a comment on this column, written by the Michigan Theater's Russ Collins. Offer your opinion on a recent movie you've seen, or on anything Russ mentions. A winner will be randomly selected, and we'll notify that person via the email address they signed up with. They will get two passes to a movie of their choice, courtesy of The Michigan Theater. Full rules here.
Kevin Smith - "Red State" - Tonight! Acclaimed filmmaker Kevin Smith will be live on stage tonight, presenting a premiere screening of his new film "Red State" at the Michigan Theater. A group of teens receive a salacious online invitation, though they soon encounter fundamentalists with much more sinister intent. Smith will conduct what is sure to be an interesting and hilarious post screening Q-and-A session. Tickets at Ticketmaster and at the Michigan starting one hour before the 7:30 show time.
Opening downtown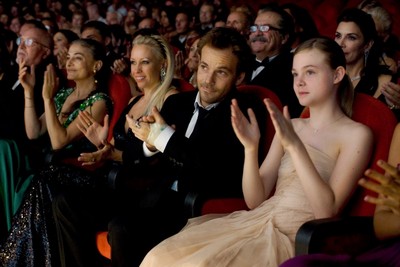 Set amid the grounds of Hollywood's legendary Chateau Marmont, "Somewhere" is
Sofia Coppola
's ("Lost in Translation") atmospheric comedy that won the Golden Lion Award for Best Picture at the 2010 Venice International Film Festival. The film centers on the hard-living popular actor Johnny (
Stephen Dorff
), who has everything; a luxury room, a Ferrari, a constant stream of girls and enough pills to remain numb to his excesses. But his life is thrown for a loop when his 11-year-old daughter, Cleo (
Elle Fanning
), pays him a surprise visit. As the two become better acquainted, Johnny realizes he needs to make some changes. A.O. Scott of the New York Times calls it "exquisite, melancholy and formally audacious. "Somewhere" opens Friday at the Michigan Theater.
The third annual Ann Arbor Palestine Film Festival will unspool at the Michigan Theater March 16-17. The festival showcases films about Palestine and films by Palestinian directors and is an independent, non-sectarian organization celebrating the Palestinian people and the Palestinian diaspora. For complete information about the festival, visit www.aapalestinefilmfestival.com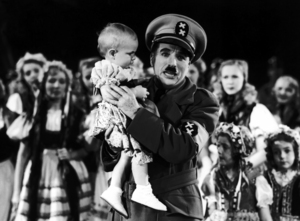 The Michigan Theater's Chaplin series continues with a brand-new 35 mm print of "The Great Dictator,"
Charlie Chaplin
's first true talking picture as well as his most commercially successful film. In this prescient twist on the immortal prince-and-the-pauper tale, Chaplin plays polar-opposite dual roles: look-alikes Adenoid Hynkel — Tomania's anti-Semitic ruler — and an amnesiac Jewish barber. After 20 years in a hospital, the barber goes home, oblivious to the plight of Tomania. Soon, Hynkel cracks down on Tomanian Jews, but a case of mistaken identity provides the unassuming barber a chance to make an impassioned plea. Also featured in the cast are
Paulette Goddard
as Hannah, the hilarious
Jack Oakie
as Napaloni, and
Billy Gilbert
as Field Marshal Herring, an incompetent adviser to Hynkel. "The Great Dictator" plays Monday, March 14 at 7 p.m.
Opening at your local multiplex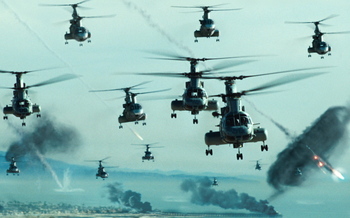 Director
Jonathan Liebesman
drew inspiration for "Battle: Los Angeles" from the films "Black Hawk Down" and "United 93" as well as YouTube videos of marines fighting in Fallujah. The film's star,
Aaron Eckhart
, has said, "The objective was to make as realistic an alien invasion movie as possible: a documentary style war movie with aliens in it!" Earth is attacked by an unknown alien force and as people everywhere watch the world's great cities fall, Los Angeles becomes the last stand for mankind in a battle that no one expected. "Battle: Los Angeles" opens Friday.
"Mars Needs Moms" — based on the children's book by Pulitzer Prize-winning cartoonist Berkeley Breathed, who is best known for the cartoon strip "Bloom County" and its characters Bill the Cat and Opus the Penguin — follows 9-year-old Milo (Seth Green) as he finds out just how much he needs his mom (Joan Cusack) when she's kidnapped by Martians who plan to steal her "mom-ness." Milo's quest to save his mom involves stowing away on a spaceship, navigating an elaborate, multi-level planet and taking on the alien nation and their leader, the Supervisor. "Mars Needs Moms" opens Friday and will also be released in 3D. "Red Riding Hood," directed by Catherine Hardwicke ("Twilight"), is a take on the classic Charles Perrault folk tale "Le Petit Chaperon Rouge". The film is set in the medieval village of Daggerhorn, where a young woman named Valerie (Amanda Seyfried) plans to run away with her woodcutter lover, an outsider named Peter, in order to avoid an arranged marriage. Their plan to run off with each other is stalled when Valerie's older sister is found slaughtered by a werewolf that has been terrorizing their village for years. Hungry for revenge, the people summon Father Solomon (Gary Oldman) to help them track down and kill the beast. But Solomon's arrival brings unintended consequences, as he warns that the werewolf, who takes human form by day, could be any one of them. "Red Riding Hood" opens Friday. What To See
The following is Russ' list of the newest and the best to help you prioritize what to see this week:
Opening: • "Somewhere" - Sofia Coppola examines the price of celebrity and the rewards of fatherhood. • "The Great Dictator"- A new 35 mm print of this Chaplin classic. A must-see. Continuing: • "Rango" - Animated fun with Johnny Depp as chameleon in the wild west. • "The Adjustment Bureau" - Matt Damon falls for Emily Blunt, but mysterious forces keep them apart. • "The King's Speech" - Historical British film that won four Academy Awards. • "Cedar Rapids"- Big laughs from Ed Helms in this locally made film.
Russ Collins is executive director of the Michigan Theater in Ann Arbor. Tune in to the audio version of "Cinema Chat" on WEMU radio (89.1-FM) each Thursday at 7:40 a.m. and 5:40 p.m., or listen to it online at WEMU's web site.