Posted on
Thu, May 6, 2010 : 5:40 a.m.
"Iron Man 2," movies for mothers, and more
By Russ Collins
Win free movie tickets

Editor's note: Comment on today's "Cinema Chat" for a chance to win free movie tickets to the Michigan Theater. Some time between now and 6 a.m. Wednesday, leave a comment on this column, written by the Michigan Theater's Russ Collins. Offer your opinion on a recent movie you've seen, or on anything Russ mentions. We'll randomly select a winner and notify that person via the email address they signed up with. They will get two passes to a movie of their choice.
Hey guys (gals too, but guys seem to need more help with holiday reminders), don't forget Sunday is Mother's Day! Order those flowers or make those dinner reservations today. Many of our favorite moms like movies, so what the heck, take mom to a movie — like "Babies," "The Art of the Steal," "Coraline" in 3-D, the National Theatre of Great Britain in "The Habit of Art" or "Iron Man 2."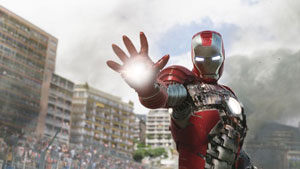 At your local multiplex the 1st big summer blockbuster, "Iron Man 2," opens Friday. It may not be the ideal Mother's Day picture; however, director Jon Favreau skillfully turned this Stan Lee comic book character into 1 of the biggest box office draws of 2008. Robert Downey Jr. returns, as does Gwyneth Paltrow as his assistant and love interest. New faces include Don Cheadle (replacing Terrence Howard in the role of Lt. Col. James 'Rhodey' Rhodes), Scarlett Johansson, Sam Rockwell and Mickey Rourke. The buzz on this film is not quite as hot as the 1st "Iron Man." The show business journal Variety said, "'Iron Man 2' isn't as much fun as its predecessor, but by the time the smoke clears, it'll do." Perfect for the holiday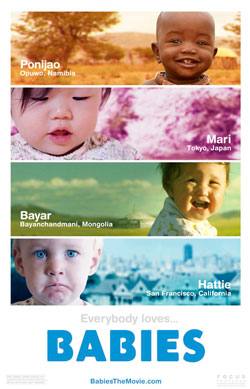 The perfect Mother's Day film, "Babies," opens on Friday at the Michigan Theater. The Hollywood Reporter says, "Hardwired as we are to respond to infants, it's difficult not to be drawn in to the innate cuteness of 'Babies.'" It is a visually stunning new movie that follows 4 babies from around the world (Mongolia, Namibia, San Francisco and Tokyo) from their first breath to their first steps. Select showings of "Babies" will be special Mommy (or Daddy) & Me screenings, where parents are encourage to bring their baby. The Mommy and Me screenings are scheduled for Friday, May 7 and Thursday May 13 at 1 and 3 p.m.; and Sunday, Mother's Day, at 2 p.m. At those screenings there will be a special $6 admission price, and parents are invited to bring babies 3 years and younger for free. The house lights will be left up just a bit and there will be stroller parking in the Grand Foyer. Please know that for all other screenings of "Babies," regular film prices and screening policies apply. "The Girl with the Dragon Tattoo" is a wonderful film, that lots of folks (moms included) like. However, I don't think I'd classify it as a typical Mother's Day film. It's a thriller with lots of twist and turns, which makes for a fascinating plot. It moves from the Michigan Theater to the State Theatre on Friday.
"The Art of the Steal"
is a documentary about the Barnes Collection, one of the world's most remarkable private art collections, featuring original paintings by Van Gogh, Renoir, Picasso, Cézanne, and many other important artists. When Albert Barnes died in 1951, he made strict provisions in his will that his collection was not to be sold, lent to other museums or removed from the grounds of the Barnes home. Directed by Don Argott, the film explores how greed, political power and good intentions collide to change the donor's intent, while at the same time will make the art collection more accessible to art lovers. The movie review website
Rotten Tomatoes
reported that critics gave overwhelmingly positive reviews. The consensus of reviews is, "Deeply esoteric and unapologetically one-sided, 'The Art of the Steal' proves a documentary doesn't have to make an objective argument as long as it argues well." It plays Friday and Saturday (not Sunday) at the Michigan Theater. Take mom to a Friday or Saturday screening and then take her to the University of Michigan's expanded Art Museum on Sunday. If you do, she is sure to love you just a little bit more!
"Coraline" in state-of-the-art 3D On Sunday, take mom to see the best 3-D in Ann Arbor. The Michigan Theater state-of-the-art digital 3-D projector will be used to show a special family screening (kids 12 and younger are free) of "Coraline." This Oscar-nominated Best Animated Film is about a young girl (voiced by Dakota Fanning) who walks through a secret door in her new home and discovers an alternate version of her life. A wonderfully charming and perfect Mother's Day film.
The National Theatre of Great Britain will be live on screen on Mother's Day at 7 p.m. at the Michigan Theater. Presented jointly with the University Musical Society, the top-flight British cast performs the acclaimed play "The Habit of Art" which imagines the composer Benjamin Britten seeking advice from his former collaborator and friend, poet W.H. Auden about his opera "Death in Venice." Tickets will be available for sale at the door.
See you at the movies!
Russ Collins is executive director of the Michigan Theater in Ann Arbor. Tune in to the audio version of "Cinema Chat" on WEMU radio (89.1-FM) each Thursday at 7:40 a.m. and 5:40 p.m., or listen to it online at WEMU's website.