Posted on
Thu, Nov 18, 2010 : 11:18 a.m.
Patti Smith, Jaimy Gordon win National Book Awards; Mike Farah gets hot; 'Deathly Hallows' hype builds; and more
By Bob Needham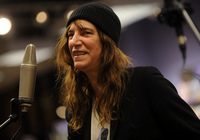 Melanie Maxwell | AnnArbor.com
The National Book Award winners have been announced, with rocker Patti Smith (for her memoir "Just Kids") and Michigan's Jaimy Gordon (for her novel "Lord of Misrule") among the big winners. The New York Times notes that although Smith seemed to be the favorite, Gordon was a surprise.
In a nice bit of timing, Gordon —Â an English professor at Western Michigan University — is slated to appear at Nicola's Books in Ann Arbor on Dec. 6. (A book tour brought Smith to the downtown Borders store earlier this year.)
Other entertainment news of note online today:
MUSIC
• Today's Michigan Daily has a nice profile of the Kerrytown Concert House.
• The Detroit News reports that the latest Eminem work to leak online is a collaboration with Dr. Dre.
• Florida Gov. Charlie Crist wants to pardon the late Jim Morrison for an indecent exposure conviction arising from a Doors concert in 1969.
• Amy Winehouse has announced her first concert dates in two years — four shows in Brazil.
• Check out the new Christmas song from the Hard Lessons, "Wally Bronner (Christmas Always)":
• A 6-year-old drum prodigy from Michigan will perform in Los Angeles tomorrow, The Detroit News reports.
• The A2 journal previews a concert at The Ark next month by Cairn to Cairn. Watch for AnnArbor.com's preview in the coming days.
• Almost five years since their last one, the Strokes have reportedly finished their new album.
• Jack White is hinting at a reunion of the White Stripes. A couple years ago, I would have cared.
MOVIES
• Mike Farah, the native Ann Arborite who works for FunnyorDie.com and who, with his brother, recently completed the locally shot movie "Answer This!," is one of The Hollywood Reporter's "Next Gen 2010: Hollywood's Young Guns."
• Daniel Radcliffe, star of the "Harry Potter" movies, tells MTV.com he welcomed the time off after finishing shooting. Meanwhile, studio Warner Brothers has launched an investigation into the online leak of part of the latest chapter, "Harry Potter and the Deathly Hallows," which opens at midnight tonight.
• Denis Leary will play the father of Emma Stone's Gwen Stacy character in the next "Spider-Man" movie. (I still say they've got this all backwards; Stone should play Mary Jane Watson.) And in other Spider-Man news, New York Mayor Michael Bloomberg interacts with Peter Parker in a new comic.
• Pitchfork reports that Fever Ray will supply music for and appear in an upcoming adaptation of "LIttle Red Riding Hood."
COMEDY
• Bill Cosby and Betty White will be part of a 10-day comedy festival in Grand Rapids.
TELEVISION
• EW.com reports that the episode of "Glee" slated to air following this winter's Super Bowl will feature a take on Michael Jackson's "Thriller" — done as a mash-up with another song not yet decided. And in other "Glee" news, Cee-Lo Green says Gwyneth Paltrow did "awesome" with his song "Forget You" on Tuesday's episode. 
• The upcoming revamp of "American Idol" will eliminate the round of 24 and make other changes.
• The band Pavement is set to appear on an upcoming "Ace of Cakes."
• A Wisconsin man apparently shot his television after becoming enraged at "Dancing with the Stars." Look, pal, I understand, but save it for something important ... like "Top Chef."
Renee Tellez and Jenn McKee contributed to this roundup. Bob Needham is director of entertainment content for AnnArbor.com. Reach him at bobneedham@annarbor.com or 734-623-2541, and follow him on Twitter @bobneedham.