Posted on
Tue, Nov 9, 2010 : 11:01 a.m.
U-M's Darren Criss on 'Glee'; Conan's return; new Mr. Peanut; and more
By Bob Needham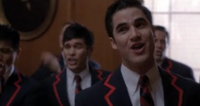 OK, fans of "Glee" and/or the University of Michigan's great musical-theater program: Tonight's the night that U-M grad Darren Criss debuts as a new character on the series, and the appearance is generating a lot of buzz.
If you want a preview, here's a clip from tonight's episode (Fox, 8 p.m.) of Criss leading a group in singing Katy Perry's song "Teenage Dream"—Â and the guy can definitely sing:
Interestingly, tonight's episode is directed by another U-M grad, Brad Buecker.
Other entertainment items of note online today:
MORE TELEVISION
• Conan O'Brien's new late-night show premiered Monday, and general reaction seemed to be that not much had changed. People.com picked the show's top three moments. And The Hollywood Reporter rounded up reaction from other late-night hosts.
• Advertising icon Mr. Peanut has a new look, and even a voice —Â Robert Downey Jr.'s.
• A new commercial promotes volunteering in Detroit.
• A woman solved a "Wheel of Fortune" puzzle with just one letter.
• The Detroit Free Press has a feature on the Michigan native who hosts "Auction Hunters."
• EW.com has a recap of last night's "Dancing with the Stars."
MUSIC
• The Detroit Symphony Orchestra strike continues, with no progress and more cancellations.
• Jack White is contributing to Danger Mouse's upcoming album.
• I bet he doesn't send five copies to his mother, but Eminem is on the cover of the Rolling Stone.
MOVIES
• A canned food donation can get you free admission Thursday to an MJR theater, including Brighton Towne Square.
THEATER
• The Dexter Leader previews the Encore Theatre's upcoming stage version of "It's a Wonderful Life."
FESTIVALS & FAIRS
• The Metro Detroit Pet Expo comes to Novi next weekend.
Renee Tellez contributed to this roundup. Bob Needham is director of entertainment content for AnnArbor.com. Reach him at bobneedham@annarbor.com or 734-623-2541, and follow him on Twitter @bobneedham.