Posted on
Tue, Mar 8, 2011 : 5:43 a.m.
Davy Rothbart-inspired film 'Easier with Practice' will have its Michigan premiere at the Yellow Barn
By Jenn McKee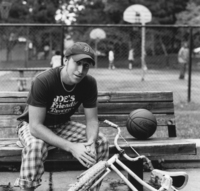 Most of us won't have even one movie based on our lives.
But then, most of us aren't Davy Rothbart, who recently inspired the creation of two films: Kyle Patrick Alvarez's narrative drama "Easier with Practice," now having its Michigan premiere at the Yellow Barn; and David Meiklejohn's documentary, "My Heart is an Idiot," which will have its world premiere at the Michigan Theater on April 22. (Watch for an AnnArbor.com preview about "Heart" as the premiere draws closer.)
"Easier" came about when Rothbart — an Ann Arbor resident who's the founder of Found Magazine, as well as a writer and contributor to Public Radio International's "This American Life" — published a personal essay in GQ about having a multi-year phone-sex relationship with a woman he hadn't previously met. Filmmaker Alvarez used the essay as the basis for his film, shot in Albuquerque in 2008.
In "Easier," a young writer named Davy is traveling around the country with his brother by car to promote his unpublished book of stories. One boring night, in a hotel room, Davy receives a seemingly random call on his cell phone from a strange woman he doesn't know, and the two go on to develop an erotic, phone-only relationship that's tested when Davy wants to meet the woman in person, and she resists.
Here's the trailer.
Though "Easier" earned screenings, and praise, at numerous film festivals, the Yellow Barn screening offers locals the first glimpse at Alvarez's finished product. To mark the occasion, Rothbart answered a few questions from AnnArbor.com via e-mail.
Q. How did "Easier" get started?
A. Kyle reached out to me and asked if we could meet up so he could share his ideas for transforming my story into a film. So when I was in L.A. a couple of months later, we met at a bar called Jones on Santa Monica to discuss it. In fact, our initial meeting at that bar in L.A. had some eerie resonances with my first meeting with Nicole, who's my love interest in the movie: we'd only talked on the phone, didn't know what the other person looked like, and weren't sure exactly what to expect. Me and Kyle still laugh about that.
Q. Was there any nervousness on your part about seeing a character based on you played by an actor? Or about giving up control of how the story was told, and what was altered? What made you trust Alvarez with your story?
A. After meeting Kyle, I had complete faith in his vision for the film. I saw that we shared the same sensitivities for how the story could be told — as a compassionate and thoughtful look at how humans connect (or fail to connect), without opting for the cheap laughs that a story about phone sex could easily chase after.
I told Kyle that the story was entirely in his hands now, and encouraged him not to feel reined in by my specific experience, but to take it wherever he wanted to, in order to make the strongest movie possible.
Any nervousness I might've had about seeing a movie come to life based on my own experiences was dissolved the more I got to know Kyle and appreciate the tone and quality of his work.
PREVIEW
"Easier With Practice" screening
Who: Written and directed by Kyle Patrick Alvarez.
What: Michigan premiere of the critically acclaimed independent film based on the experiences of Found Magazine creator (and Ann Arbor native) Davy Rothbart. Rated NC-17. Following the film, The Whip, with DJs Forest Juziuk and Richie Wohlfeil, will offer psych rock, soul, and R&B.
Where: Yellow Barn, 416 W. Huron St.
When: Friday, March 11 at 9:30 p.m. (Doors open at 9 p.m.)
How much: $5. Info: www.hottlava.net.
Q. How does the real Davy compare to the character Davy in "Easier"?
A. The "Davy" character in the movie is pretty different from me. When Kyle wrote the movie, he didn't really know me. Now we've become good friends. But his intention was never to make a movie about me, specifically, so much as to tell the story of someone going through the experiences I went through. So while everything that happens to "Davy" in the movie is pretty much exactly what really went down, the character of "Davy" isn't meant to be precisely like me. In fact, Kyle often says that the "Davy" character is more like him!
Q. The film has made the rounds at festivals. Did you try to attend those festival screenings?
A. Yeah, I went to the world premiere at the Cinevegas Film Festival. It was really crazy to be on the red carpet with Brian Geraghty. At the time, "The Hurt Locker" had just come out, too, which he also stars in, so his co-stars Jeremy Renner and Anthony Mackie were with us everywhere we went. Me and Brian sat together at the premiere, giggling the whole time. I mean, the movie does not shy away from the story's honest, salacious aspects — that's part of the reason it was the first movie in cinema history to be slapped with a NC-17 rating, even without nudity or violence, based on its graphic sexual dialogue. It was one of the craziest and most surreal experiences of my life, watching that movie with a packed house of strangers.
Q. How did you feel about the final product?
A. I thought Kyle and his cast and crew knocked it out of the park. I loved the movie. I was really excited to see my Ann Arbor friends Saturday Looks Good To Me included in the soundtrack. I also was thrilled that Katie Aselton, one of my favorite actresses and directors ("The Puffy Chair," "The Freebie") played such an essential role. At the end of Cinevegas, the festival director Dennis Hopper (R.I.P.) awarded the movie the Grand Prize, a real honor, and much-deserved.
Q. The film was well-received, by and large, and yet didn't get a distribution deal. Was this process a hard and fast education regarding the film business?
A. The movie got an amazing response, from critics and audiences both, when it opened in LA and NY. And in the U.K., it actually had a wide run and was in art-house theaters in every city. And the movie went on to play at dozens of film festivals, many of them prestigious, and won a lot of awards. But yeah, it's a little sad that it didn't get wider distribution in the U.S. I think the NC-17 rating was unfair and really presented a challenge to distributors. And yes, indie film on the whole gets shafted in an age of 3-D blockbusters.
But my feeling is that there is an audience for indie films, and that that audience will find a way to view the films they want to view. Perhaps because such a strong buzz was out and it only had limited distribution, "Easier With Practice" has actually been one of the most-viewed indie films on Netflix the past few months. It's available on DVD, and can also be seen on Netflix Instant. But it's definitely a lot more fun to watch with a crowd, so I hope people will come out and join us at The Yellow Barn on March 11th — it's gonna be a blast!
Jenn McKee is the entertainment digital journalist for AnnArbor.com. Reach her at jennmckee@annarbor.com or 734-623-2546, and follow her on Twitter @jennmckee.