Posted on
Wed, Dec 16, 2009 : 5:30 a.m.
Yellow Barn provides a home for out-of-the-ordinary arts events
By Jennifer Eberbach
Bill Gross admits that it is hard to put a label on the Yellow Barn. "I don't like to define this place. I'd rather it be defined by the people who come," he says.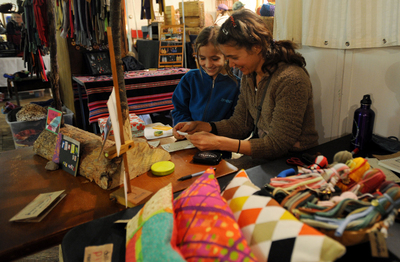 Melanie Maxwell | AnnArbor.com
The
Yellow Barn
is a converted farm located on the edge of downtown Ann Arbor — just past the railroad tracks at 416 West Huron. The space is used for music shows, art events, performances, poetry and storytelling, classes, before- and after-parties, and unique happenings.
For those who know about it, the Yellow Barn has gained a reputation for being a funky, offbeat creative space. One of its unique happenings is the Bizarre Dance/Unihood Unification Project, a fashion and performance happening that invites anyone from the community to participate. Performers dress up in unihood hats and take turns expressing their own creativity through dance, performance and storytelling.
Watch a video of the Bizarre Dance/Unihood Unification Project:
The Bizarre Dance got started after Bill Gross met artist and collaborator Britten Stringwell. The Yellow Barn has also participated in citywide events like Art Walk, shown University of Michigan student work, and welcomed a number of local institutions, musicians and other creative types to plan their own shows in the space.
"I don't want to say that's it's underground, because it's obviously not underground" — however, at the same time, "it's not a venue," according to Gross, who owns and manages the property. "A lot of people don't even know that it exists."
People find out about events through word of mouth or by subscribing to the space's email list. But the Yellow Barn does not go out of its way to promote events. According to Gross, many people find out about the Yellow Barn because the musicians and artists who participate in events handle the promotions work.
Gross thinks "people make it into whatever they want to make it into, which is amusing to me sometimes. It's fine. People come here for this or that, so they start thinking (the Yellow Barn) is this or that."
"The Yellow Barn has taken on a life of its own, and all these people want it to be what they want it to be."
Gross admits that the space's indefinability can present certain challenges; the mystery surrounding it leaves it vulnerable to rumors.
One struggle Gross cites is keeping events alcohol free. "We don't want to be a big party scene. We love to dance and have fun, but we're not the bar," nor do they welcome you to bring your own alcohol, according to Gross — who has performed the duties of a bouncer on more than one occasion.
Gross prefers it when "things happen that are laid back and there is a big mix of people — of all ages. At events, I tend to be one of the older ones, but I like it when there's a big mix. Part of this place is trying to bring different people together. One of my ideas about this place is that it brings together different groups and different types of people. That's more representative of the world around us," and an alternative to the college bar scene or any of the "local cliques" that form around youth culture in Ann Arbor, according to Gross.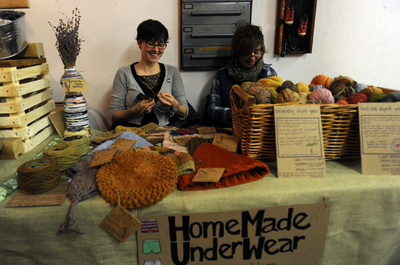 Melanie Maxwell | AnnArbor.com
The Yellow Barn hosted its ninth installment of
"Art in the Barn,"
the performance and art space's annual holiday art sale, all day long last Sunday. Over the past decade, the event "has kind of stayed the same," according to Gross. "There's a core group that have probably done it every year," he explains. The lineup changes a little from year to year, depending on who chooses to participate, and new artists are always being added. Gross admits, "I have a hard time saying no," when artists ask to be added to the roster, which is why "this year it's a little more crowded than usual," he laughs.
This year's event featured "the usual suspects" as well as a few new participants. Featured artists and artisans represented a broad spectrum of creative pursuits. They sold their paintings, glassware, jewelry, honey, clothing, baskets, sculptures, bath products and decorative objects to holiday shoppers.
A number of participating artists report that the event has become a part of their regular rotation of selling and exhibition opportunities. Whether artists are seasoned professionals or just starting out, participants enjoy the diverse mix of artists featured in the show and the offbeat, funky vibe of the Yellow Barn. Although sales vary from year to year, artists generally make money from the sale, and occasionally an artist will report exceptional sales to Gross.
Gross likes to include a broad mixture of artists working at all levels of experience.
"There are always some people who are kind of new artists. Their work is not always super polished stuff. I think it's good to include all of it. We're not uppity here," he says. He enjoys providing new artists opportunities to get practice and experience, because "the more you do it, you're obviously gonna keep getting better," he explains.
Add yourself to the Yellow Barn's email list by emailing yellowbarn@gmail.com
The Yellow Barn holds "Ebird and Friends," the 2nd annual holiday variety show hosted by Erin Zindle, the lead singer and violinist of Ann Arbor band The Ragbirds, on December 18, beginning at 8 p.m. with doors opening at 7:30 p.m. The holiday-themed variety show will feature performances by members of the Ragbirds, Theo Katzman of My Dear Disco, Dave Boutette, Dan Piccolo of NOMO, Mike Boyd, Erik & Toko Santos, Spencer Michaud, Shelly Smith of the Cowgirl Cabaret, and others. Admission is $10.
Jennifer Eberbach is a free-lance writer who covers art for AnnArbor.com.