Posted on
Tue, Aug 10, 2010 : 5:37 a.m.
Blind Pig benefit will aid fledgling Derby Dimes roller derby league
By Will Stewart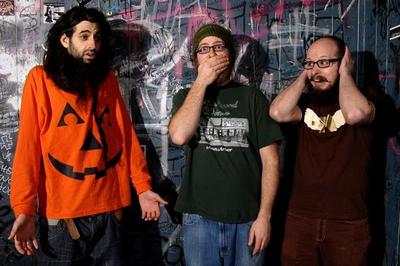 Roller derby was punk rock before there was such a thing.
So it only stands to reason that a benefit concert to raise funds for Ann Arbor's fledgling Derby Dimes roller derby league should be just as rough and tumble.
"Derby isn't a nice thing, so a harder-edged lineup that's on the punk, hard rock side of things makes sense," said Justin O'Neill, who is organizing the August 13 show at the Blind Pig. "We were hoping get more bands with girls, but there aren't that many in the area, so we're going forward with a bunch of great punk bands."
Indeed, with a lineup that includes O'Neill's own band, the progressive punk/metal act Counter Cosby; local punk legends Mazinga; Detroit's punk-surf stalwarts The Amino Acids and others, the lineup appears to be as hard-hitting as a good, old-fashioned roller derby bout.
And that's how it should be, O'Neill said.
"Roller derby fans are the types of people who want to rock out and cut loose," he said. "What we wanted to do is create an event that would raise some money and do some good, but which would also be fun at the same time."
The Derby Dimes league was formed earlier this year by a group of roller derby veterans and enthusiasts. Although teams in Detroit and Jackson have taken advantage of the sport's resurgent popularity, Ann Arbor had yet to jump on the bandwagon, said Derby Dimes spokeswoman Cristin Colling.
She said the league, which hopes to field four teams to begin competitions by the end of the year, will differ from other leagues in the state because it intends to compete on traditional, banked tracks.
"That adds an entirely different dimension to the sport," she said.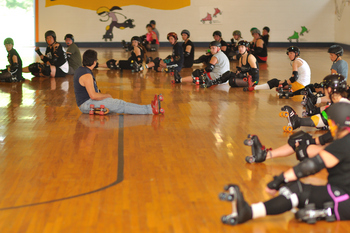 photo by Ben Seese, courtesy Ann Arbor Derby Dimes
But that track costs about $40,000. In addition, the league needs a warehouse space to house the track and to host practices and bouts, as well as money for uniforms, promotions and other expenses.
Colling said the league has had some fund-raising success already and is pleased with the response it's already seen.
"There has been a lot of excitement around it," she said. "Everything is volunteer-run and done for the love of the sport.
"Basically, we're trying to create more fun things to do in Ann Arbor."
And before the league's first bout is even scheduled, it already has a great rock 'n' roll show lined up. In addition to the music, the event will feature an unveiling of the Ann Arbor Derby Dimes logo, recently selected among submissions received in a logo contest.
"Roller derby and punk rock go perfectly together," O'Neill said. "It's a great way to raise money, give the Derby Dimes more visibility and have a great time."
Will Stewart is a free-lance writer for AnnArbor.com.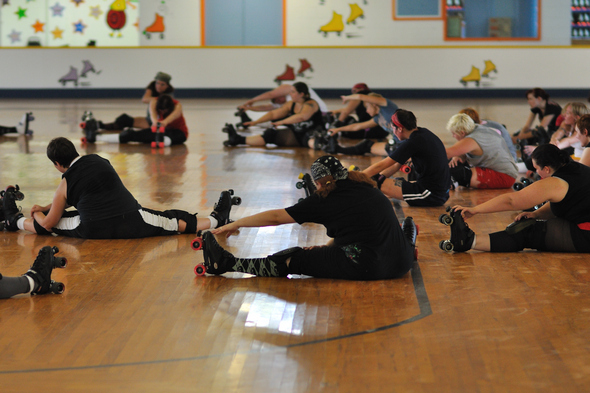 photo by Ben Seese, courtesy Ann Arbor Derby Dimes