Posted on
Tue, Feb 19, 2013 : 2:44 p.m.
DVD release set for Iggy and the Stooges' Michigan Theater tribute concert for Ron Asheton
By Bob Needham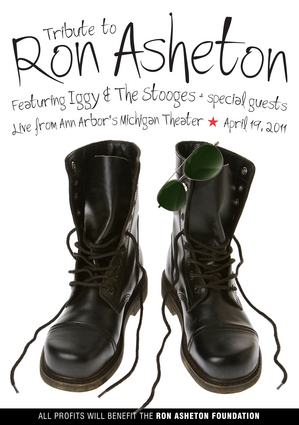 Big news for local (and not-so-local) fans of
Iggy Pop
and the
Stooges
: The 2011 Michigan Theater
tribute concert for Ron Asheton
is coming to DVD.
MVD Entertainment Group plans to release the DVD on April 9. It is also expected to be available digitally from iTunes and elsewhere the same date.
An announcement Tuesday afternoon reads, "Recorded live at the Michigan Theater, this heartfelt tribute/celebration of Stooge guitarist Ron Asheton's life and music featured Iggy and the Stooges, Henry Rollins, and guest guitarist Deniz Tek (Radio Birdman). Includes a string section on a few Stooges classics! All profits from the sale of the DVD go to the Ron Asheton Foundation which supports animal welfare and music."
The critically acclaimed concert took place April 19, 2011, at the Michigan, drawing national media attention. It marked the first time in many years the now-iconic band the Stooges played in their hometown.
The concert served as a tribute to the late Ron Asheton, the Stooges' original guitarist, who continued to make his home in Ann Arbor until his death in 2009.
Remarkably, over the years the Stooges have become international legends, but it certainly didn't start out that way. The band — Iggy Pop, Ron Asheton, Scott Asheton and Dave Alexander — formed in 1967 in Ann Arbor and — with their primal, energetic sound — are often considered the first punk rock band.
The band found little commercial success and broke up in the early 1970s, but over the years its influence grew while Pop became a solo star. Rolling Stone placed Asheton at No. 29 on its list of 100 greatest guitarists. In recent years the Stooges reunited for concerts and a new album, with Mike Watt taking the place of late bass player Dave Alexander.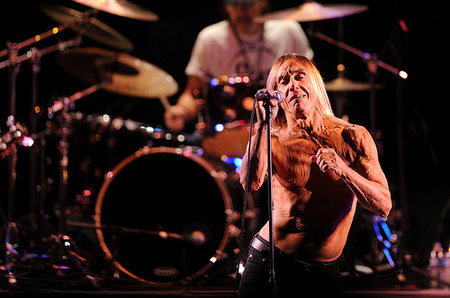 Melanie Maxwell | AnnArbor.com
In 2010 the Stooges were finally
inducted into the Rock and Roll Hall of Fame
, while Pop
led off National Public Radio's project on "50 Great Voices."
Since Ron Asheton's death, Iggy and the Stooges have continued doing concerts, with James Williamson — who played guitar on the Stooges' third album, "Raw Power," with Asheton on bass — taking Asheton's slot.
Following is a full track list for the DVD, which appears to encompass the Stooges' full set from the tribute concert:
I Got a Right (with Henry Rollins)
Raw Power
Search and Destroy
Gimme Danger
Shake Appeal
1970
L.A. Blues
Night Theme
Beyond the Law
Fun House
Open Up And Bleed
Your Pretty Face Is Going To Hell
I Wanna Be Your Dog
TV Eye
Loose
Dirt
Real Cool Time
Iggy's Speech
Ron's Tune
No Fun

The DVD can be preordered from the See of Sound website.
Bob Needham is director of entertainment content for AnnArbor.com. Reach him at bobneedham@annarbor.com or 734-623-2541, and follow him on Twitter @bobneedham.