Posted on
Sat, Sep 29, 2012 : 5:42 a.m.
Earth Tones concert bringing top local musicians together in support of conservation group
By Kevin Ransom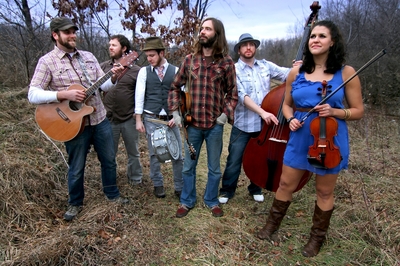 photo by Dree Ziegler
Several environmentally minded local bands and artists will gather at The Ark on Tuesday for the annual
Earth Tones
benefit to raise funds for the Michigan League of Conservation Voters.
The Earth Tones benefit is now in its eighth year, says Erica Bloom, program director for MLCV—and the group hopes to raise $5,000 from the event.
The lineup for this year's show includes Dragon Wagon, Joshua Davis (the leader of Steppin' In It), Match by Match, and Brennan Andes and Ross Huff of The Macpodz with special guest Chris Good. Matthew Altruda of "Tree Town Sound" will host.
"We're really excited about this year's lineup," says Bloom. "Some of the best local musicians will be playing at the best local venue all on one night. We couldn't ask for more."
The money raised by the concert, and via donations from sponsors, helps MCLV pursue its mission to advocate for environmental protection, with a special emphasis on helping to elect conservation-minded candidates to state and regional offices—"and to ensure that conservation becomes a top priority in the state Legislature," says Bloom.
"We like this benefit concert because it's a fun way to raise funds to help us with that mission, and also to help people feel good about the work we're doing—as well as to raise awareness of who we are and what we do," adds Bloom. "We also like to educate people on how they can volunteer and get involved in other ways—like working phone banks, and attending events, and writing letters, and just telling friends about the work we're doing."
PREVIEW
Earth Tones
Who: Dragon Wagon, Joshua Davis, Match by Match, and Brennan Andes and Ross Huff of The Macpodz with special guest Chris Good. Matthew Altruda of Tree Town Sound will host.
What: Benefit to raise funds for the Michigan League of Conservation Voters, which helps pursue its mission to advocate for environmental protection.
Where: The Ark, 316 South Main Street.
When: Tuesday, 7:30 p.m.
How much: $20 ($10 student). Tickets available from The Ark box office (with no service charge); Michigan Union Ticket Office, 530 S. State St; Herb David Guitar Studio, 302 E. Liberty St. or online from MUTO.
One of the big items on the group's agenda this year is its campaign to push for the creation of more renewable energy sources in Michigan
When approaching artists to ask them to perform at the annual Earth Tones benefit, Bloom says "we look for artists and bands who are active in the community, and we tell them what we're about, and see if they support our efforts."
The event will also include a silent auction. The "big prize" this year is a stay at the Grand Hotel on Mackinac Island, along with tickets to the ferry to the island. Another prize is University of Michigan football tickets. Other prizes were donated by various stories and other business from across the area, says Bloom.
Although the MCLV is a politically involved, Bloom stresses that it is non-partisan. "Conservation and environmental protection is a non-partisan issue—it doesn't matter what party you belong to," she says. "Protecting the environment should be something that we can find commonality on, regardless of party affiliation."
The League believes its efforts are especially important now because "the current legislature has been passing bills that hurt the environment, and we're trying to work with them and educate them," says Bloom.
One bill the league opposed this year called for a cap on the amount of public recreation land the state can own. However, the Legislature passed that bill, and Gov. Rick Snyder signed it into law.
"We think this is bad public policy, because it limits the amount of public recreation land that the state can manage and protect, in terms of improving the habitat and biodiversity," says Drew YoungeDyke, the League's policy and communications specialist. "It also limits the amount of land the people of Michigan have access to, for hunting and camping and other outdoor recreation."
Another bill the League opposed was one that wanted to prohibit Michigan from having tougher environmental protection regulations than the ones established by the federal Environmental Protection Agency. "That went against Michigan's tradition of being a national leader in environmental protection," says YoungeDyke—a tradition that was primarily borne out of the state being surrounded by the Great Lakes.
The bill would have weakened the ability of the governor and the agencies he directs, like the Department of Environmental Quality and Department of Natural Resources, from creating rules that protect the Great Lakes.
The Legislature also passed that bill, but Snyder vetoed it, partly due to the advocacy efforts by the League and other environmental protection groups.
This year's Earth Tones benefit also honors University of Michigan law professor David Uhlmann and Ann Arbor native and conservationist Tom Buhr for their significant contributions to the League's Green Gavels program, a first-of-its-kind program that evaluates the various Michigan Supreme Court justices over the years, in terms of how their rulings impacted the environment. Chris Good, the singer-songwriter who will be performing with Brennan Andes and Ross Huff of Macpodz—both of whom played on his new CD, "Beautiful"— says he's excited to be part of the Earth Tones benefit. "Now, more than ever, it is essential for there to be a strong voice advocating for the well-being of our land, air, and water. My music has always been deeply rooted in a concern for social justice and environmentalism," says Good.
"MLCV provides an essential role in our community and state through their education and advocacy. It's also exciting to be a part of such a wonderful community event with some of my favorite musicians. It should be an incredible night."
Kevin Ransom is a freelance writer who covers music for AnnArbor.com.