Posted on
Wed, Jul 18, 2012 : 9:38 p.m.
Five things to check out Thursday at the Ann Arbor Art Fair: Gnome-be-gones, a silver man and more
By Jenn McKee
Previous article: Five things to check out Wednesday at the Ann Arbor Art Fair
Find a roundup of Ann Arbor Art Fair coverage here.
The Ann Arbor Art Fair offers countless fascinating sights—as well as sounds, tastes, smells and experiences.
Here are a few suggestions for things you might want to check out today—and add your own in a comment at the end of this post: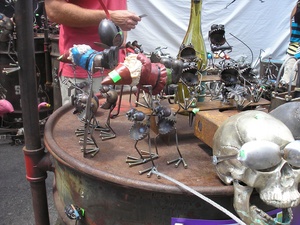 Gnome-be-gones spotted on East University
Salt Lake City's Fred Conlon makes metal sculpture with a sense of humor—including sharp-toothed, alien-like little creatures that appear to be carrying away small garden gnomes.
"Those are fairly recent (additions)," Conlon said. "I call them the gnome-be-gones, and you put them in your garden to help control the gnome population. Because gnomes can get out of hand if you're not careful."
So the solution to your festering gnome problem is just a trip to the South University Art Fair away.
The silver guy
So the silver guy performance artist (a.k.a. George Tait's Living Statue), who takes up residence at Thayer and North University, didn't want to talk to me—not surprising, since he doesn't speak, and poses as a statue until he receives a donation.
If you do offer up some money, he will respond in some way, such as bow, or take a photo with you, before assuming a statuesque pose once again. Not earth-shattering or anything, but a longtime mainstay of the Ann Arbor Art Fair.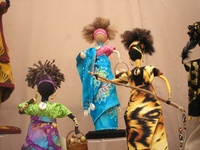 The dolls of Michele Sapp
On State Street, near Angell Hall, Farmington Hills' Michele Sapp has a booth full of dolls she makes, using recycled plastic bottles as a base.
And while the eye-catching figures often carry baskets or shells, they don't have facial features.
"I think that when we look at one another, we make judgments about people based on physical features, and I want to challenge a person to see the inner beauty and know the spirit of a person," said Sapp.
The octo-bike
Using a corner at Liberty St. and Division as a kind of Art Fair headquarters, the Conference Bike is available to those looking for an unusual, temporary diversion.
With seating for 6 passengers (who pay $5 each), plus a driver who brakes and steers (so not officially an octo-bike, but close), the CoBi was created by artist and U-M grad Eric Staller in Amsterdam. According to the bike's website, only about 300 of these bikes exist in the world, and most of those are in Europe. Bottom line? You might want to try it out while you can, and see a little bit of the town in an unusual way.
The booth that's part of the art
On North University, an Ann Arbor Street Art Fair artist named Joachim Knill has a booth that's getting as much or more attention than the original work featured inside.
Resembling a large shipping crate, patrons walk up a small ramp, flanked by velvet ropes, to enter and see Knill's paintings, among other items. (Make sure to look up at the bee chandelier.)
"It's an installation art piece, so it came as a complete concept," said Knill. "The idea was how cultural treasures get shipped out from different places and sold off, … and the context of where they came from gets lost. So I just made up a culture of stuffed toy animals, and it's like this national treasure that's been taken out of some mansion, taken over by different entities and shipped around and being sold off on the streets. So if people buy a piece out of it, they might buy it because they just like the piece, but they have no idea what the culture was."
For the full backstory on Knill's concept, visit his website: http://www.joachimknill.com/.