Posted on
Thu, Nov 29, 2012 : 2:45 p.m.
4 reasons to be grateful for the Ann Arbor and Ypsilanti food scene
By Jessica Webster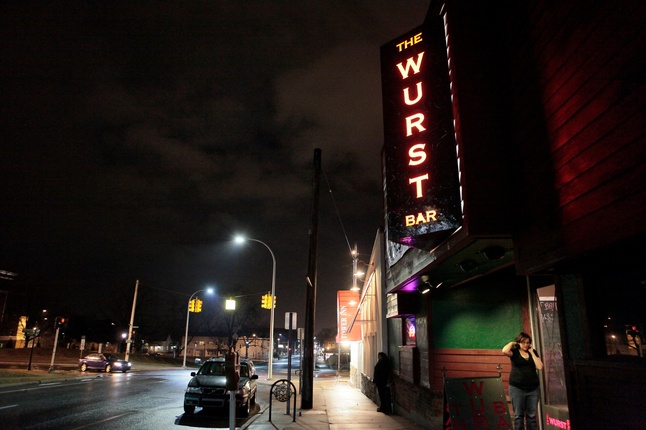 Thanksgiving has come and gone, and the last of the leftovers have finally left my fridge. Our national day of thanks may be behind us, but I'm not even close to being done with feeling thankful.
I was more than a little inspired by a recent post by anonymous local food blogger A2Gastroboy when I set out to write this. He and I have never knowingly crossed paths, but our Foursquare check-in histories seem to indicate that we both love many of the same restaurants.
A2Gastroboy has some great ideas about how to pay it back during this season of giving (and of thanks), but his post got me to thinking about how incredibly lucky we are.
I'm thankful that the Stadium Bridges have finally reopened. I'm thankful that my apple-cider-brined turkey — the first Thanksgiving turkey I've been in charge of from beginning to end — turned out so delicious. And I am thankful for all the great food and drinks available in Ann Arbor.
A great place to buy wine I'm no oenophile, but I do love a good bottle of wine, so I am grateful that we've got passionate wine experts standing by to make recommendations.
Whether I'm planning a meal and want the perfect wine pairing, or I'm heading to a friend's and need a hostess gift, I don't need to look far for good advice. Mary at Everyday Wines, Rebecca at Busch's on Main Street, Jorge at the Produce Station, and everyone in Morgan & York and Plum Market wine sections have nearly always steered me right.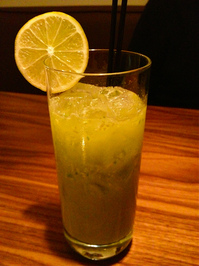 Jessica Webster | AnnArbor.com
A good cocktail
Much has been written about the burgeoning local craft cocktail scene, and I don't mean to jump on the bandwagon… but there are some pretty great drinks to be had out there these days.
Some of them, like the French 75 at Grange Kitchen & Bar on Washington St., are light and bubbly — the perfect start to a meal. Others, like the Posion de Bruja at Lena — a concoction of mezcal, Midori, Cointreau, agave nectar, honey, lime and avocado — are heavy enough to feel like a meal all by themselves.
The Ypsilanti food scene Ypsilanti has always had good food. Dalat for Vietnamese, La Casita or La Fiesta for Mexican, or Sidetrack for an award-winning burger. I love Ypsi for the anachronistic food experiences. If I want to step back in time, I can pull in to the Chick-Inn for a Paul Bunyan burger, delicious onion rings and a chocolate-strawberry milkshake. Or head over to Bill's Drive-in for a delicious coney dog and a frosty, homemade root beer. And there's always Haab's for a hearty slab of ribs and a strong cocktail.
But there are some new kids in town bringing a new level of excitement and vitality to Ypsilanti. Try Red Rock Downtown Barbecue on Michigan Avenue for a pretty impressive array of meats. Or cross the street to the bright, airy, light-filled Bona Sera, where "Wonder Woman" and "Bad Fairy" are cooking up tasty delights like their porchetta banh mi and imaginative salads.
Also new to Ypsilanti this year is the Wurst Bar. I can't decide whether I'm more impressed with the list of Michigan craft beers on draft or the crazy hamburgers they dream up. Recent mind-blowingly weird burgers include their "Surf on Surf on Turf butter burger:" ground filet mignon topped with escargot, garlic and parsley compound butter, lobster pate and puff pastry; and the "Deconstructed Monte Cristo Burger:" cinnamon custard brioche French toast bun, ham, turkey, Swiss & cheddar with a house-made caramel apple sage compote. Sound crazy? Just a little. But it's also delicious.
Chef Brendan McCall This column idea came to me as I was tasting one of McCall's latest creations over the weekend — a small plate of cappelletti pasta at Mani Osteria. Delicate little pasta dumplings were filled with a charred eggplant puree, topped with a very light cream sauce and tossed with frizzled sage, red pepper flakes and broccolini. I've eaten it three times in the past week and still dream about it. It was that good.
McCall runs a tight ship in the Mani kitchen, and whether it's a seasonal soup, a perfectly constructed Caesar salad or a crusty pizza, I often find myself reacting this way to his food.
If you go, try to get a table in the back of the room — your best bet is the counter along the kitchen. Watch McCall inspect each plate before it heads out to a hungry diner. That level of attention to detail is why Mani is getting national attention.
He'll also be overseeing the kitchen at Isalita, Mani owner Adam Baru's adjacent Mexican restaurant, slated to open toward the end of December. I can't wait.
Jessica Webster leads the Food & Grocery section for AnnArbor.com. Reach her at JessicaWebster@annarbor.com. You also can follow her on Twitter or subscribe to AnnArbor.com's email newsletters.