Posted on
Sun, Jan 16, 2011 : 10:30 a.m.
A farewell to eve: Saying goodbye to a favorite restaurant
By Jessica Webster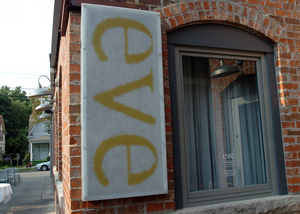 File photo
I didn't eat at
eve the restaurant
very often. It was my special occasion place — where I went to celebrate Valentine's Day, birthdays or a new job. It was where we took friends from New York to show them that Ann Arbor isn't just about comfort food. It was our every once in a while big treat. Going to eve was something I looked forward to.
I still remember my first evening at eve the restaurant. It was toward the end of the golden age of the music business, when record labels still had money to take retail buyers like me out to dinner. When the old school New York major label record biz guys were in town, we'd head to
The Chop House
for a nice hunk of meat and some after dinner cognac. But when the reps from the smaller boutique jazz labels came calling, we were up for something different.
It was one of those "something different" nights when we decided to try the new restaurant that had moved in to the space evacuated by Kerrytown Bistro. I had heard good reviews of this young chef who had the confidence to name her restaurant after herself and wanted to see what it was all about.
We knew we were in for something special when they brought us the bread: a crusty baguette served with a trio of flavored butters. We ordered a red and a white wine flight to share. And then came those nachos. Black beans cooked with chiles and bacon over fried wontons, all topped with a mixture of jack, gouda and cheddar cheeses, avocado slices, and creme fraiche. Nachos made with fried wontons. What a bizarre — and brilliant — idea. We ended the evening with the deliciously indulgent triple chocolate pots de creme. It was a home run meal.
Not every experience I had at eve was spectacular. The very quality that made Eve Aronoff such an appealing chef — her courage to explore non-traditional flavor pairings — could sometimes be her downfall. Sometimes she'd have too heavy a hand with the spices. Sometimes the menu wouldn't change much from season to season, and you'd wonder if she might be getting a little bored. Sometimes the service would be infuriatingly slow. But we'd always give her another chance, and she always made us glad we did.
As word has gotten out that Eve is closing her eponymous restaurant this weekend, the most common response I have heard has been: "But that's our special restaurant! Where will we go to celebrate now?" It's not like Ann Arbor doesn't have a wealth of great dining destinations. It's just that eve the restaurant always felt so special.
We had our last special dinner at eve on Wednesday night. Just like I did at my first dinner, I started with the Inspired Nachos and ended with the pots de creme. I savored my last eve ginger lime martini. I got all emotional over the ridiculously delicious gingered sweet potato gratin.
We heard a young couple at the next table asking about whether they could buy a few sets of silverware. They had had their first date — and their wedding reception — at eve. Like many of us, they have a lot of memories tied up in the restaurant.
The good news is that Aronoff has been talking about possibly reopening eve the restaurant in a different space in the future. And for now, we've got her new Cuban-inspired restaurant, Frita Batidos. Judging from the long lines at lunch, it's doing pretty well. It may not be the special destination that eve the restaurant was, but it's got delicious food at a much more affordable price. And maybe, just maybe, if we ask nicely, we can convince her to add her Inspired Nachos to the menu.
Jessica Webster leads the Food & Drink section for the AnnArbor.com community team. You can reach her at jessicawebster@annarbor.com.