Posted on
Wed, Jul 6, 2011 : 3:45 p.m.
Are you celebrating National Fried Chicken Day today?
By Jessica Webster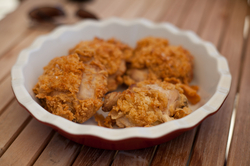 Photo by Flickr user neil conway.
According to
CNN's Eatocracy page
, today is
National Fried Chicken Day
. Having previously participated in such important food holidays as
National Hot Pastrami Day
,
World Nutella Day
and
National Soup Month
, I feel compelled to honor this holiday as well.
For my money, there are two places that kick out the best fried chicken in town.
Mary's Fabulous Chicken
on Packard, and
Zingerman's Roadhouse
on West Stadium.
Mary's may be short on ambiance, but it's a great destination if you're craving a moist, greasy, delicious fried chicken experience. My late mentor, Dr. Morris Lawrence Jr., swore by Mary's fried chicken, and it will always have a special place in my heart.
Zingerman's Roadhouse cooks up a fantastic fried chicken as well. Tuesday is the only night for their Nashville Hot Fried Chicken, a dish so spicy they serve it with a shot of buttermilk. But every other day of the week, James Beard Award-winning chef Alex Young and his crew serve up some seriously tasty fried chicken. Their inspiration comes from Gus's World Famous Fried Chicken in Mason, Tenn.
Saveur Magazine features its take on Gus's recipe on the magazine's website. I've made it several times at home and can vouch for its finger-licking goodness.
Another fried chicken recipe has been making the rounds of my Facebook and Twitter feeds in the past few days. Chef and food innovator David Chang recently posted a non-traditional recipe from his Momofuku Noodle Bar in New York. It calls for the chicken to be brined, then steamed and then fried. Chang claims that this method focuses the attention on the flavor of the chicken. I can't wait to try it.
What's your favorite fried chicken recipe? Do you have a special method for frying a bird, passed down through the generations of your family? Or have I missed your favorite local fried chicken joint? Chime in in the comments section below!
Jessica Webster leads the Food & Drink section at AnnArbor.com. You can reach her at JessicaWebster@AnnArbor.com.