Posted on
Tue, Jan 3, 2012 : 8:32 p.m.
B. Nektar cider plus Italian food from Piatto Di Pasta equals an awesome & affordable pairing
By Patti Smith
Why certain retail businesses fail and while others succeed has long intrigued me. I have gone to some wonderful places only to see them close (I still mourn Pelagos), yet it seems people will pay $30 for a piece of lettuce in other places. I mean, sure, the lettuce was pooped out by a goat wearing an organic headdress made of hemp and singing the sweet, sweet songs of Barry Manilow, but still, it's a piece of lettuce!
As someone who can most definitely not afford expensive meals, I am always on the look out for good food that costs less than my hourly wage. If I can pair that food with a nice beer, all the better.
So lucky for me that I discovered Piatto Di Pasta in the southeastern part of town. Nestled in the plaza on the corner of Stone School and Ellsworth, this is an awesome Italian restaurant/take out place. A friend had recommended it, and so I decided to incorporate it into my next beer pairing article.
The bad news is that I had only porters in my refrigerator and, to my palate anyway, porters and Italian food don't go that well together. Luckily, I had bought a B. Nektar Zombie Killer Cherry Cyser from MI General Storelast week, and even luckier was how well the tastes went together!
First, the food! I got two entrees, which included bread, salad (or soup) and your choice of meat, noodles and sauce. I got the penne pasta, traditional sauce and meatballs for myself and the cheese ravioli, spicy sauce and chicken for boyfriend Ken.
That is a clove of garlic that you see in that meatball. Yes, a whole clove of garlic. I ate and ate and still couldn't finish all of the pasta (if you have ever seen my rather expansive thighs, you will know that I can eat). While waiting for boyfriend Ken to get home, I liberated some of the ravioli from his plate. Hands down, the best I have ever eaten and in fact, I was kind of hoping he'd work late and leave all the pasta for me.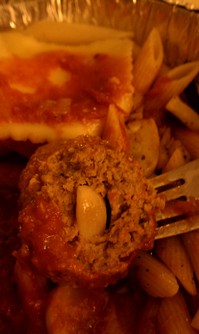 Patti Smith | Contritubor
Now the Cyser, as I said, went very well with the pasta and meat. This cider is amazing! It is basically apple cider with honey and cherries… but so much more! It's much lighter than a mead, yet not as heavy as, say, a red wine. The honey flavor is light and adds a crispness to it, while the cherries round out the tart finish. Since Italian food is somewhat heavy, this was the perfect drink to balance it out. (A porter beer, for instance, would have just made the meal too heavy).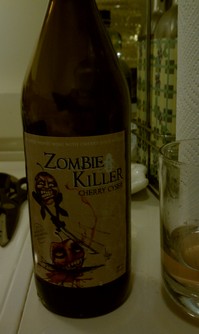 So give Piatto Di Pasta & Zombie Killer a try, individually or together. The food is locally sourced when possible and organic and the "cyser" is, too… and they won't break the bank! And no organic goats were necessary!
Patti Smith is a teacher who enjoys brewing and drinking beer. All of her teasing about food is meant in good fun.