Posted on
Mon, Jul 11, 2011 : 8 a.m.
Blueberry Streusel Muffins, just in time for National Blueberry Muffin Day
By Mary Bilyeu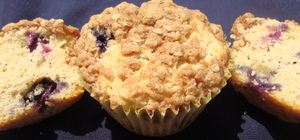 Mary Bilyeu | Contributor
Blueberry muffins are a universal favorite! Who wouldn't want to celebrate them today, on
National Blueberry Muffin Day
?
Not only do these muffins showcase one of Michigan's finest fruits, but they're sweet and delicious and perfect at any time of day.
Breakfast? A great way to start the morning! Lunch? They can certainly make a fabulous dessert. Tea time? Evening or midnight snack? Absolutely ideal!
This recipe makes a tender muffin, loaded with gorgeous blueberries. And the cinnamon streusel makes a lovely, fragrant topping so the muffins aren't quite so plain.
Just as National Strawberry Shortcake Day didn't need my promotional assistance, National Blueberry Muffin Day can hold its own, too, I think. So I'll stop blathering now, and just let you enjoy your muffin in peace…
Blueberry Streusel Muffins
Muffins:
1/3 cup butter, softened
1/2 cup sugar
1 large egg
1-1/2 cups unbleached flour
1-1/2 teaspoons aluminum-free baking powder
1/2 teaspoon kosher salt
1/4 teaspoon cinnamon
1/2 cup half-and-half
3/4 cup blueberries
Streusel:
1/3 cup flour
1/3 cup brown sugar
1/3 cup quick-cook oats
1/2 teaspoon cinnamon
1/2 cup butter, melted
Preheat oven to 325 degrees. Line a 12-cup muffin tin with paper liners.
Make the muffins: In a large bowl, cream together butter and sugar; stir in egg. Mix in the flour, baking powder, salt, and cinnamon. Stir in the cream, then gently mix in the blueberries. Divide the batter among the muffin cups.
Make the streusel: Combine the flour, brown sugar, oats and cinnamon. Stir in the butter. Divide the mixture among the muffins by placing a blob of it on top of each.
Bake for 30 minutes, until the muffins are golden and a tester comes out clean. Let the muffins cool, as they're a bit fragile and need to set before being removed from the tin.
Makes 12 muffins.

Mary Bilyeu has won or placed in more than 60 cooking contests and writes about her adventures in the kitchen. She was thrilled to have her post about Scottish Oatmeal Shortbread named as one of the daily "Best of the Blogs" by the prestigious Food News Journal.
Go visit Mary's blog — Food Floozie — on which she enthuses and effuses over all things food-related. Her newest feature is Frugal Floozie Friday, seeking fun and food for $5 or less … really! Feel free to email her with questions or comments or suggestions: yentamary@gmail.com.
The phrase "You Should Only Be Happy" (written in Hebrew on the stone pictured in this post) comes from Deuteronomy 16:15 and is a wish for all her readers as they cook along with her … may you always be happy here.