Posted on
Thu, Apr 4, 2013 : 4:39 a.m.
Buckwheat Crepes with Goat Cheese & Watercress - thin, savory pancakes are easier to make than you might think
By Peggy Lampman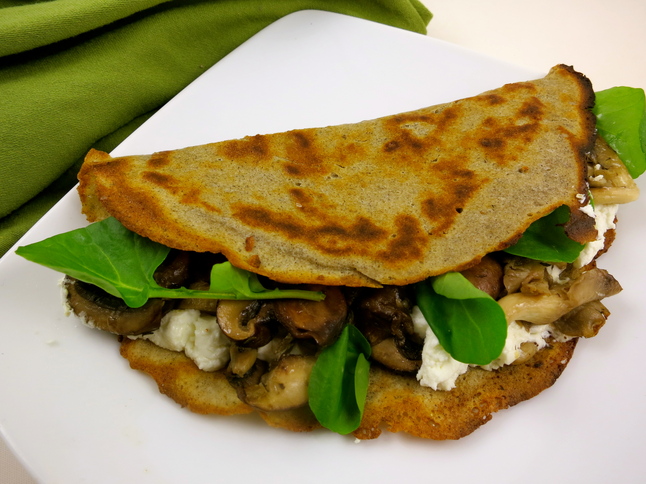 Peggy Lampman | Contributor

My dinnerFeed web site is a lean,
mean fighting machine!
To receive my lastest dinnerFeed posts
by email, sign up here.
Dining at Gratzi a couple of months ago, I ordered an appetizer off their seasonal menu: Crespella Grano Saraceno Con Funghi, which the menu described as, "A warm buckwheat crepe filled with roasted mushrooms and soft goat cheese, topped with arugula and tossed in a lemon vinaigrette, garnished with basil oil." A most savory crepe, a dinner unto itself - I made a mental note to attempt something similar to this masterpiece in my own kitchen.
Crepes made with buckwheat flour are quite popular in France and Italy, the earthy flavor of buckwheat especially marvelous paired with savory ingredients, such as mushrooms, asparagus, smoked salmon, ham and/or cheeses — Gruyere and creamy goat cheeses particular favorites. I make white flour crepes for desserts, stuffing them with jam, Nutella, chocolate, whipped cream or fruits. If you don't often cook with buckwheat flour, keep it in the freezer. As with other flours, if it becomes stale it develops an off-putting flavor, ruining a recipe.
If you've ever made a pancake you can make a crepe; they are simply thinner versions of pancakes and the techniques are much the same. For thin crepes, swirl the skillet, tilting it at angles, as your pour the batter into the pan. The crepes begin cooking immediately on contact with the hot skillet and this ensures you will fill the pan in a delicate layer.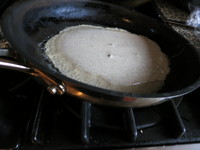 Attention should also be paid to the heat of the skillet when cooking crepes. A pan that's too hot will cause the batter to stick to the pan before you have an opportunity to swirl; a pan too cool will cause the batter to thicken and expand. Don't sweat it; if a bit of batter sizzles in the pan without smoking or burning, you're good to go.
Crepes may be stuffed, as in the recipe below, or simply enjoyed with a bit of butter and sugar. And, like knotting a scarf, there are many ways of folding and rolling a crepe.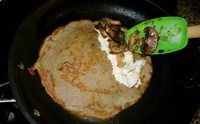 Most commonly, they're folded into triangles, as a classic Crepe Suzette, or rolled-up, cigar-style, the ingredients peeping from the ends. Often the recipe dictates the best way to fold or roll a crepe. In the recipe below, I served them quesadilla-style, so the ingredients weren't hidden under folds of crepe. Also, with one simple fold I could easily insert fresh raw greens into the crepes moments before serving. Feel free to make an additional fold to the recipe, to form more of a stacked triangular package, if desired.
You don't need a special crepe pan to make crepes; if you've a nonstick 8- or 10-inch skillet, you're good to go. I make the crepes one at a time and keep the finished crepes warm in a pre-heated 200 degree oven until the last one is ready. Or keep the meal informal and serve them one-by-one, hot off the press, to your salivating crew.
Pssst! If you're craving crepes but not the hassle of making them from scratch, What Crepe, the lovely new restaurant on East Liberty, will scratch your itch.
Time to chill batter: 2-12 hours
Active Time: 45 minutes
Yield: 6, 10-inch crepes
Ingredients
2/3 cup all-purpose flour
1/3 cup buckwheat flour
1/4 teaspoon kosher salt
2 medium or large eggs, room temperature
1 cup whole milk, room temperature
2 1/2 tablespoons unsalted butter, melted then cooled plus additional butter for cooking crepes
2 tablespoons extra virgin olive oil
2 tablespoons minced shallot
4 cups (apx. 10 ounces) uncooked sliced mushrooms such as shiitake, cremini, button
1/2 teaspoon dried thyme
5-6 ounces soft, creamy goat cheese (I used Purple Haze), room temperature
Handful of washed watercress or arugula leaves
Directions
1. In a large bowl, whisk together the flours and salt, combining well. Whisk eggs into flour mixture, then whisk in milk and melted butter until completely combined; it should have the consistency of pancake batter. Cover and refrigerate at least 2 hours and up to 12 hours, which allows the batter bubbles to collapse, making a thinner, smoother crepe.
2. Preheat oven to 200 degrees. Prepare sheet pan with parchment paper or foil.
3. Heat oil in a large saute pan over medium heat. Cook shallot, stirring, 3 minutes then stir in sliced mushrooms and thyme with a pinch of salt. Cook until mushrooms are just wilted, about 4 to 5 minutes. Remove from heat and reserve. Divide goat cheese into 6 portions and reserve.
4. Melt 1/4 teaspoon butter in a 10-inch skillet over medium heat. Ladle 1/3 cup batter into pan and tilt pan and turn on an angle so batter covers the entire bottom of pan. Cook 2 1/2 to 3 minutes, or until bottom side has browned, then, with a non-metal spatula, flip crepe.
5. Spread a portion of goat cheese and a couple of spoonfuls of mushrooms over 1/2 of crepe while cooking, and continue to cook crepe an additional 2 1/2- 3 minutes.
6. Fold crepe and place on sheet pan in oven. Continue cooking remaining crepes in the same manner. After cooking last crepe, tuck fresh watercress or arugula into all the crepes and serve.
Peggy Lampman is a real-time food writer and photographer posting daily feeds on her website and in the Food & Grocery section of Annarbor.com. You may also e-mail her at peggy@dinnerfeed.com.