Posted on
Tue, Dec 13, 2011 : 4:54 a.m.
Roasted Cippolini Onions and Grapes with Pomegranate Molasses a savory accompaniment to game or poultry
By Peggy Lampman
Peggy Lampman | Contributor

Click here for the new Holiday Cookbook. Recipes answering all of your entertaining needs, including a new Super-Simple Category of well-tested favorites.
(Note: This recipe is part 2 of a 3 part series. It is a make-ahead component to yesterday's make-ahead Rabbit & Pork Belly Terrine. Tomorrow I will blog about making Crostini, which completes the recipe.)
I concocted this condiment as I thought it would be delicious with my terrine. I was right. The flavors of tart pomegranate and sweet roasted grapes are marvelous with the rabbit. It keeps well in your refrigerator several days and would also be a savory accompaniment to any game dish or poultry.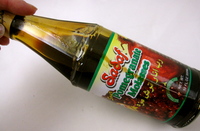 Pomegranate molasses is often used in Mediterranean cooking; I adore as a component with lamb dishes, in particular. I purchased my bottle at the
Mediterranean Market
on Ellsworth, but I've seen it at many grocery stores in town.
Active Time: 10 minutes
Total Roasting Times: 45-60 minutes
Number of servings (yield): 2 packed cups
Ingredients
3 cups washed, small, seedless red grapes, plus an additional small bunch of grapes for garnish, if desired
16 small cippolini onions
1/2 cup pomegranate molasses, divided
Instructions
1. Preheat oven to 350 degrees.
2. Line a cooking sheet with parchment paper, oiled foil or a silpat.
3. Coat grapes with 1/4 cup of molasses. Brush additional molasses over bunch of grapes, if using.
4. Roast on middle rack of oven until just shriveled but not collapsed, 20-35 minutes, depending on size. Remove from oven and reserve.
5. Coat cippolinis with remaining molasses and season with kosher salt and freshly ground pepper. Change paper or foil if burnt. Roast 10 minutes. Remove from oven and, with prongs, turn over. Continue roasting until onions are well-browned, just tender and caramelized, an additional 10-20 minutes, depending on size.
6. When onions are cool enough to handle, separate layers with fingers and cut larger onions in half.
7. Combine onions with grapes.
My new web site (packed with holiday recipes) has recently been launched. (www.dinnerFeed.com)! I'm a real-time food writer and photographer posting daily feeds on my website and in the Food & Drink section of Annarbor.com. You may also e-mail me at peggy@dinnerfeed.com.