Posted on
Mon, Aug 26, 2013 : 2:34 p.m.
Cronuts spotted at Ann Arbor Sunday Artisan Market
By Jessica Webster
Jessica Webster | AnnArbor.com
Cronuts
, those fabled fusions of doughnut and croissant dreamed up by New York pastry chef
Dominique Ansel
, have taken the country by storm. Now Ann Arborites can try
a version of these treats
without making the trip to the east coast.
Neil Crockett of Uncle Neil's Bread and Donuts, a regular Sunday Ann Arbor Artisan Market vendor, brought his first batch of cronuts to the market on Sunday, and the word spread very quickly via social media. My coworker Ben Freed made it to the market just in time to buy the last half a cronut, just more than an hour after the market opened.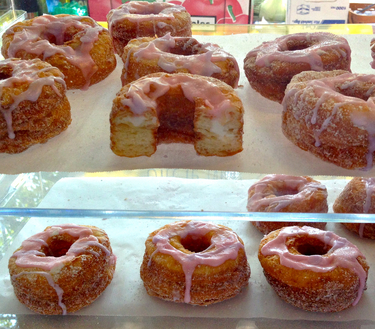 Jessica Webster | AnnArbor.com
I've been
drooling over the idea of cronuts
for a couple of months now, so I hightailed it down to the market and sidled up to the Uncle Neil's table right when it opened at 11 a.m. to grab a few for family and friends.
I chatted a bit with baker Neil Crockett about the cronut baking process. As a longtime doughnut crafter, he said the frying part of the formula was like second nature for him. Mastering the flaky French croissant part of the equation took "hours and hours."
You can try Uncle Neil's doughnut-croissant hybrids for yourself. He'll be back in Ann Arbor with a fresh batch at next week's Sunday Artisan Market at 315 Detroit St., Ann Arbor, from 11a.m. to 4 p.m. You'll probably want to get there early.
Jessica Webster leads the Food & Grocery section for AnnArbor.com, a part of the MLive Media Group. Reach her at JessicaWebster@annarbor.com. You also can follow her on Twitter or subscribe to AnnArbor.com's email newsletters.