Posted on
Thu, Jan 14, 2010 : 6:33 a.m.
Eating homemade granola
By Mary Bilyeu

I've been wanting to make my own granola for some time now, but baked so many hundreds of
cookies
for the holidays that I ran out of cinnamon and it took awhile to get to the Indian market -- where spices are sold in bulk packages at amazing prices -- to replenish my supply.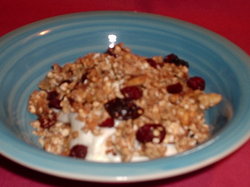 Mary Bilyeu, Contributor
And my schedule has been pretty hectic lately, so I've often thought "Boy, granola with yogurt sounds good right now!" but I haven't had the time to spend making it. And yes, I could have bought some ... but why do that when it's so easy to bake my own and the house smells so fabulous while doing so???
I woke up way too early this morning, and so I had several hours at my disposal to not only get rid of my grey roots but also to -- ta da! -- finally bake my granola. This is ridiculously simple, and easily varied: make a tropical variation using macadamia nuts, coconut, and dried papaya and mango and bananas. Make a date-walnut version, or a peach-pecan; add sunflower seeds or don't add them at all if you don't like them ... whatever strikes your fancy. Bags of granola make great gifts, and I even once donated a breakfast basket to a school auction with a granola assortment and coffee. The possibilities are absolutely limitless!
Homemade Granola
4 cups oats -- regular or quick-cook, but not instant 3/4 cup chopped walnuts 1/8 cup ground flax seeds 2 teaspoons cinnamon pinch of salt juice of 2 large oranges 1/2 cup honey 1 tablespoon vanilla extract 1 tablespoon olive oil 1-1/2 cups dried fruit
Preheat oven to 325 F. Lightly grease a baking sheet.
In a large bowl, combine oats, walnuts, flax seeds, cinnamon and salt. In a small saucepan, heat the orange juice, honey, vanilla and oil just until warm; pour over the oat mixture and spread the granola onto the baking sheet in one layer. Bake for 10 minutes, then stir the granola around. Bake for another 10 minutes and stir. Bake for 5 more minutes until the granola is dry, then stir in the fruit. (Don't add the fruit before baking, or it dries out too much.) Place into a storage container or into gift bags, and enjoy!
Mary Bilyeu has won or placed in more than 60 cooking contests and writes about her adventures as she tries to win prizes, feeds hungry teenagers and other loved ones, and generally just has fun in the kitchen. The phrase "You Should Only Be Happy" (written in Hebrew on the stone pictured next to the blog's title) comes from Deuteronomy 16:15, and is a wish for all her readers as they cook along with her ... may you always be happy here!
You can contact Mary at yentamary@gmail.com.