Posted on
Mon, Jul 11, 2011 : 10:04 a.m.
Fresh Herb Vichyssoise with Shrimp is thickened with potatoes, not fat
By Peggy Lampman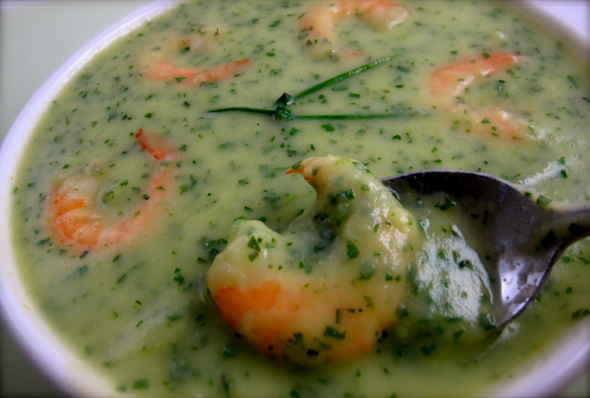 Peggy Lampman | Contributor

Peggy Lampman's Monday dinnerFeed
Mercy, it's hot. I woke up in the wee hours of the morning to water and tend to my garden. When my herb garden needs pinching back and clipping, this is a favorite recipe because it uses lots of fresh herbs.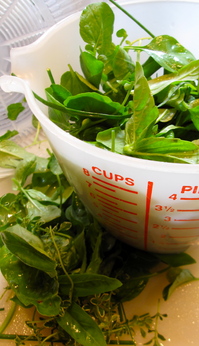 I veered from classic vichyssoise by not using cream and butter, but the thick and silky potatoes in this herbaceous stock make for sweet summer comfort food. (See this blog for a classic vichyssoise.)

Fresh Herb Vichyssoise with Shrimp

Yield: 10-12 cups
Active Time: 45 minutes
Chill Time: 12-24 hours
Ingredients

2-3 leeks, white and light green parts only, washed thoroughly and thinly sliced (approximately 6 cups)
2 tablespoons extra virgin olive oil
2-3 medium-sized russet potatoes (approx. 1 1/4 pounds), peeled and sliced
4 cups chicken or vegetable stock
4 packed cups fresh herbs such as dill, chives and basil, stems removed and coarsely chopped*
1 cup whole milk
White pepper
1 pound medium shrimp, cooked
* More intense herbs such as rosemary, thyme and sage, should be used in moderation as they could overpower the soup.
Directions
1. Saute leeks in oil over low heat with a pinch of kosher salt 4-5 minutes, or until tender and wilted.
2. Add stock and potatoes. Bring to a boil, then reduce to a simmer. Simmer about 20 minutes or until potatoes are very tender.
3. In a food processor, puree potatoes, leeks, stock and herbs until creamy. Stir milk into soup. Season to taste with kosher salt and white pepper.
4. Refrigerate 12-24 hours. When ready to eat, stir in shrimp and serve.
Looking for a specific recipe? Click here for dinnerFeed's recipe search engine; type the recipe or ingredient into the search box. I am a real-time food writer and photographer posting daily feeds on my website and in the Food & Drink section of Annarbor.com. You may also e-mail me at peggy@dinnerfeed.com.