Posted on
Fri, May 24, 2013 : 11:30 a.m.
Frugal Friday at NeoPapalis - vegan-friendly and friendly to your wallet
By Mary Bilyeu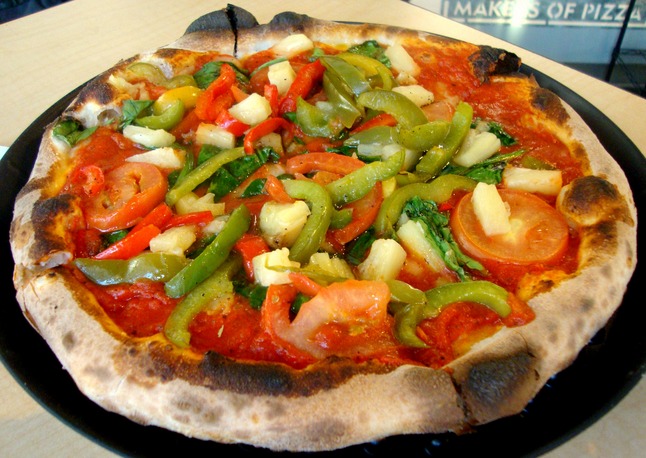 Mary Bilyeu, Contributor
Frugal Floozie Friday is a feature that seeks out dishes - appetizers, drinks, snacks, desserts, sandwiches, whatever - for $5 or less per person. Sometimes I split generously-sized items with loved ones, saving both money and calories; sometimes I find a great deal on a single serving that fits perfectly within the mandatory budget. I try to showcase several options to choose from, and you never know where I'll find them. Check out the column every Friday!
I had a fabulous Girls' Night Out recently with my BFF Wendy and our new friend (who seemed immediately like an old friend!) fellow AnnArbor.com writer Vicki Brett-Gach. Both eat a vegan diet, so I wanted to find a restaurant we could all enjoy without having to impose too greatly upon the kitchen or leave my dining companions with only a few meager options.
Fortunately, NeoPapalis — one of Ann Arbor's newest pizza places — offers a little something for everyone ... and at prices which happily meet our Frugal Floozie Friday budget of $5 per person.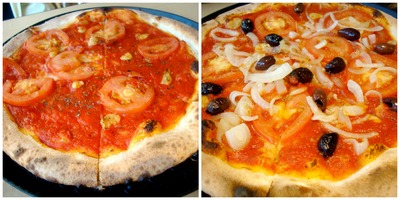 Mary Bilyeu | Contributor
There are four basic pizzas to choose from, costing either $6 or $7, which easily feed at least two people. A few toppings — butter crust, oregano, or a four pepper olive oil — are available for free, while others cost $1 each.
The $6 Red Marinara version comes with tomato sauce, sliced Romano tomatoes, extra-virgin olive oil, roasted garlic, oregano, and sea salt... and it comes with no cheese. It was perfect!
To the left, you'll see the "as is" version that Wendy chose; to the right, you'll see the one I ordered with caramelized onions and Kalamata olives. At the top of the post is Vicki's pizza, topped with pineapple and green and red peppers. Each of these allowed two slices per person, as we mixed and matched and took home leftovers. You could add more toppings if you're hungry, but the pizza is delicious even with no frills.
Mary Bilyeu | Contributor
You could supplement your pizza with a $5 salad, and still stay within budget by sharing lunch or dinner with loved ones. The base price offers a salad large enough to feed a small family, and the following items are even included at no charge (choose whichever ones you like): sliced mushrooms, cucumbers, red onions, green and red peppers, Kalamata olives, Roma tomatoes, roasted garlic, broccoli, beets, Jalapeno peppers, hot pepper rings, pineapple, and artichokes.
Cheeses cost $1 each, meat items cost $1.50 each, and dressing options beyond Ranch, the house vinaigrette, Chipotle Ranch, or Balsamic Vinaigrette cost an extra 75 cents. Pizza and a hearty vegetable-laden salad make an exceptional meal to share with your family or friends at very little cost!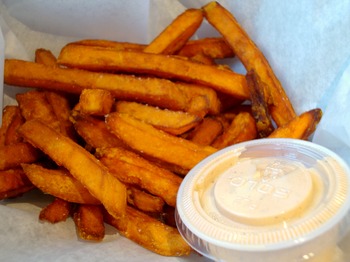 Mary Bilyeu | Contributor
I also ordered the sweet potato fries, for a mere $3, because I adore them. Most places offer soft, baked versions; NeoPapalis' fries, however, are crisp and served with a Chipotle Ranch dipping sauce that is an ideal, spicy complement. I devoured these, and continue to fight cravings for more. They are a great appetizer to share before pizza or salad, or make an excellent snack all by themselves with a $1.50 soda, lemonade, or iced tea.
I'd had such a lovely meal with Vicki and Wendy that I brought Jeremy and Craig to NeoPapalis soon after for lunch. Craig ordered a $5 pita sandwich which, unfortunately, wasn't particularly photogenic, although it was enormous. For the base price, you get a nearly foot-long meal containing one meat, one cheese, one dressing, and any vegetables from a list of sixteen — yes, 16 potential additions for no extra money. If you want extra cheeses, they cost $1 each; extra meats cost $1.50 each. But trust me, they're superfluous — the basic sandwich is huge.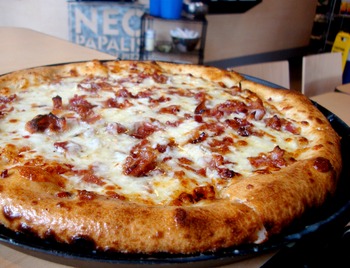 Mary Bilyeu | Contributor
Jeremy ordered the $7 Bianca pizza: an herb butter base, Asiago and Mozzarella cheeses, extra-virgin olive oil, and honey. He topped it with bacon, because he's my child. This was rich, delicious, and easily splittable by two to four people to stay well within our mandatory Frugal Floozie Friday budget. Even Jeremy, a 22-year-old male — a species notorious for its appetite! — advocates for sharing something this hearty.
I ordered the sweet potato fries again, because I like them so much, and split them with Craig and with Jeremy. I'm not ordinarily a creature of habit (at least with food), but this time I couldn't help it.
For great values, good fresh food, and a menu that is inviting to virtually any diet, NeoPapalis is a welcome addition to town!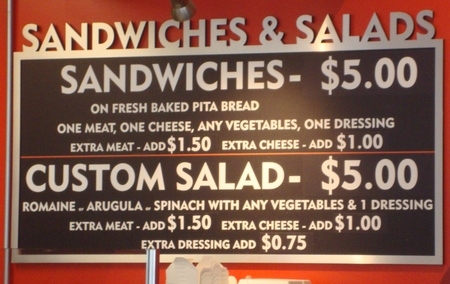 Mary Bilyeu, Contributor
NeoPapalis
500 E. William St.
Ann Arbor, MI 48104
734-929-2227
Sunday - Thursday: 11 a.m. - 12 a.m.
Friday and Saturday: 11 a.m. - 12:30 a.m.

Mary Bilyeu writes for AnnArbor.com on Tuesdays, Wednesdays, and Fridays, telling about her adventures in the kitchen - making dinner, celebrating holidays, entering cooking contests, meeting new friends ... whatever strikes her fancy. She is also on a mission to find great deals for her Frugal Floozie Friday posts, seeking fabulous food at restaurants on the limited budget of only $5 per person. Feel free to email her with questions, comments, or suggestions: yentamary@gmail.com.

Go visit Mary's blog — Food Floozie — where she enthuses and effuses over all things food-related; and look for her monthly articles in the Washtenaw Jewish News. "Like" her on Facebook, or send a tweet on Twitter, too.

The phrase "You Should Only Be Happy" (written in Hebrew on the stone pictured in this post) comes from Deuteronomy 16:15 and is a wish for all her readers - when you come to visit here, may you always be happy.