Posted on
Tue, Nov 13, 2012 : 8 a.m.
Fruit 'n' nut baklava has depth of flavor
By Mary Bilyeu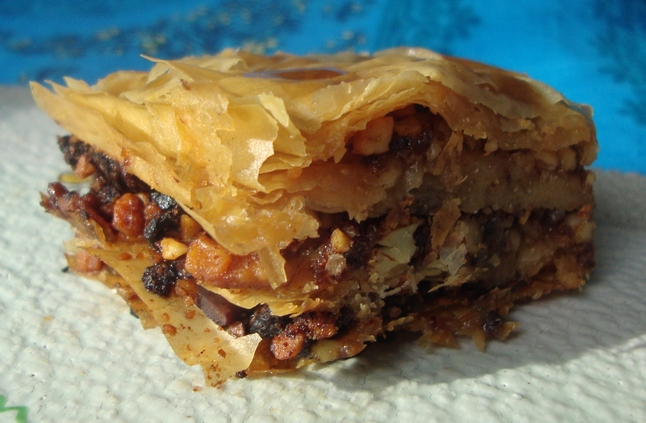 Mary Bilyeu | Contributor
I was recently given two very nice gifts: a fruit and nut mix, and also some date syrup. It seemed to me that this put me halfway to a pan of
baklava
with a bit of a twist, so I decided to buy some phyllo dough and invest a bit of time on a Saturday afternoon to finish off the project.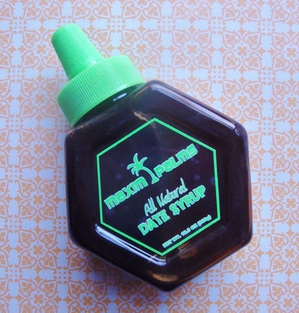 Mary Bilyeu | Contributor
Date syrup is a product that many people are unaware of, but which is fabulous — a lovely, sweet, dark syrup made by slowly cooking down dates to their luscious essence.
Maxim Palms
All Natural Date Syrup
is being distributed by a new Detroit-based company, and will be coming to Ann Arbor soon; check the Maxim Palms
Facebook page
and
Twitter feed
for locations, or you can
buy it online
.
I thought it would be a nice enhancement to the baklava to combine the traditional honey that's poured over the baked nut/phyllo base with some of this date syrup, so I used both — plus a touch of apple cider, because it was there and seemed like a complementary flavor.
And instead of the usual walnuts for the filling, I ground up the fruit and nut mix that I'd been given; this would offer more depth of flavor, since it also included almonds, cashews and dried berries.
While baklava has a reputation for being difficult to make, it's actually just a matter of layering, like lasagna. Phyllo dough is very delicate; but if you keep it covered with a damp towel it won't dry out, and it's then easy to pick up and place into the baking pan as you put the baklava together.
The dried fruits added a bit of chewiness and tartness to the pastry, and there is a lovely hint of the dates in the syrup that's poured over the baklava.
Impress your loved ones at the upcoming holidays with a tray of homemade baklava, whether serving it at a party or giving it as gifts along with the requisite cookies.
Fruit 'n' Nut Baklava (adapted from Gloria Kaufer Greene's The Jewish Holiday Cookbook)
Baklava:
1 12-ounce package mixed nuts and berries
1/2 cup almonds
2 teaspoons cinnamon
1/4 cup sugar
1 stick margarine
1/3 cup oil
1 1-pound box phyllo dough
Syrup:
3/4 cup sugar
1 cup water
1/4 cup date syrup
1/4 cup honey
1/4 cup apple cider
Preheat oven to 350 degrees.
In a food processor or blender, grind the nuts and berries with the almonds; don't grind too finely. Place into a large mixing bowl, then stir in cinnamon and sugar. Remove 1-1/3 cups of the mixture.
In a small saucepan, melt together the margarine and oil. Remove from heat.
Open the phyllo dough and lay it onto waxed paper on the countertop. Wet 2 paper towels and wring them very dry, so the towels are just damp; cover the dough with the towels, then with another piece of waxed paper to keep the dough from drying out.
Lay 1 sheet of phyllo dough into a greased 9"x13" baking pan; brush lightly with the margarine/oil. Repeat until you have 10 sheets of dough stacked up.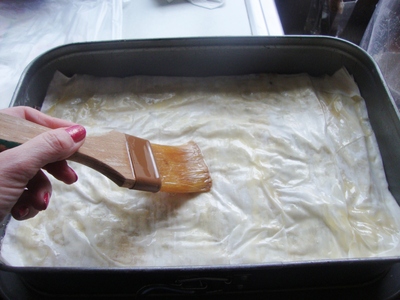 Mary Bilyeu, Contributor
Sprinkle half of the removed nut mix over the dough.
Lay 10 more sheets of phyllo dough, in the same manner as above.
Sprinkle the nut mix that was reserved in the large bowl over the phyllo dough.
Lay 10 more sheets of phyllo dough, in the same manner as above.
Sprinkle the remaining portion of the reserved nut mix over the dough.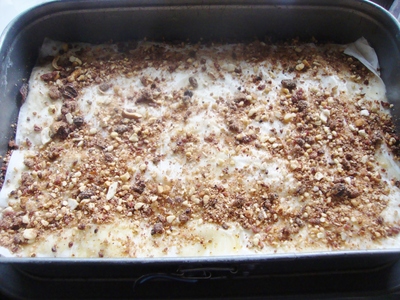 Mary Bilyeu, Contribut
Lay remaining sheets of phyllo dough, in the same manner as above. If there is any extra margarine/oil, pour it over the dough and brush.
Using a sharp knife, score the baklava into squares or diamonds.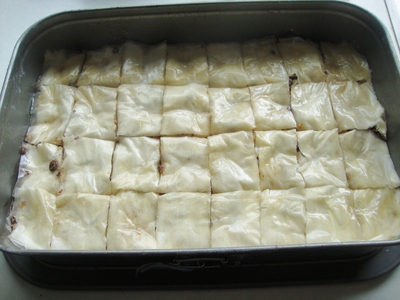 Mary Bilyeu, Contributor
Bake for 45-50 minutes, until dough is crisp and golden.
As soon as you put the baklava into the oven, prepare the syrup so that it has a chance to cool: combine all ingredients in a small saucepan, bring to a boil, then remove from heat.
When baklava comes out of the oven, slowly pour the syrup over it. Let rest for at least 4 hours, for the syrup to be fully absorbed.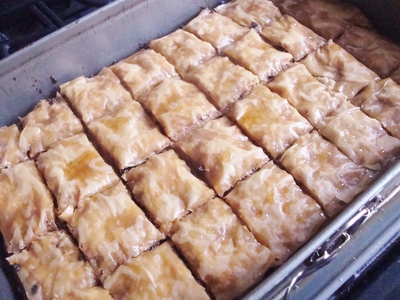 Mary Bilyeu, Contributor
Cut baklava along scoring lines into individual pieces.
Makes 32 generous pieces.
Thanksgiving is almost upon us! In addition to this baklava, which is a great make-ahead treat, here are some suggestions for your holiday menu:
Pomegranate Molasses-Glazed Carrots
Orange-Glazed Pumpkin Loaf Cake
Brown Sugar Tea Cake with Moscato Glaze

Mary Bilyeu writes for AnnArbor.com on Tuesdays, Wednesdays, and Fridays, telling about her adventures in the kitchen - making dinner, celebrating holidays, entering cooking contests, meeting new friends ... whatever strikes her fancy. She is also on a mission to find great deals for her Frugal Floozie Friday posts, seeking fabulous food at restaurants on the limited budget of only $5 per person. Feel free to email her with questions, comments, or suggestions: yentamary@gmail.com.

Go visit Mary's blog — Food Floozie — where she enthuses and effuses over all things food-related; and look for her monthly articles in the Washtenaw Jewish News. "Like" her on Facebook, or send a tweet on Twitter, too.

The phrase "You Should Only Be Happy" (written in Hebrew on the stone pictured in this post) comes from Deuteronomy 16:15 and is a wish for all her readers - when you come to visit here, may you always be happy.