Posted on
Tue, Nov 24, 2009 : 7 a.m.
A prize-winning stuffing recipe
By Mary Bilyeu

Sara, who happens to be both a friend and a neighbor, came into my office last year at Thanksgiving telling me about a great stuffing recipe that a friend had given to her and how her friend (another Mary) had raved about it. Imagine her surprise when Sara actually looked at the recipe and found that it had been created by someone she knew - me! - and that it had won a prize (a whopping 1-year subscription to
"Everyday with Rachael Ray"
magazine) in a national contest. Sara wanted to be sure to let me know about this "6 Degrees of Separation" connection, and I'm glad she did because it's a cute story. I really do love it when people enjoy my recipes, even if I'm not necessarily the one cooking them!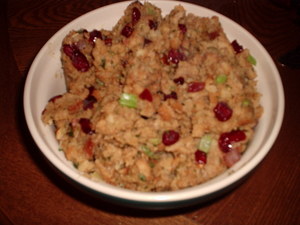 Mary Bilyeu | Contributor
In searching for the recipe after I initially couldn't find it on Rachael's site to provide a link (but ultimately managed to locate it -- see below), I was also very proud to find this post on - of all places! -- ProjectWedding.com after a member had asked for favorite Thanksgiving recipes: "This is seriously the best stuffing ever...I don't like stuffing and I ate a ton of it last year...It was voted #1 stuffing by Rachel Ray in 2006 and I second that!" I don't know who posted that flattery, but I can promise I didn't offer any bribes!
I know many people add chestnuts or oysters (the latter sitting right at the top of my list, along with sushi, as a rare food item that I can't abide) or sausage or other substantial items to their stuffing, and that's fine … just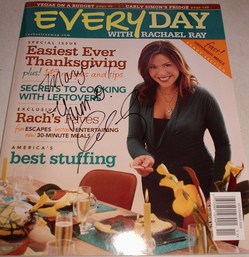 Mary Bilyeu, Contributor
please don't do it to my share. (My late Uncle John once even stuffed a turkey with ground beef - rather unsuccessfully, I'm told! - in a fit of creative inspiration.) I prefer simplicity, with just a bit of crunch and a hint of sweetness and color … celery and onion and cranberries and pecans are all I need.
So make things easy for yourself in the midst of the holiday stress, and try this recipe that is Jeremy's favorite part of the meal and is apparently a big hit even beyond my house. May you have a very happy Thanksgiving whether you celebrate with immediate or with extended family, with football or with the Macy's parade, with Tofurkey or with a turducken. And after all the chaos of the pie baking, potato mashing, vegetable chopping and turkey slicing, please don't forget this old French adage: "Be thankful for dirty dishes - it means you had food."
Cranberry-Pecan Stuffing
Rachael's version, which is baked in a pan and took a few liberties with my recipe.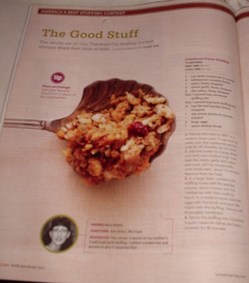 Mary Bilyeu, Contributor
My version:
4 tablespoons unsalted butter 1 large onion, finely chopped 2 cloves garlic, minced 2 ribs celery, finely chopped One 1-pound bag cornbread stuffing One 1-pound bag herb stuffing Salt and pepper 1 cup dried cranberries 1/2 cup chopped parsley 1 cup pecan pieces, toasted 2 large eggs 1 quart chicken broth
Place the butter in a large skillet and melt over medium-high heat. Add the onion, garlic and celery; cook, stirring occasionally, until the vegetables are translucent. Remove from the heat and place into a large mixing bowl along with both bags of stuffing, salt and pepper, the cranberries, the parsley and the pecans. Whisk together the eggs and the broth, and pour over the stuffing; stir to combine well. (The mixture should be moist, but not soggy.) Stuff mixture into the turkey and roast, removing the stuffing from the turkey as soon as the bird is taken out of the oven.
Mary Bilyeu has won or placed in more than 60 cooking contests and writes about her adventures as she tries to win prizes, feeds hungry teenagers and other loved ones, and generally just has fun in the kitchen. The phrase "You Should Only Be Happy" (written in Hebrew on the stone pictured next to the blog's title) comes from Deuteronomy 16:15, and is a wish for all her readers as they cook along with her ... may you always be happy here!
You can contact Mary at yentamary@gmail.com.