Posted on
Mon, May 20, 2013 : 12:48 p.m.
Mexican Chocolate Shake with Tofu (+ Sweet Potato Fries)
By Peggy Lampman

To receive my lastest dinnerFeed posts
by email, sign up here.
Last week I posted an adaptation of Mark Bittman's recipe for Black Bean Burgers — fast food, much improved — and I promised to post the companion Mexican Chocolate Shake and Sweet Potato Fries today.

The recipes were inspired by an article Bittman wrote for the New York Times entitled: "Yes, Healthful Fast Food is Possible. But edible? (April 3, 2013)."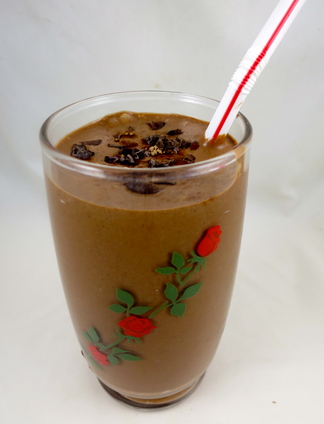 Peggy Lampman | Contributor
He created his version of healthy fast food, which I recreated in my kitchen. The burger, shake and fries were indeed edible, downright mouthwatering, in fact. But fast? Hardly; it took me over an hour to make dinner, and the shake still wasn't chilled to perfection. If some savvy chain, however, were to streamline these recipes, hitting all of the sweet spots (tasty, inexpensive, drive-through friendly, and healthy), the fast food industry could well be revolutionized.
The next day the shake was more like a delicious chocolate pudding. I blended it with additional almond milk until it was, again, sippable through a straw. I used cocoa nibs to garnish the shake, instead of the chocolate shavings used in the original recipe.
Unlike the Bean Burgers, I made no changes to the chocolate shake and fry recipes that Bittman posted. Indeed, that shake puts chain shakes to shame.
Ingredients for Mexican Chocolate Shake:
1/4 cup white sugar
2 cups almond milk
1 pound silken lite; tofu
12 ounces good semisweet chocolate, melted
1 teaspoon vanilla extract
1 1/2 teaspoons ground cinnamon, optional
1/2 teaspoon chili powder, or more to taste, optional
Cocoa nibs or chocolate shavings
Directions for Mexican Chocolate Shake:
Place sugar, milk, tofu, melted chocolate, vanilla and cinnamon and chili powder, if using, into a blender. Puree until smooth.
Chill for at least 30 minutes in the freezer, or refrigerated several hours. Before serving, garnish with cocoa nibs or chocolate shavings.
Ingredients for Sweet Potato Fries:
2 pounds sweet potatoes, peeled
2 tablespoons olive oil
1 teaspoon garlic powder
1 teaspoon paprika
1 teaspoon kosher salt
1/2 teaspoon freshly ground black pepper
Directions for Sweet Potato Fries:
Preheat oven to 400 degrees.
Cut the sweet potatoes into sticks 1/4 to 1/2 inch wide and 3 inches long, and toss them with the oil. Mix the garlic powder, salt and pepper in a small bowl, and toss them with the sweet potatoes. Spread them out on 1-2 rimmed baking sheets.
Bake until brown and crisp on the bottom, about 15 minutes, then flip and cook until the other side is crisp, about 10 minutes. Serve hot.
Peggy Lampman is a real-time food writer and photographer posting daily feeds on her website and in the Food & Grocery section of Annarbor.com. You may also e-mail her at peggy@dinnerfeed.com.