Posted on
Fri, May 17, 2013 : 4:06 a.m.
Grilled Salmon with Chipotle-Honey Glaze and Pineapple Salsa - sweet fruit pairs well with fish's assertive flavor
By Peggy Lampman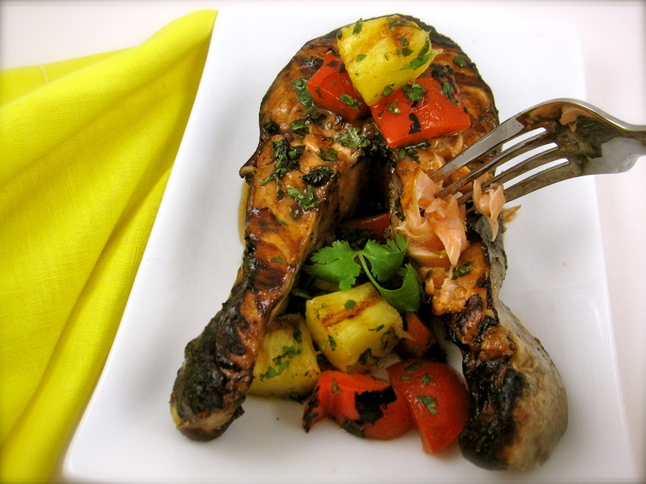 Peggy Lampman | Contributor

To receive my lastest dinnerFeed posts
by email, sign up here.
Grilled salmon may be unadventurous to some, but there's a reason why it's so popular as a grilling fish. The fatty flesh on salmon sears beautifully — like a well-marbled piece of beef — when exposed to the flame.
Assertive salmon also stands up to the sweet and tangy flavors of pineapple and the smoky heat of chipotle peppers.
Don't let the ingredient lists in the two recipes be off-putting; many are the same. You can make the salsa, except for the grilled pineapple and red pepper, in advance. Grill the pineapple and pepper at the same time you grill the fish. Tent the fish with foil to retain its heat as you finish the salsa.
The recipe is great without the salsa is well. For additional grilled salmon recipes, click here.
Marinating Time: 15 minutes
Active Time: 50 minutes
Number of servings (yield): 4
Ingredients
1/3 cup honey
1/4 cup fresh chopped cilantro, plus extra sprigs for garnish
1/4 cup soy sauce
1 1/2 tablespoons minced fresh or crystallized ginger
1 tablespoon minced (canned) chipotle chiles*
4 salmon steaks
Instructions
Clean and oil grill grates. Prepare a gas or charcoal grill to medium-high heat.
Combine honey, cilantro, soy sauce, ginger and chipotles, adjust seasonings to taste.
Brush both sides of salmon steaks with honey mixture. Let salmon sit at room temperature 15 minutes, turning once, to absorb marinade flavors. Grill salmon until opaque in center, about 4 to 5 minutes on each side, basting once with remaining glaze. Serve topped with Grilled Pineapple Salsa.
*I prefer using the inexpensive canned chipotles in adobo sauce located in the Hispanic section of most area groceries.