Posted on
Wed, Mar 14, 2012 : 1:27 p.m.
How do you plan to celebrate Pi Day?
By Jessica Webster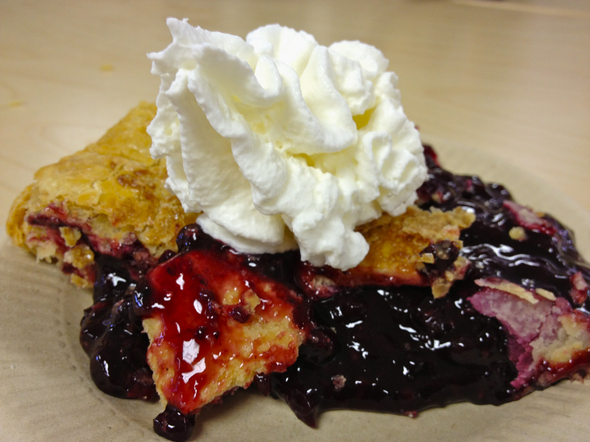 Jessica Webster | AnnArbor.com
For those of you for whom high school geometry is a distant memory, we'll explain. March 14 is Pi Day. Math geeks across the world celebrate the irrational number that relates the radius of a circle to its circumference and its area by eating a slice of delicious pie.
As a longtime devotee of both pie and pi, I made sure to celebrate this auspicious holiday. I snapped up a Zingerman's jumbleberry pie and shared it with my AnnArbor.com office mates.
Pie celebrations are happening across town, as well. At 3:14 this afternoon (pi time!), Grand Traverse Pie Co. on Zeeb Road will be giving away slices of pie for 31.4 minutes. And later tonight, Perry Nursery School is hosting its Sweet Beginnings Piepalooza fundraiser in the Morris Lawrence Building on the campus of Washtenaw Community College. Festivities include a silent auction, a pie contest, a pie-eating contest and a pie-making demonstration. You can find more info here.
If you're up for baking your own pie, AnnArbor.com has you covered. Mary Bilyeu's a big pie fan — she will even be judging the pie contest tonight at the Perry Nursery School Piepalooza. Today's daily recipe post features a delicious-looking peanut butter cream pie. She has also recently featured Molly Goldberg's lemon meringue pie, French Canadian pork pie and brownie ice cream pie.
Jessica Webster leads the Food & Grocery section for AnnArbor.com and can recite Pi to ten digits. You can reach her at JessicaWebster@AnnArbor.com.